Mold and Air Pollution Damage Terracotta Army
October 27, 2006 12:00 am Last Updated: October 27, 2006 12:00 am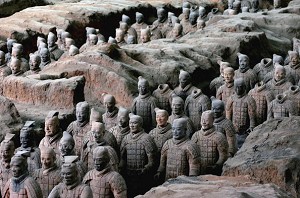 CHINA—Regarded as one of the most important archaeological finds of the 20th century, the Terracotta Army has been damaged by exposure to outside air and mold growth since its discovery. Scientists in China and abroad are trying to find ways to preserve the Terracotta Army from complete deterioration.
According to a report in the Beijing Morning Post, Paul Stoffels, a Belgian scientist, has found 48 kinds of mold on the Terracotta Army, Penicillin mold among them. Mold species from Aspergillus, Rhizopus, Trichoderma, and Cephalosporin genera account for 70 percent of the molds. If not removed, the molds may accelerate corrosion of these terracotta figures buried with the Chin Dynasty's First Emperor in 210–209 B.C.
Currently, the mold is damaging all the terracotta figures in three of the pits of the museum. The situation in the second pit is more acute.
Dr. Paul Stoffels said that the molds have already led to three changes in the terracotta soldiers and the surrounding pits: damage to the surface of the Terracotta Army; pervasive mold-coverage on the walls and the floors; and a change in the Army's color. Dr. Stoffels predicted that the inner support of the Terracotta Army could be weakened, which would cause permanent and irreparable damage to the army.
Besides the deterioration caused by the molds, the Terracotta Army is gradually weathering from severe air pollution. Thirty years ago, when first discovered, some of the figures still retained their original colors. After they were unearthed and exposed to outside air, the color started to fade.

A researcher from the Chinese Academy of Social Sciences said last July that without any protection, the Terracotta Army would be severely damaged in 100 years. The researcher predicted that at that time, the tunnels where the Terracotta Army is located will look like a coal mine and will have completely lost all aesthetic value.
The Terracotta Army was buried with the Chin Dynasty's First Emperor. The figures were placed in three separate pits. In February of 1974, a local farmer found the life-sized human and horse clay figures while digging a well for water near the imperial burial place. The underground army was unearthed after more than 2,000 years. A museum was then built on the site.