'Mojito' Regains Momentum and 'Stella' Moves to Third
Yachting—Hebe Haven Spring Saturday Series
April 25, 2013 6:00 am Last Updated: April 25, 2013 6:20 am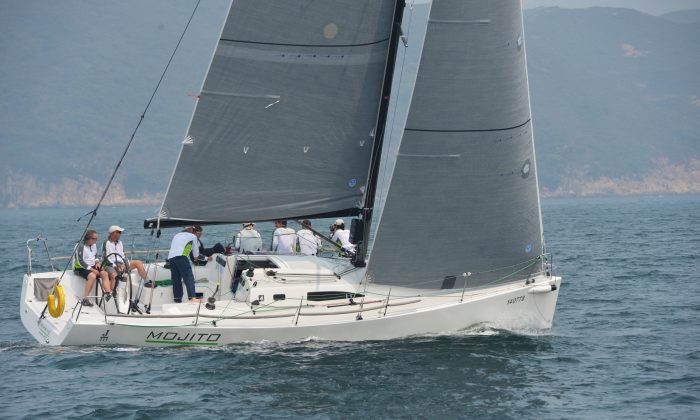 With only one race day and two races remaining in the Hebe Haven Spring Saturday Series, Mojito regained her form to put a firm grip on the Hebe Haven Spring Saturday Series in the IRC category.
Vixen stay in second place and Stella, with good performances in Race-9 and Race-10, moved into third place. Lighthorse dropped to fourth.
In the HKPN category, an excellent day of racing for Bits & Pieces in light wind conditions moved her into first place after Race-10 as variable results for many of the boats has shuffled the pack at the top of the standings.
With 10 races completed, all boats can now take the maximum of four discards over the series, allowing boats that have not been able to compete in a number of races to have an improved chance of posting a good final position.
IRC
Light wind conditions did not seem to affect the top IRC category boats as the top four maintained consistent form. Mojito regained her poise to take first and third places. Stella came in fourth in Race-9, then took line honours and first place in Race-10, moving her up the table to third. Vixen also maintained her consistency, finishing with third and second, respectively, in the two races.
Mojito maintains a four point advantage over Vixen; while Stella is only three points further back. Lighthorse is close on Stellla's heels heading for a final showdown on Race Day-6.
HKPN
Variable results for Dea II, Kyte, Tara and Paloma adjusted the order at the top of the standings after Race-10 of this 12-race series. With second and first finishes on Race Day-5, Bits & Pieces jumped into overall first place. Dea II maintains second spot, but X-terminator, with a third and second place in Race-9 and Race-10, moved up to take equal third with Kyte in the series standings. Five of the top seven boats did not finish Race-9.
Paloma did well on previous race days, but dropped to sixth place after a DNF and DNS. There are now only four points separating positions third to sixth and if variable results continue, there is still a lot of opportunity for the top six boats on the last day.
The final race day of the Series is on May 11.