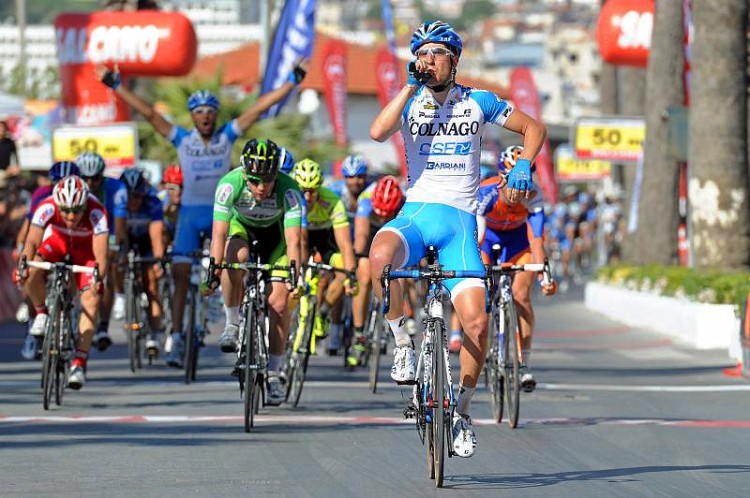 After six stages of surprisingly tough racing, local team Konya Torku retains the race lead despite the best efforts of some of cycling's strongest riders. Over courses which didn't look that hard but proved to be quite challenging, this small Continental team has protected its leader, Bulgarian champion Ivailo Gobravski and his 1:33 lead.
Colnago's Sascha Modolo won the final sprint after the last of numerous breakaway riders was caught only 500 meters from the finish. Colnago led out beautifully for Modolo, and he cruised around the final corner to win with ease.
Modolo gave a unique thumb-sucking salute as he crossed the line, honoring the child he is expecting.
The real battle was for the turquoise jersey, and here the underdog was again the winner.
Stage Six, 179 km from Bodrum to Kusadasi, was another series of endless climbs and descents, with a single Cat 2 climb in the first third and a steep uncategorized climb 30 km from the end.
Crosswinds and aggression within the peloton made this an especially challenging stage, as if the terrain itself was not enough.
The big ProTour teams didn't want a small Continental team, to win overall, regardless that it was a team from the host country. Of course, Konya Torku wants very much to be the first Turkish team to win the Tour of Turkey, and their performance in Stage Dix demonstrated that.
Team leader Ivailo Gobravksi continued to mark every attack, beating himself up to keep the leader's turquoise jersey, while big teams like Astana and Lotto took turns trying to break the brave Bulgarian
They failed. Konya Torku showed unexpected strength, driving the peloton when no of the top teams would and riding down every attack launched by those big teams.
Crashes, crosswinds and climbs split the peloton early in the stage; repeated attacks fragmented it further. After the Cat 2 climb, five riders had a lead, with nine, including Gobravski, in pursuit.
These groups merged, with Romain Bardet (Ag2R,) Alexsandr Dyachenko (Asytana,) Vladimir Gusev and Maxim Belkov (Katusha,) Michal Golas (Omega,) Geoffroy Lequatre, Florian Guillou, Romain Hardy, Laurent Pichon, Florian Vachon (all Bretagne Schuller,) Andre Fernando Cardoso (Caja Rural,) Fabio Duarte (Colombia Coldeportes,) Thierry Hupond (Argos-Shimano.) Alexander Efimkin (Team Type 1-Ssanofi,) Philip Deignan (United HealthCare,) and  Gabrovski—six of the top ten in General Classifiaction—opening a gap on the peloton. Palomares, De Vocht, Battaglin and Petrov—three more top-ten GC contenders plus De Vocht—bridged to this atack.
Belkas, Golas, and Deignan attacked this group and opened a gap. Meanwhile Caja Rural was working hard to chase down the second group full of GC leaders. Once the two groups merged, Lotto's Andre Greipel, spoke briefly with Astana's Alexandr Vinokourov, and then attacked. He was caught; then Vinokourov attacked.
Bardet was the next to try it; again Gobravski and his teammates rode down the attacker. None of the ProTour teams would help; somehow Konya Torku's riders found the legs to compete with the higher-ranked riders.
Farnese's Diego Caccia tried an attack; he too was caught.
Eight kilometers form the finish, the three escapees were overtaken. Immediately Golas attacked again with Enrico Battaglin (Colnago) and Thierry Hupond. Golas and Hupond lasted unitl the final kilometer; Battaglin made it another 500 meters, then the sprinters took over.
Konya Torka has shown throughou tthis year's Toour of Turkey. Colnago has also done well with stage wins. With  two stages left, will the ProTour giants rise up to slay their smaller rivals, or will determination trump reputation; will Konya Torku be able to hold on?
It seems they might.
Tour of Turkey Stage Six

rider

team

time

1

Sacha Modolo

Colnago

4:34:00

2

Matthew Harley Goss

Greenedge

3

Mark Renshaw

Rabobank

4

Lucas Sebastien Haedo

Saxo Bank

5

Alexey Tsatevitch

Katusha

6

Rafael Andriato

Farnese Vini

7

Daniele Colli

Team Type 1-Sanofi

8

Davide Vigano

Lampre-ISD

9

Marco Coledan

Colnago

10

Blaz Jarc

Netapp

General Classification after Stage 6

rider

team

time

1

Ivaïlo Gabrovski

Konya Torku Seker Spor

23:22:57

2

Alexandr Dyachenko

Astana

0:01:33

3

Danail Andonov

Caja Rural

0:01:38

4

Adrian Palomares

Andalucia

0:01:44

5

Romain Bardet

AG2R

0:02:01

6

Alexander Efimkin

Team Type 1-Sanofi

0:02:23

7

Florian Guillou

Bretagne-Schuller

0:02:29

8

Enrico Battaglin

Colnago

0:02:58

9

Michal Golas

Omega Pharma-Quickstep

0:03:02

10

William Routley

Spidertech

0:03:14