Children aged 12 and over are now eligible to receive the Moderna mRNA vaccine for immunisation against the CCP virus after Australia's drug regulator granted provisional approval.
The Therapeutic Goods Administration (TGA) said on Sept. 4 the decision had been fast-tracked, with the regulator saying the vaccine met its safety standards for use in Australia.
This comes after people aged 18 and over had already been granted provisional approval for Moderna's Spikevax (elasomeran) vaccine on Aug. 9.
The recommended Moderna dosage remains the same as for adults, with two doses at 28 days apart.
"The Moderna COVID-19 vaccine has shown strong efficacy preventing symptomatic COVID-19 and severe COVID-19 in clinical trials," the TGA said in a media release on Sept. 4.
"The vaccine has also received regulatory approval or authorisation in several countries and is being widely used in the United Kingdom, Canada, the European Union, the United States, Switzerland, and Singapore."
Moderna's Spikevax is the second mRNA vaccine to be provisionally approved in Australia.
Messenger RNA (mRNA) vaccines use a synthetic genetic code called RNA to give cells instructions about how to make the CCP (Chinese Communist Party) virus' unique spike protein. The CCP virus is commonly known as the novel coronavirus.
According to the TGA, when the body has made the protein encoded by the mRNA vaccine, it then recognises the spike protein as being foreign and launches an immune response against it. The RNA from the vaccine does not change, or interact, with human DNA in any way, the regulator said.
"Australians can be confident that the TGA's review process of SPIKEVAX (elasomeran) was rigorous," according the TGA's release. "The decision to provisionally approve the vaccine was also informed by expert advice from the Advisory Committee on Vaccines, an independent committee with expertise in scientific, medical and clinical fields including consumer representation."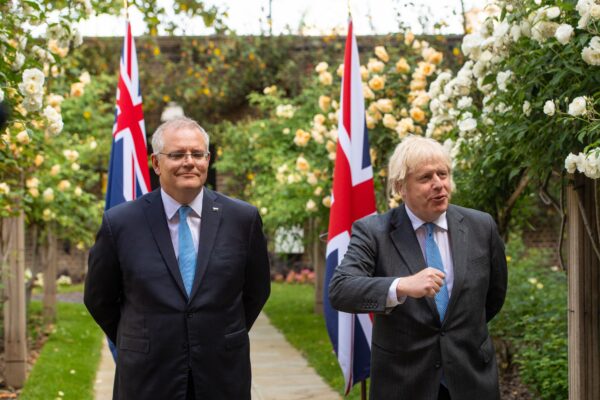 The announcement comes one day after Prime Minister Scott Morrison announced Australia will receive a further 4 million Pfizer vaccine doses in a swap deal with the United Kingdom.
Earlier in the week, Morrison also announced a similar swap deal with Singapore for 500,000 Pfizer doses, which was in addition to the 1 million doses purchased from Poland earlier in August.
The additional doses, along with prolonged lockdowns in the states of New South Wales and Victoria, has led to an increased rate of vaccination in Australia, as state leaders say they won't grant more freedoms or lift lockdowns until more people are vaccinated.
Australia's National Cabinet has a staged plan to reopen the country based on achieved vaccination targets, as it transitions from a strategy of suppressing the virus to learning to live with it.
Currently, in Phase A, the next phase will be triggered once 70 percent of people are fully vaccinated, at which point lockdown and restriction measures are said to ease; then Phase C will begin once 80 percent are vaccinated, and international travel may restart.