Moderna says it has finished its application to U.S. drug regulators for full approval of its COVID-19 vaccine, while Pfizer and BioNTech have begun their application for their COVID-19 vaccine to be used as a booster shot.
"This BLA submission for our COVID-19 vaccine, which we began in June, is an important milestone in our battle against COVID-19 and for Moderna, as this is the first BLA submission in our company's history," Stéphane Bancel, Moderna's CEO, said in an Aug. 25 statement, referring to the Biologics License Application.
Moderna began submitting sections of the application in June; the company has periodically sent more data to the Food and Drug Administration (FDA), including clinical data from a Phase 3 clinical trial that enrolled more than 30,000 participants and was conducted in collaboration with the National Institute of Allergy and Infectious Disease (NIAID) and two other agencies.
According to the Massachusetts-based biotechnology firm, the trial showed that the vaccine was 93 percent effective in preventing infection from the CCP (Chinese Communist Party) virus, which causes COVID-19.
FDA officials didn't immediately respond to a request by The Epoch Times for comment.
The application completion comes two days after the FDA fully approved the Pfizer/BioNTech vaccine.
In a call with reporters on Aug. 23, a top FDA official declined to give insight into Moderna's application. But the official, Dr. Peter Marks, noted that 97 days elapsed between Pfizer's completion of its application and full approval.
That was 40 percent faster than the normal time period "for a submission of this magnitude," Marks said.
Officials reviewed tens of thousands of pages of safety and efficacy data before approving Pfizer's shot, in addition to visits to manufacturing facilities.
Pfizer and BioNTech, meanwhile, said on Aug. 25 that they have begun the Biologics License Application process for a third dose, or booster, of their vaccine.
The application is widely viewed as a formality after health officials announced earlier this month that they will recommend the booster for all adults, even healthy ones, once it's approved.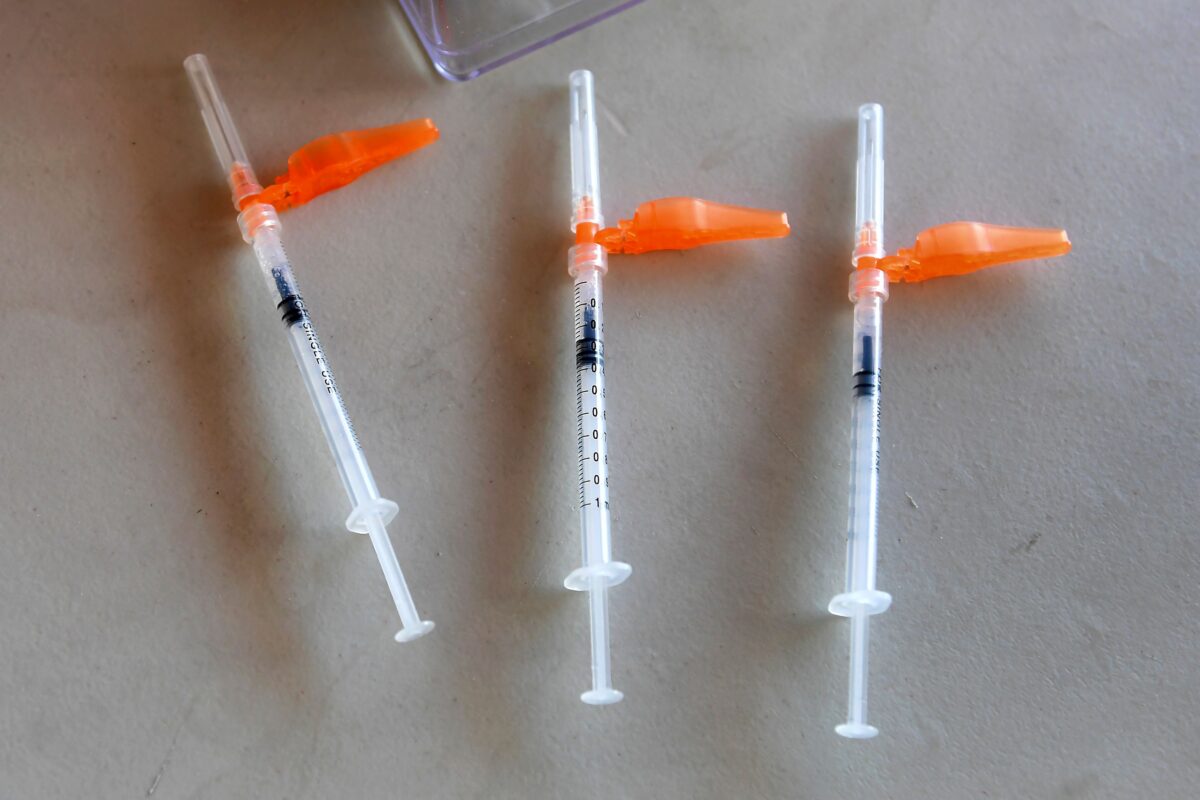 Only three COVID-19 vaccines have been administered in the United States since the disease first appeared in the country last year. The vaccines produced by Pfizer and Moderna, both of which utilize messenger RNA technology, are by far the most widely used.
More than 205 million Pfizer doses and more than 143 million Moderna doses have been administered as of Aug. 24, according to federal data. That's compared to 14 million Johnson & Johnson doses.
Unlike the Johnson & Johnson shot, the Pfizer and Moderna jabs are administered in two-dose regimens; the doses are spaced several weeks apart.
Health officials recently announced, though, that people should get a booster dose if they've gotten the Pfizer or Moderna shots. A similar recommendation is likely to come for the single-shot Johnson & Johnson shot, officials say.
Johnson & Johnson hasn't yet filed for a Biologics License Application for its COVID-19 vaccine.
Dr. Anthony Fauci, who directs NIAID, said on "CBS This Morning" this week that approval for the Moderna and Johnson & Johnson vaccines is likely not "too far away."
"I think it's a temporal issue. I don't think there's anything different necessarily about the process, it's just that they submitted or are submitting their material a bit later or after Pfizer did," he added.