Julie Bowen, the "Modern Family" actress, is facing criticism for making jokes about Barron Trump, the 10-year-old son of President Donald Trump, during the Inauguration Day swearing-in ceremony.
"I think Barron is on his Gameboy. Can't say I blame him," she captioned in a photo of Barron looking down at the floor.
On Twitter, users complained that it was in poor taste to go after a 10-year-old boy. Others noted that Malia and Sasha Obama were considered off-limits during President Barack Obama's two terms in office.
One woman asked, "Why would you choose to focus on a child? What if the son was one of your own?"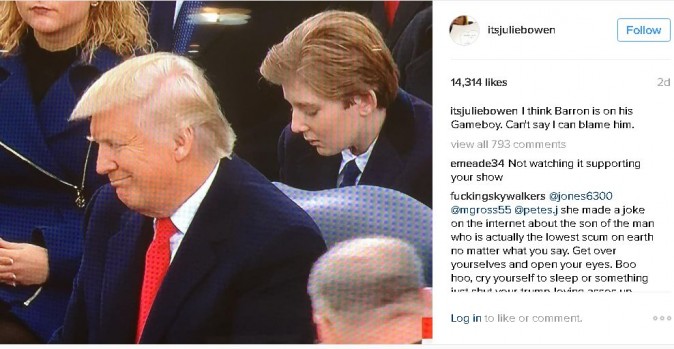 Bowen, who hasn't deleted her social media posts, tweeted back, "I love that Barron is just being a kid. My kids would be a horror show at a public event! Just trying to keep it light."
But some users didn't let her off the hook. "The fact she has kids and is a mom is even worse. That poor boy had to sit still for hours. He did great," one woman wrote to her.
Others noted that they won't watch "Modern Family" any longer.
Over the weekend, "SNL" writer Katie Rich was slammed for making a joke about Barron being "this country's first homeschool shooter." Her Twitter post was deleted and she later deleted her Twitter page.