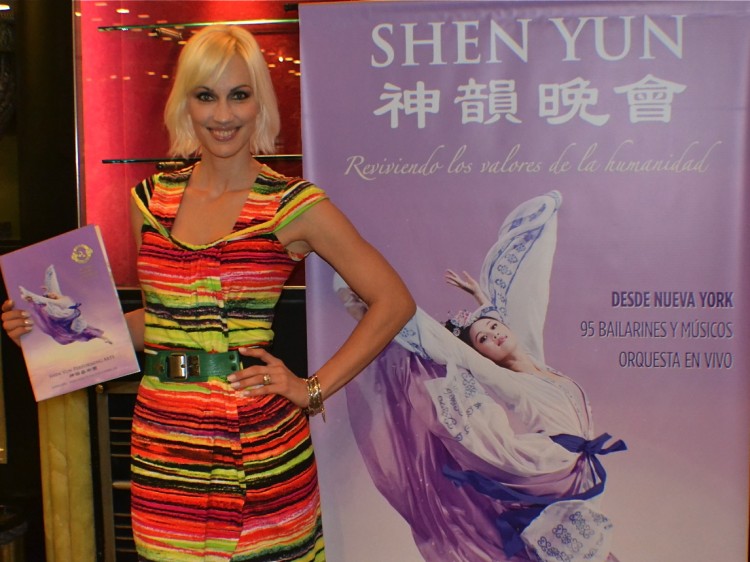 BUENOS AIRES—Argentinian model, actress, and presenter Ingrid Grudke has been attracted to culture since her youth.
When she heard that Shen Yun Performing Arts International Company would start its world tour in Buenos Aires this year, she knew she wanted to see the performance.
"It's the ultimate luxury. I'm really amazed by the excellence of the show … because I think the moment you're sitting there they convey that serenity, that harmony," she said after Tuesday night's performance at the Teatro Ópera Citi.
Ms. Grudke said the performance was fascinating, especially the synchronization of the dancers with the orchestra and digital backdrop.
"All in it is perfection. To coordinate these three things, it's a little bit difficult and even more so with so many artists, because I understand they are almost 80 artists. Then to combine all that, so perfectly, you can't even see a mistake. I'm really surprised and in wonder to see so much excellence," she said.
As a model, Ms. Grudke is used to seeing beautiful clothes. In thinking about Shen Yun's costumes, she said: "That's another chapter; I thought nothing is out of place. You can't even see the seams. You can't see them. There are no details [of the work]. The fabric, mainly the fabric, be it silk, I don't know really what that is, but everything is perfect."
She also appreciated the costumes because of their color: "Color for me means joy, emotion. I also think that using color means there is friendship, happiness mainly; and that is what I saw on stage."
The lyrics sung by Shen Yun's tenors, which are translated on the digital backdrops, made her think about enjoying life and appreciating others, she said.
"To make a change in humankind, to respect each other more, even if we think totally different from each other …  and even more so, if we can value each other in his or her essence," she said.
The control displayed by Shen Yun's dancers, both male and female, also impressed her.
"I think it's mainly a respect for their profession, to dance, and they achieve excellence with a lot of self discipline. There's self discipline here, self discipline above all," she said.
Ms. Grudke said she would tell her friends and family to come and enjoy Shen Yun, and she would also write about the performance on her website.
Reporting by NTD Television and Sarah Matheson.
New York-based Shen Yun has three companies that tour the world each year on a mission to revive 5,000 years of traditional Chinese culture. For more information, visit ShenYunPerformingArts.org
The Epoch Times publishes in 35 countries and in 20 languages. Subscribe to our e-newsletter.