Model Employee Imprisoned for His Beliefs
September 30, 2006 12:00 am Last Updated: September 30, 2006 12:00 am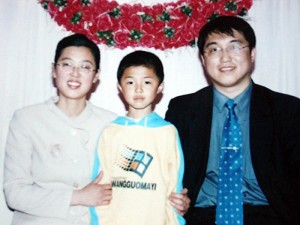 Clearwisdom Net reported the arrest of Zhang Guoyu, for practicing Falun Gong, on September 12, 2006, by the Dalian police. They are holding him in cell #5 of the Dalian Yaojia Police Detention Center. Zhang is on hunger strike in protest of his illegal imprisonment.
Zhang Guoyu and his wife, Shen Lian, both worked for the Dalian office of CNC since 1996. The couple received constant recognition for many proposals, some of which continue to be in use. Zhang Guoyu won the 1997 company-wide competition.
Those who know Zhang Guoyu personally say he is well liked at CNC. He receives frequent praise from employers, clients and co-workers, because he has earned their trust and approval. In 2001, he was voted the most valuable worker in the company. The staff tallying the votes told Zhang Guoyu that almost everyone voted for him.
The office gave everyone 1400 Yuan of medical insurance during March of 2004. Zhang Guoyu and Shen Lian are very healthy from practicing Falun Gong and refused the money. Co-workers who knew about this said, "You're so truthful. Of the entire company, only you could have done this." Other co-workers said, "You are so good. Practicing Dafa does make a difference. If only everyone were like you."
Zhang Guoyu and Shen Lian went to Beijing to appeal on behalf of Falun Gong when the persecution started in July 1999. They were sentenced to two years of forced labor. CNC put their positions on hold for a two-year period. The company lowered the couple's social evaluation scores deliberately in 2004. They were ultimately laid off. The couple applied for arbitration and filed a lawsuit at the Zhong Shan Area Court and the Dalian Appeal Court, but has not received an answer.
Zhang Guoyu and his wife have endured enormous hardship and pressure these last few years. Zhang had just finished the first week at his new position on September 12, 2006, when the Dalian public security police, the Zhong Shan naval police, the Ganjingzi and Jin Shan police broke into the office and arrested him. They imprisoned him in the Dalian City Yaojia Detention Center.
Zhang is currently on hunger strike to protest his detainment. Shen Lian appears to be absent-minded and often cries about her husband's detainment. Zhang's seven-year-old son Jinxuan misses him enormously. His son wrote: "Believing in Truthfulness, Compassion and Forbearance is not wrong."