Treasury Secretary Steven Mnuchin said his office was working closely with the Federal Reserve to ensure an ample supply of liquidity to markets that have been rocked by the coronavirus epidemic.
Mnuchin told CNBC in an interview Friday that he and Fed Chairman Jerome Powell were "in constant conversation" about financial crisis management tools that could be deployed to counter the virus-driven fallout.
"We don't have the same authorities we had before Dodd-Frank and the financial crisis, but we do have authorities and we will be looking at using those," Mnuchin said, noting that the Fed had already announced the injection of over a trillion dollars of short-term liquidity into markets, in what he said was an "unprecedented move."
The New York Federal Reserve said Thursday it would make $1.5 trillion available for overnight lending markets and start purchasing a broader range of U.S. Treasury securities as part of its monthly purchases. The central bank offered $500 billion in a three-month repo operation on Thursday and will offer an additional $500 billion in one-month repo and $500 billion in three-month repo loans on Friday.
"We'll be rolling out other programs," Mnuchin said. "There will be a massive amount of liquidity."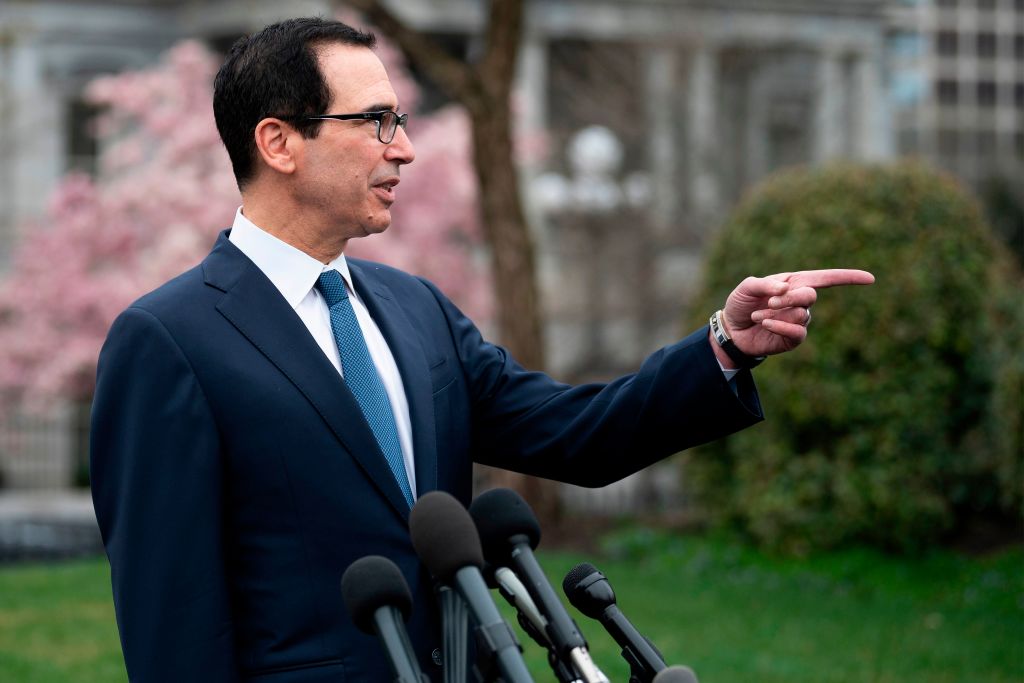 'No Stigma'
The Treasury Secretary also encouraged banks to borrow from the Fed's so-called discount window, which is a monetary policy tool banks have often been reluctant to use.
"There's no stigma about going to the discount window," Mnuchin said. "They should feel free to draw from the discount window. That's another great source of liquidity for them to lend to companies."
A Fed research note explains the "stigma" dynamics: "For decades, banks have demonstrated some reluctance to use the discount window in this manner out of concern that the act of borrowing might send a negative signal about their financial conditions to their counterparties, their competitors, their regulators, and the public."
"At various times, the Federal Reserve has made adjustments to discount window operating procedures in an effort to reduce stigma, but stigma likely persists today," the note says.
Mnuchin also said the Trump administration was considering a range of alternatives to ensure the economy does not seize up in the face of coronavirus-related travel disruptions, event cancellations, and business closures.
"We're going to look at every tool in the toolbox," he said, adding that the Trump administration was considering a temporary suspension of student debt payments amid the coronavirus outbreak.
"That's on our list of 50 different items we're bringing to the president for a decision," Mnuchin told CNBC's "Squawk Box" after being asked if he would consider a three-month suspension of payments.
"The president is all about action, action, action," he added.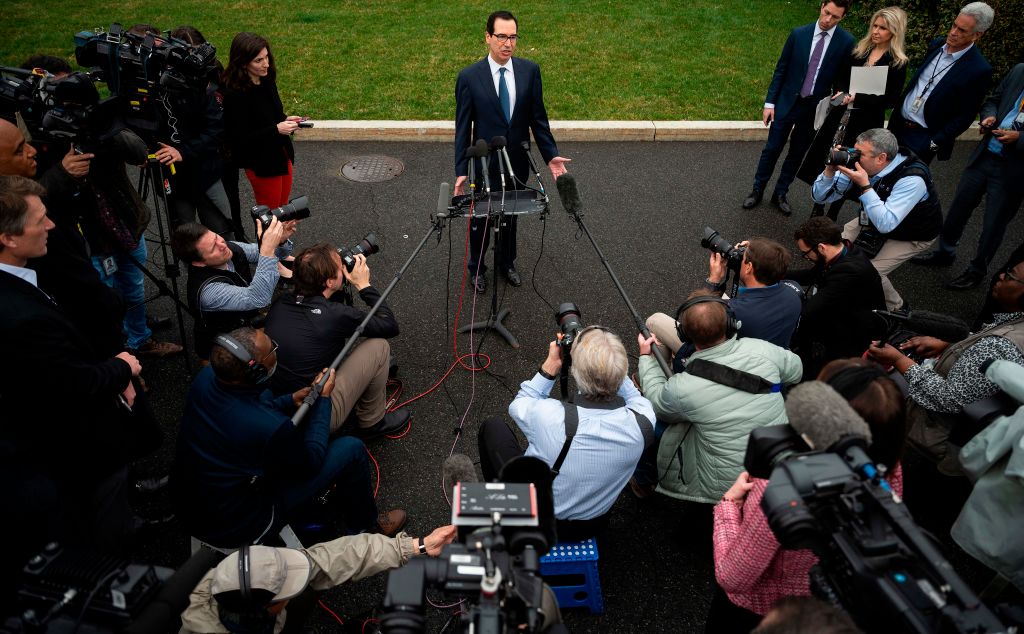 On Wednesday, President Donald Trump said the Treasury Department would defer tax payments without interest or penalties for certain individuals and businesses negatively impacted, aiming to provide more than $200 billion of additional liquidity to the economy.
Trump also said the Small Business Administration will provide capital and liquidity to firms affected by the coronavirus by providing low-interest loans to small businesses in affected states and territories, effective immediately. He also suspended all travel from Europe, with a few exceptions, to the United States for 30 days starting on Friday.
Earlier, Trump signed an $8.3 billion emergency spending bill to combat the spread of the virus and develop vaccines for the disease.
Mnuchin also told CNBC that he believes the stock market plunge will be short-lived and so represents an attractive buying opportunity.
"This is a short-term issue. It may be a couple of months but we're going to get through this and the economy will be stronger than ever," he said.
"I look back at people who bought stocks after the crash in 1987, people who bought stocks after the financial crisis. For long-term investors, this will be a great investment opportunity," he added.