Treasury Secretary Steven Mnuchin and other department officials were cleared in the decision to withhold President Donald Trump's tax returns from Congress by acting Treasury Department Inspector General (TIG) Richard Delmar's office.
The probe into the matter was triggered by House Ways and Means Chairman Richard Neal (D-Mass.), who requested it after Mnuchin declined to provide six years of the president's personal tax returns, along with some business returns.
"Based on the interviews conducted and review of relevant emails, TIG found Treasury's receipt, processing, and responses to Chairman Neal's requests for records and subpoenas to be consistent with Treasury's general process for handling Congressional correspondence and requests to include Secretary Mnuchin supervising the matter," the report (pdf) of the probe stated.
Mnuchin in May rejected Neal's subpoena for Trump's tax returns, asserting that the demand lacked "a legitimate legislative purpose."
The Department of Justice (DOJ) backed Mnuchin, saying that because the confidentiality of tax returns is protected under the law, Mnuchin didn't violate the law in refusing the subpoena.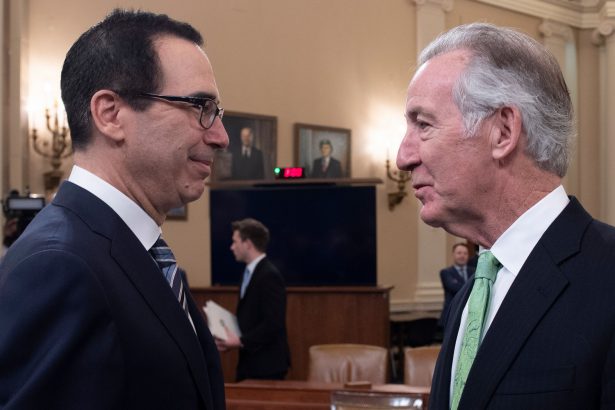 Neal's committee didn't immediately respond to a request for comment.
The inspector general's report "proves that earlier politically motivated accusations are debunked—Secretary Mnuchin followed the law, complied with all requests, and there is proper oversight taking place at Treasury," Rep. Kevin Brady (R-Texas), the ranking Republican on the Ways and Means Committee, said in a statement.
Delmar's office didn't weigh in on legal matters related to the clash over the tax returns because it was outside the scope of the inquiry, Sally Luttrell, assistant inspector general for investigations, wrote in the report.
The Treasury Department "processed the request properly," sought legal guidance from the Department of Justice's Office of Legal Counsel (OLC), and determined that it was bound by that office, Delmar wrote in a letter (pdf) to Neal and Brady.
"We do not presume to opine on the analysis and conclusions of the OLC opinion and advice," he wrote.