MIAMI—Mixed martial artist and boxer Conor McGregor has been arrested in South Florida for stealing the cellphone of someone who was trying to take his photo, authorities said.
According to a Miami Beach police report, the 30-year-old McGregor was arrested and charged with robbery and criminal mischief on the afternoon of March 11. An attorney for McGregor called the altercation "minor" and said the popular fighter would cooperate with authorities.
McGregor was leaving the Fontainebleau Miami Beach shortly after 5 a.m. Monday when a 22-year-old man attempted to take a picture of McGregor, the police report said. Police said McGregor slapped the phone out of the man's hand and then stomped on it several times. McGregor then grabbed the phone and left the area, the report said. Police later found McGregor at his local address.
McGregor was released Monday night after posting $12,500 bond.
WATCH: Footage from moments ago as MMA star #ConorMcGregor leaves jail in Miami-Dade County. He was arrested earlier today after allegedly smashing a man's phone and taking it. Read the latest here: https://t.co/EdMPjTYBMp pic.twitter.com/hDASDqwV3C

— CBS4 Miami (@CBSMiami) March 12, 2019
"Last evening Conor McGregor was involved in a minor altercation involving a cellphone that resulted in a call to law enforcement," Samuel J. Rabin Jr., a Miami-based attorney representing McGregor, said in a statement. "Mr. McGregor appreciates the response of law enforcement and pledges his full cooperation."
Police report describing the incident #ConorMcGregor pic.twitter.com/ubifkUO40b

— Pissed Off Twood (@twoodchosen1) March 12, 2019
McGregor, who's from Ireland, is the former UFC featherweight and lightweight champion and one of the biggest draws in MMA. He returned to UFC last fall after a hiatus during which he made his boxing debut, a loss to Floyd Mayweather. He was suspended from UFC for six months and fined $50,000 for a brawl after his loss to Khabib Nurmagomedov in October.
Nurmagomedov, McGregor Suspended, Fined for UFC 229 Brawl

UFC lightweight champion Khabib Nurmagomedov was fined $500,000 and suspended for nine months for a brawl inside and outside the octagon after his fight with Conor McGregor at UFC 229. McGregor was fined $50,000 and suspended for six months.
Nurmagomedov's suspension can be reduced by three months if he participates with Las Vegas police in an anti-bullying public service announcement, according to a settlement approved by the Nevada Athletic Commission. The commission must approve the PSA and how it's distributed.
Nurmagomedov's fine will be taken from his share of the purse for the Oct. 6 fight.
The suspensions for both fighters are retroactive to Oct. 6.
Nurmagomedov climbed over the cage and scuffled with a fighter in McGregor's corner after McGregor (21-4) tapped out during a chokehold by Nurmagomedov (27-0) in the fourth round of UFC 229. Video showed McGregor both trying to climb the cage to apparently join fighting outside and attempting to strike another person doing the same.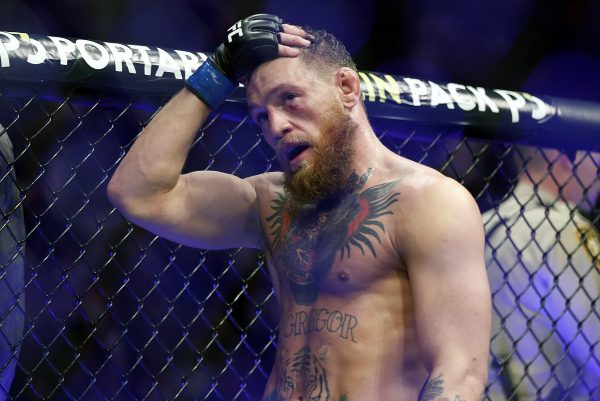 McGregor and Nurmagomedov had been suspended since shortly after the fight and remained so while the brawl was under investigation.
Nurmagomedov has said previously on social media that he was being unfairly punished. He complained that discipline didn't follow an incident last April in Brooklyn, New York, when McGregor shattered windows on Nurmagomedov's bus with a wheeled cart.
David Fischer contributed to this report.