MLB Power Rankings
September 13, 2013 6:18 am Last Updated: September 13, 2013 12:40 am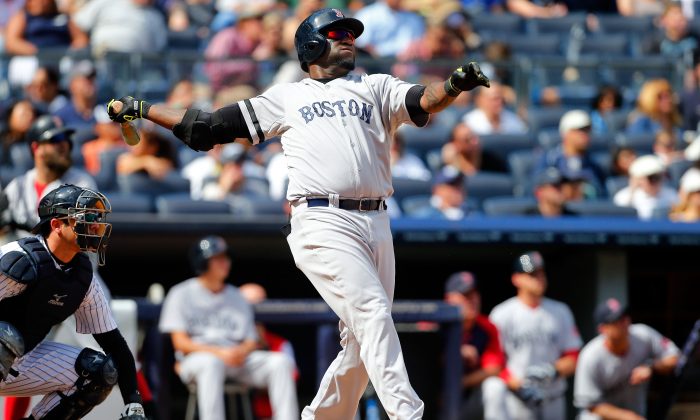 Heading into baseball's homestretch, the American League has a lot left to sort out. Tampa Bay has been fading and the Orioles, Yankees, Indians, and even Royals are in the hunt for the final playoff spot.
10. Baltimore Orioles (77–69)—With his double Wednesday night, Chris Davis became the first Oriole ever to have at least 40 doubles and 40 home runs (he has 49) in the same season. Amazingly, he's still looking at a third-place finish in the MVP voting behind Miguel Cabrera and Mike Trout.
9. Texas Rangers (81–64)—Lost in the news of Tampa Bay's struggles is Texas's own slide. The Rangers were 79–56 heading into September but have won just two games since. The offense has slowed down of late. To wit, the team has lost in each of Yu Darvish's last five starts, though his ERA is a respectable 3.81 during that time.
8. Pittsburgh Pirates (85–61)—The Pirates have clinched the franchise's first winning season since 1992 and there are two big reasons why: pitching and Andrew McCutchen. The team's starters have a stellar ERA of 3.57. Meanwhile McCutchen, who finished third in the MVP voting last year, has hit a blistering .371 since the All-Star break.
7. Cincinnati Reds (83–64)—The Reds are set up much like the Pirates with pitching as the strong point (fourth overall in ERA at 3.38) but have a little more offense. Joey Votto anchors the lineup (.306 average, 22 home runs) but has plenty of help in Shin-Soo Choo (.290 average, 20 home runs), Jay Bruce (29 home runs, 93 RBIs), and Brandon Phillips (18 home runs, 101 RBIs).
6. Oakland A's (85–61)—The A's continue to amaze. Bartolo Colon is the team's best-known talent and the 40-year-old has come through to the tune of a 15–6 record with a 2.85 ERA. Though Coco Crisp may be the most recognizable name in the lineup, Oakland is fifth in baseball in runs scored and Crisp's next home run will give the team four 20-home run hitters.
5. St. Louis Cardinals (85–61)—Though it was uncertain how much Carlos Beltran had left in the tank after leaving the Mets two seasons ago, the answer now is an obvious plenty. His .307 average gives St. Louis four players in the top ten in hitting (along with Yadier Molina, Matt Carpenter, and Allen Craig) and his 23 home runs lead the team that's third overall in runs scored.
4. Detroit Tigers (84–62)—Did anyone else think that the signing of Prince Fielder, a year and a half ago, would completely weaken Detroit's defense and ultimately backfire? This author did. Instead Fielder's presence (23 home runs, 99 RBIs) in the major's most-feared lineup has only made Cabrera (.349 average, 43 home runs, 133 RBIs) better. Meanwhile the front office has upgraded the fielding around those two with right-fielder Torii Hunter (he of nine Gold Gloves) and young shortstop Jose Iglesias, who looks like a future nine-Gold Glove winner.
3. Los Angeles Dodgers (85–60)*—With losses in five of their last seven games, the Dodgers have finally come back to earth a bit after that 42–8 stretch that saw them bury every team in the division. Now they just need to get everybody in gear for the postseason and that includes Yasiel Puig who is hitting .258 in September.
2. Atlanta Braves (88–58)—Lost in the hoopla of a tremendous season in Atlanta is the under-performance of big free agent acquisitions Dan Uggla and B.J. Upton. While the $62 million they gave Uggla a couple of years ago has yielded 21 home runs this season, his .181 batting average has been quite the eyesore. At .191, Upton's hasn't been much better and the $75 million man (spread over five years) has just nine home runs. Fortunately pitching has made up for everything as the Braves own the majors' best ERA at 3.21.
1. Boston Red Sox (89–59)—While the Red Sox currently have the best record, it will be interesting to see how they hold up without leadoff hitter and Gold Glove-winning center-fielder Jacoby Ellsbury. Ellsbury has a .299 average, while scoring 89 runs and swiping 52 bases in just 56 tries. But even if he's able to gut it out and return for the postseason, with a compression fracture in his foot, speed is his biggest asset and he would need to be fully healed to be the same weapon for the Red Sox.