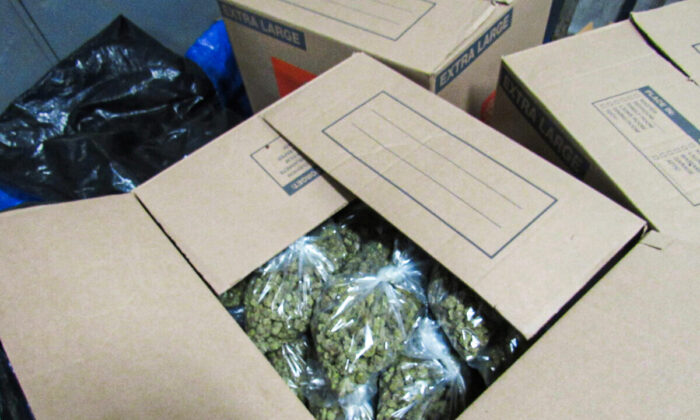 Packaged marijuana found during a raid on warehouses in White City, Oregon, on Nov. 18, 2021. (Oregon State Police)
Indoor Illegal Marijuana Grows in Oregon Tied to Chinese Organized Crime
A Nov. 29 search warrant in the small town of Philomath, Oregon, led to the discovery of 4,000 marijuana plants growing in a warehouse and the arrest of five suspects allegedly connected with a Chinese organized crime group headquartered in New York, according to Philomath Chief of Police Ken Rueben.
During the raid, police arrested Jianhua Chen, Yushen Chen, Shuiqing Hu, Zining Huang, and Weiming Wu at the site. All face felony charges related to possession, delivery, and unlawful manufacturing of marijuana.
Police in Oregon are prohibited by law from asking about nationality or immigration status. The suspects communicated through an interpreter.
"This is the second major operation we've been a part of that involved Chinese operators," Albany Police Capt. Brad Liles told The Epoch Times. The earlier operation resulted in 12 arrests, with charges that included racketeering, money laundering, criminal conspiracy, unlawful manufacturing of marijuana, and identity theft.
Both investigations involved officers from multiple police departments, two county sheriff's offices, Oregon State Police, the FBI, members of the special Linn Interagency Narcotics Enforcement team, and more.
Illegal marijuana operations have overwhelmed law enforcement officers as well as county and state officials.
"Drug traffickers have flocked here from every state in the nation and nearly a dozen countries," including China, Russia, Bulgaria, and Argentina, Josephine County Sheriff Dave Daniel told The Epoch Times.
"In the past year and a half, we've made the largest marijuana seizures we've ever been involved with," he said. "We're seeing operations with as many as 10,000 plants. And the amount of money is just ridiculous."
His department recently participated in the seizure of 1,400 pounds from one U-Haul truck traveling south on Interstate 5.
In southern Oregon, most growing takes place outdoors because of the mild climate. Liles described the sophisticated indoor growing operations recently associated with Chinese operators farther north.
"Growers convert a house, barn, or large outbuilding and retrofit it with lighting, ballasts, and hydroponics that operate on timers," he said. Automation means these operations require less manpower during cultivation.
The Philomath operation was in a two-story warehouse structure with 11 rooms and 5,000 square feet, Chief Rueben said. It contained plants in varying stages—from "starts" to fully-grown plants ready to harvest. The facility used generators, air filtration devices, and electronically controlled temperature and humidity based on the age of the plants.
Rueben said a high electricity bill and a vehicle registration led to the Philomath search warrant. Law enforcement tracked a vehicle that had been making drug deliveries in Portland back to the property. A check of the power bill showed that consumption at the site was unusually high.
"An indoor grow house typically uses as much energy as 10 homes," Rick Fromme of Apex Data Consulting told The Epoch Times. "Where a typical house may have a bill of less than $200, a grow house will be in the thousands."
While indoor operations differ from the outdoor growing that's typical of southern Oregon, they share the common trait of hiding in plain sight, Liles said.
Growers use legal hemp farming operations as cover for illegal marijuana operations. Registered farms aren't required to allow inspectors in.
"When an operation is surrounded by four walls and a roof, it's even more difficult to know if they're really growing hemp," Liles said.