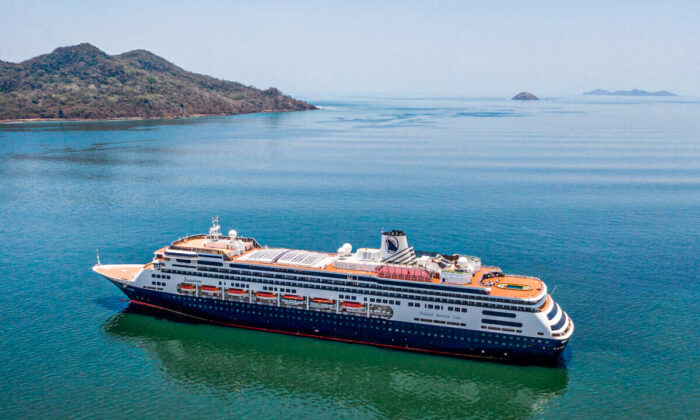 Aerial view of a Holland America cruise ship in a March 27, 2020 file photo (Luis Acosta/AFP via Getty Images)
Growing Number of Highly Vaccinated Cruise Ships Facing Disruption Over COVID-19
At least four cruise ships have reported COVID-19 cases in recent days, coming as Colombia officials prevented the Seven Seas Mariner ship from allowing anyone to disembark in Cartagena after seven positive cases were reported onboard.
Authorities in Mexico also prevented the Holland America Line Koningsdam vessel from allowing passengers to disembark in the tourist area of Puerto Vallarta late last week after 21 crew members tested positive for the virus.
Health authorities in Jalisco state, Mexico, were going to allow individuals who tested negative to leave the ship. But on Thursday, they changed their decision due to an "exponential growth of confirmed cases in the crew," according to the department.
The Holland America ship has a fully vaccinated crew and requires all passengers to show proof of vaccination before boarding, according to its website. Crew and passengers also have to present proof of a negative COVID-19 test.
Seven Seas Mariner, which has a capacity of 445 crew and 769 passengers, was refused entry in Cartagena, Colombia, last week after Mayor William Dau issued a directive against it. Operators of the cruise ship, which started its trip on Dec. 18, requires all passengers and crew members have to be fully vaccinated at least two weeks before departing.
Over the long weekend, Carnival Cruise Lines' Carnival Freedom confirmed it has been forced to alter its stops in the south Caribbean after several individuals onboard tested positive for the virus.
"This is a vaccinated cruise, and all guests were also tested before embarkation," Carnival Cruise Lines said in its statement to news outlets on Dec. 24. "Unfortunately, Bonaire and Aruba authorities did not permit the ship to call in those ports, but we have confirmed a visit to Amber Cove, [Dominican Republic] today."
Before that, Royal Caribbean said that its Odyssey of the Seas, which had a "95 percent" vaccination rate for crew and customers, saw a COVID-19 outbreak that prompted the ship to make a detour.
"Royal Caribbean International's Odyssey of the Seas will not visit Curacao or Aruba as planned," a spokesperson for Royal Caribbean line told The Epoch Times last week.
"The decision was made together with the islands out of an abundance of caution due to the current trend of COVID-19 cases in the destinations' communities as well as crew and guests testing positive on board—55 crew members and guests, representing 1.1 percent of the onboard community."
It's not yet clear if the Omicron variant triggered outbreaks on any of the cruise ships. According to the Centers for Disease Control and Prevention in an estimate last week, Omicron makes up 73 percent of all COVID-19 cases in the United States.