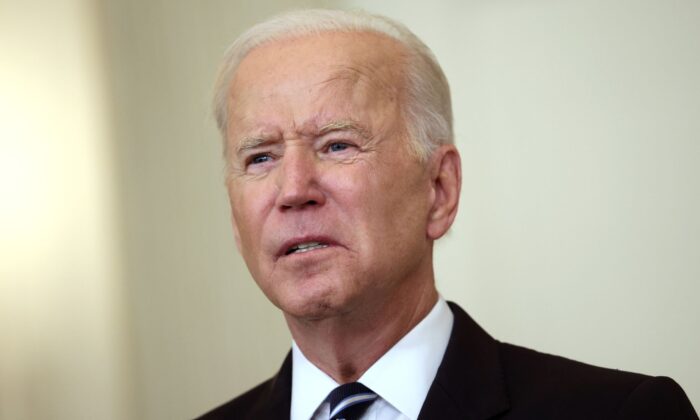 President Joe Biden speaks about combating the COVID-19 pandemic in the State Dining Room of the White House on Sept. 9, 2021. (Kevin Dietsch/Getty Images)
Federal Agency: Biden's Vaccine Mandate for Federal Workers Can Be Enforced Next Month
The federal Office of Personnel Management (OPM) said that President Joe Biden's vaccine mandate announced last month for federal workers can be enforced in November, giving employees about a month to get a CCP virus vaccine.
In a memo (pdf) released by Director Kiran Ahuja on Oct. 1, the OPM advised federal workers that they shouldn't wait until the last minute to get vaccinated because "other events often interfere with even well-laid plans."
"Employees who refuse to be vaccinated or provide proof of vaccination are subject to disciplinary measures, up to and including removal or termination from Federal service," Ahuja stated. "The only exception is for individuals who receive a legally required exception pursuant to established agency processes."
The guidance from Biden's executive order, he wrote, states that federal employees need to be fully vaccinated by Nov. 8 with any of the three vaccines.
For Pfizer recipients, federal workers should "get their second shot 3 weeks (or 21 days) after the first," and this "means that in order for Federal employees to meet a November 22 deadline, they should receive their first vaccination no later than October 18, and their second dose no later than November 8," according to the memo.
Moderna recipients should receive their first shot by Oct. 11 and their second dose by Nov. 8, Ahuja said.
And "because the Johnson & Johnson/Janssen vaccine only has one shot, Federal employees must get that dose by November 8, in order to meet a November 22, 2021, deadline to be fully vaccinated," the memo reads.
On Sept. 9, Biden announced sweeping measures targeting the federal government, the health care sector, and private businesses. Meanwhile, a number of GOP-led states and federal workers filed lawsuits against the Biden administration, arguing that his mandate is tantamount to federal overreach.
A number of federal employees filed a lawsuit against Biden about two weeks ago, arguing that his executive order unfairly affects those of Christian faith.
One of the plaintiffs, Daniel Jackson, a U.S. foreign service officer, has a faith that "also instructs him that vaccination is not morally obligatory in principle and therefore must be voluntary," lawyers for the plaintiffs argued in the suit. They argued that there is "a general moral duty to refuse the use of medical products, including certain vaccines, that are produced using human cells lines derived from direct abortions."
The suit also argues that U.S. Secret Service agent Lionel Klein, another plaintiff, has already contracted COVID-19 and has enough antibodies to ward against future virus infections. As a result, he doesn't need the vaccine, lawyers contend.
COVID-19 is the disease caused by the CCP (Chinese Communist Party) virus.