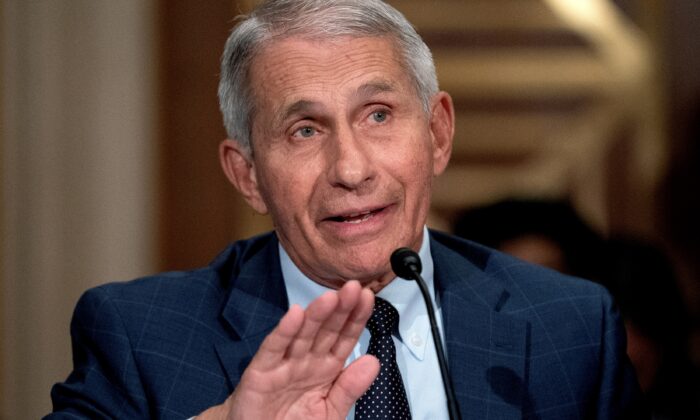 Dr. Anthony Fauci is seen at a hearing at the Dirksen Senate Office Building in Washington, on July 20, 2021. (Stefani Reynolds/Pool via Reuters)
Fauci Responds to Pilots' Concerns That COVID Vaccines May Cause Adverse Side Effects
White House COVID-19 adviser Anthony Fauci responded to questions and concerns that the COVID-19 vaccine may trigger adverse health reactions among pilots.
On Oct. 8, a Southwest Airlines pilots union filed a lawsuit against the firm to block the airline's vaccine mandate. Southwest's pilots' union, as well as other pilots' unions, has warned that vaccines could impact their ability to do their jobs or get medical clearance, citing federal health data suggesting a link between the Moderna and Pfizer vaccines and myocarditis or other health concerns.
When asked on Oct. 13 about the pilots' concerns, Fauci said that "right now on the basis of literally hundreds and hundreds of millions of vaccinations that we've had, the safety of these vaccines have been clearly established."
"When you look at immediate reactogenicity, that's what the airlines are talking about, about not having a person fly for, I believe, 24 to 48 hours after because we do know that it is not uncommon to get a sore arm or to maybe get a low-grade fever or some aches that almost invariably diminish and dissipate over a period of a couple of days," he said, without mentioning reports of myocarditis.
Earlier this month, several Nordic countries suspended usage of the Moderna COVID-19 vaccine—one of the most commonly used shots in the United States—in certain younger age groups. Those countries cited for the decision data suggesting an elevated risk of side effects such as heart inflammation or inflammation of the heart sac, although they stressed that those impacts are rare.
Fauci, who was speaking during a virtual COVID-19 event, said that "the long-term effects are really actually non-existent" for individuals who took the vaccines.
"One, I guess, can theoretically say, 'I'm concerned about a long-term effect,' the fact of the safety and the follow-up over a considerable period of time, over a year as so many individuals, we have not really seen that. So we don't really see any true basis in that concern," he said. Fauci didn't elaborate on whether vaccine mandates should be imposed on commercial airline pilots.
But the pilots' unions have argued that COVID-19 vaccines pose a unique risk to pilots because any adverse reaction to the dose could affect an individual's ability to clear the medical requirements that are needed to fly an airplane.
Allied Pilots Association President Eric Ferguson, in a letter (pdf) to the White House and Congress, requested that the Biden administration rescind its vaccine mandate for commercial airlines pilots.
Some pilots, the group stated, "are unable to undergo vaccination for documented medical reasons, while others are reluctant to get vaccinated based upon concerns about the potential for career-ending side effects."
"To ensure commercial aviation's ongoing viability by avoiding a scenario in which airlines are forced to either offer unpaid leaves of absence or, worse, implement mass terminations of unvaccinated pilots, it is essential that an alternate means of compliance with the Executive Order be made available for professional pilots," he warned in the letter, dated Sept. 24.