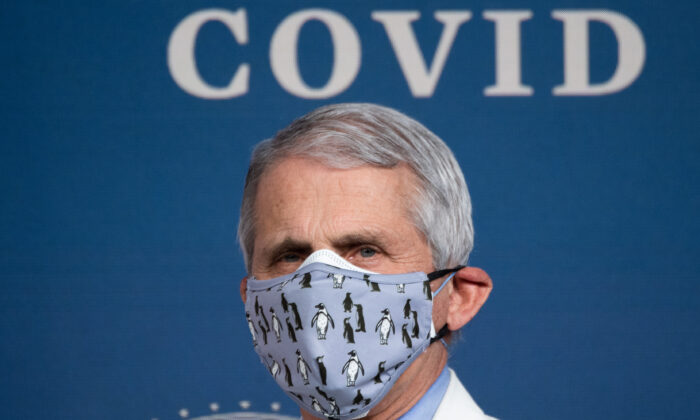 White House chief medical adviser Anthony Fauci listens as President Joe Biden speaks in the Eisenhower Executive Office Building in Washington on Feb. 25, 2021. (Saul Loeb/AFP via Getty Images)
Fauci: Federal Government Won't Mandate 'Vaccine Passports'
Dr. Anthony Fauci, head of the U.S. National Institute of Allergy and Infectious Diseases, said that the federal government won't mandate the usage of so-called vaccine passports for travel and businesses, after White House officials said the Biden administration is working with private firms to potentially advise on such a system.
The concept of a document or app that could be an individual's proof of vaccination or a negative test result for COVID-19, the disease caused by the CCP virus, has become a flashpoint in what civil liberties groups say would be significant overreach and a violation of Americans' privacy.
Fauci told Politico on April 5 that "I doubt that the federal government will be the main mover of a vaccine passport concept."
"They may be involved in making sure things are done fairly and equitably," he said, "but I doubt if the federal government is going to be the leading element of that."
He said he expects that certain businesses and maybe schools will require them.
"I'm not saying that they should or that they would, but I'm saying you could foresee how an independent entity might say, 'Well, we can't be dealing with you unless we know you're vaccinated,'" he said. "But it's not going to be mandated from the federal government."
A report from The Washington Post last month suggested that the White House was considering working on a system to support the passports. Some countries including Israel and Iceland have mandated them for certain activities, while German officials announced they're planning to allow certain individuals who are vaccinated against the CCP virus certain privileges over those who aren't.
White House press secretary Jen Psaki addressed the report, saying the administration would instead "provide guidance" to private partners.
"There is currently an interagency process that is looking at many of the questions around vaccine verification, and that issue will touch many agencies, as verification is an issue that will potentially touch many areas of society. That's guidance we'll provide," she told reporters in late March.
"A determination or development of vaccine passport or whatever you want to call it will be driven by the private sector. Ours will more be focused on guidelines that can be used as a basis, and there are a couple of key principles that we are working from."
Some governors have already started to push back, including Florida Gov. Ron DeSantis, a Republican, who last week signed an executive order to prevent businesses and government institutions from using vaccine passports. He called on the state legislature to pass a law doing the same.
And last week, the American Civil Liberties Union (ACLU) waved a red flag over the usage of such a system, saying it could potentially imperil Americans' privacy, saying that particularly low-income individuals who don't have access to a smartphone would suffer the most.
"We don't oppose in principle the idea of requiring proof of vaccination in certain contexts. But given the enormous difficulty of creating a digital passport system, and the compromises and failures that are likely to happen along the way, we are wary about the side effects and long-term consequences it could have. We will be closely watching developments in this area," the ACLU wrote.
Republican strategists told The Hill that they will highlight certain Democrats pushing for vaccine passports as a talking point to win back the House or Senate during the 2022 midterms.