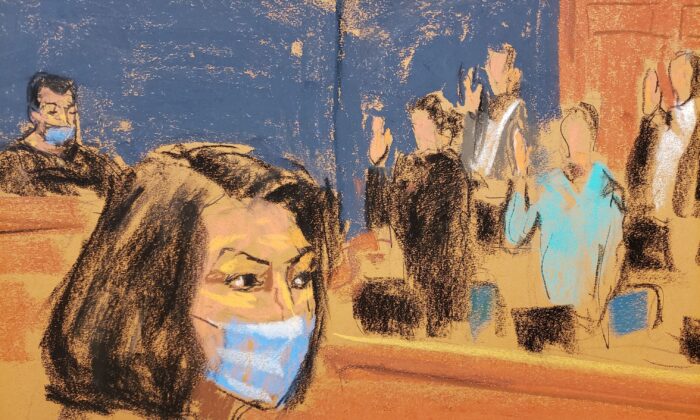 Ghislaine Maxwell sits as the jurors are sworn in at the start of her trial on charges of sex trafficking, in a courtroom sketch in New York City on Nov. 29, 2021. (Jane Rosenberg/Reuters)
Epstein Associate Ghislaine Maxwell Stops Fighting to Keep Names of John Does Secret
Jeffrey Epstein associate Ghislaine Maxwell has ended her effort to keep the names of people linked to her in a civil case shielded from the public.
After reviewing objections to the unsealing made by the John Does, Maxwell's lawyer Laura Menninger informed U.S. District Judge Loretta Preska, a George H.W. Bush nominee, in a recent letter that Maxwell "does not wish to further address those objections."
"Each of the listed Does has counsel who have ably asserted their own respective privacy rights. Ms. Maxwell therefore leaves it to this Court to conduct the appropriate review consistent with the Order and Protocol for Unsealing Decided Motions," Menninger added.
The identities in question are parties connected to a civil lawsuit brought by Virginia Giuffre against Maxwell in 2015 accusing her of facilitating the sexual abuse of Giuffre and making defamatory statements about her. The suit was settled in 2017, but Giuffre has been trying since then, along with the Miami Herald and other parties, to convince the court to unseal the identities of people named in filings in the case.
The late U.S. District Judge Robert Sweet described at one point the sealed documents in the case as including a "range of allegations of sexual acts involving Plaintiff and non-parties to this litigation, some famous, some not; the identities of non-parties who either allegedly engaged in sexual acts with Plaintiff or who allegedly facilitated such acts."
Maxwell and her attorneys had repeatedly urged the judge not to unseal the identities, arguing in part that some of them testified because they were promised confidentiality and that making the names public would compromise her right to a fair trial.
Maxwell was convicted last month of sex trafficking charges in a separate, criminal case, though she may be headed to a fresh trial.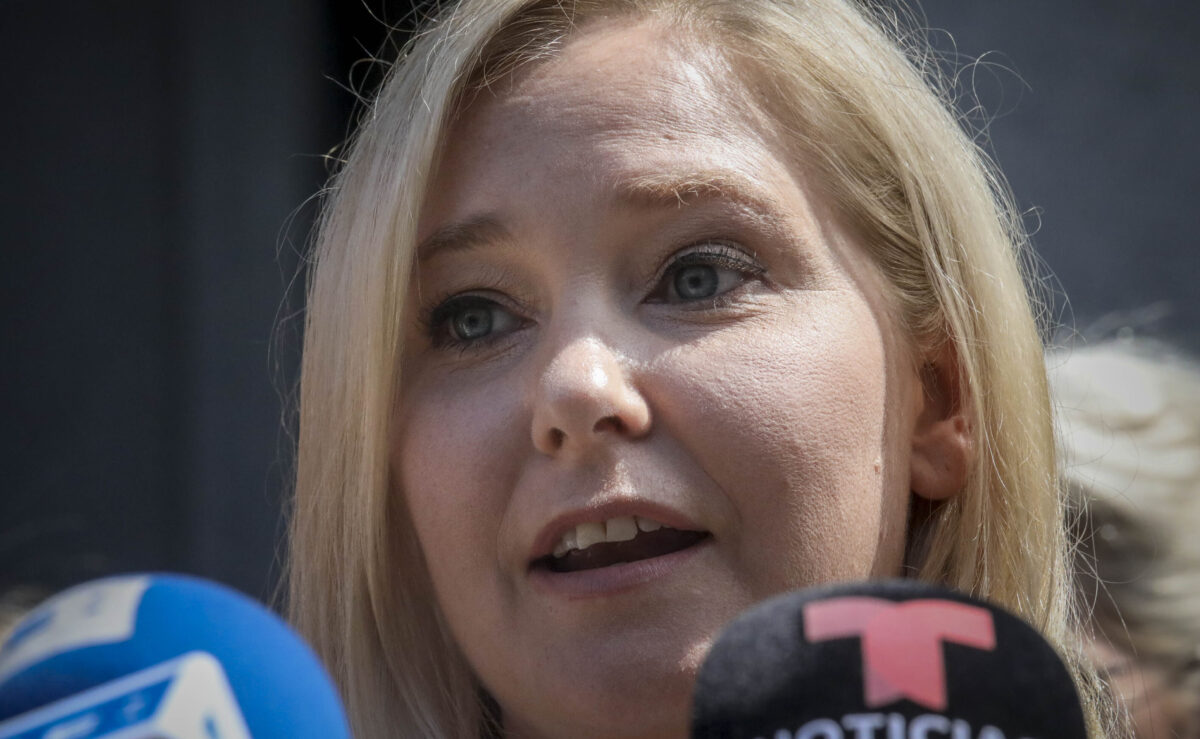 Maxwell's deposition, taken in 2016 for the Giuffre case, was unsealed last year, but many of the materials have remained shielded under orders from Preska and Sweet.
Sixteen of the John Does have also objected to making their identities public in filings entered by their attorneys, while others haven't responded.
On behalf of one of the persons, lawyers noted the intense media interest in the Epstein and Maxwell cases and argued that unsealing the identities "would throw those non-parties into the middle of this frenzy, and unfairly do irreparable harm to their privacy and reputational interests."
In a separate filing, attorneys for a Doe asserted Giuffre's agreeing to a settlement left the matter moot.
Giuffre and her lawyers have said that because Maxwell's trial is over, her main argument no longer applies. The desire of John Does to avoid unwanted media attention doesn't warrant keeping their identities sealed, they also say.
"Upon review of the objections of those Does, it is apparent that their objections essentially mirror objections to unsealing that this Court has already rejected: that unsealing certain documents might be embarrassing, would expose non-parties to media attention, and could result in some unfortunate association between the non-parties and Jeffrey Epstein or Ghislaine Maxwell. In the face of extensive prior briefing on objections just like these, the Court's unsealing process has been quite consistent: with the exception of a narrow set of circumstances which are generally not present here, documents have been unsealed notwithstanding generalized concerns about annoyance or embarrassment," Giuffre's lawyers wrote in a recent filing.
Epstein and Maxwell, according to prosecutors, operated a sex trafficking ring that targeted minor girls.
Their known associates include Microsoft founder Bill Gates, former President Bill Clinton, and the UK's Prince Andrew, though many of the associates have not been charged with crimes related to the pair.