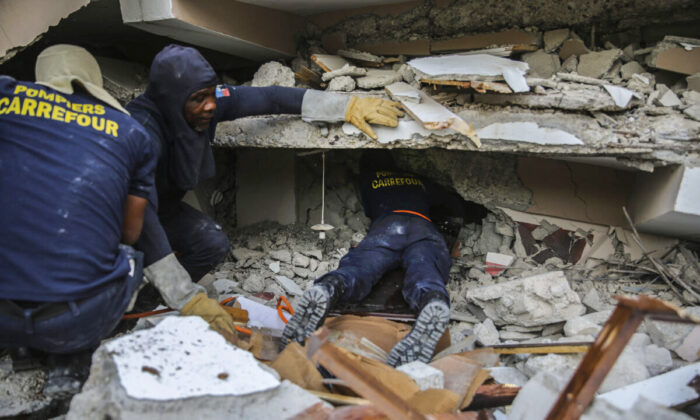 Firefighters search for survivors inside a collapsed building, after the Aug. 14 7.2 magnitude earthquake in Les Cayes, Haiti, Sunday, Aug. 15, 2021. (AP Photo/Joseph Odelyn)
Death Toll From Haiti Earthquake Soars to 1,297 as Tropical Depression Grace Approaches
The death toll from a magnitude 7.2 earthquake in Haiti soared to at least 1,297 on Aug. 15, as rescuers raced to find survivors amid the rubble ahead of a potential deluge from an approaching tropical storm.
The latest death toll count from Haiti's office of civil protection updates a previous figure of 724 dead following the powerful quake on Aug. 14, which destroyed thousands of homes and buildings, injured at least 5,700 people, and displaced thousands more. Hospitals, schools, offices, and churches were also destroyed in the quake.
The death toll is expected to rise.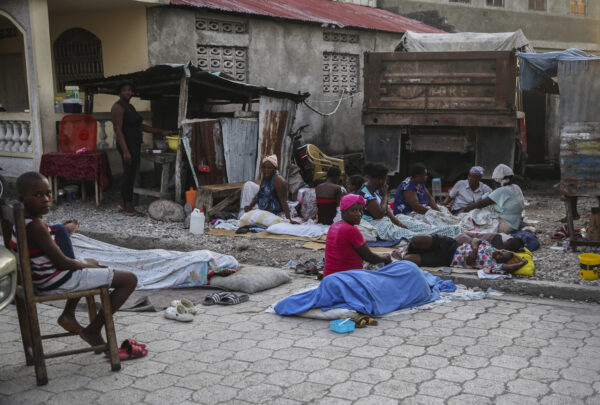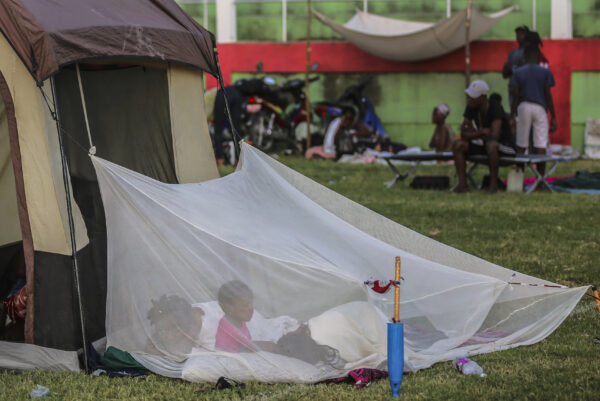 The race to find survivors comes as Tropical Depression Grace was expected to reach the Caribbean nation on the night of Aug. 16. The U.S. National Hurricane Center demoted the tropical storm to a depression on Aug. 15, but forecasters warned that Grace still posed risks of heavy rain, flooding, and landslides to the island.
According to the U.S. Geological Survey (USGS), the quake struck about five miles from the town of Petit Trou de Nippes, which is 93 miles west of the capital Port-au-Prince, at a depth of six miles, at 8:29 a.m. on Aug. 14.
A regional tsunami wave warning was issued, according to the U.S. Tsunami Warning System, and aftershocks continued to jolt the area on Aug. 15.
Haiti Prime Minister Ariel Henry declared a countrywide one-month state of emergency and called on coordinated efforts to provide aid to areas where towns were destroyed and hospitals were overwhelmed.
"We must work together to provide rapid and effective responses to this extremely serious situation," said Henry, who visited the badly damaged coastal town of Les Cayes.
The country's public works ministry dispatched 55 rescue teams, made up of military and civil protection personnel, for search-and-rescue efforts.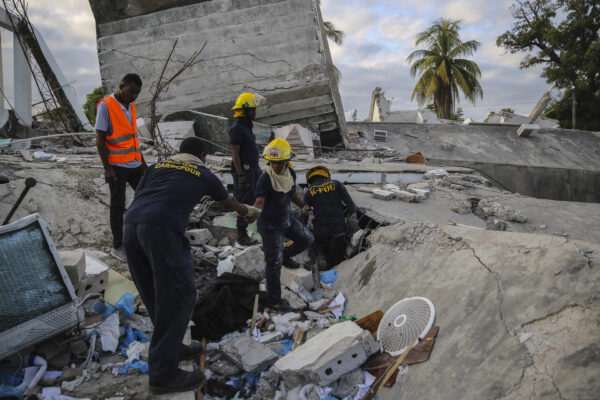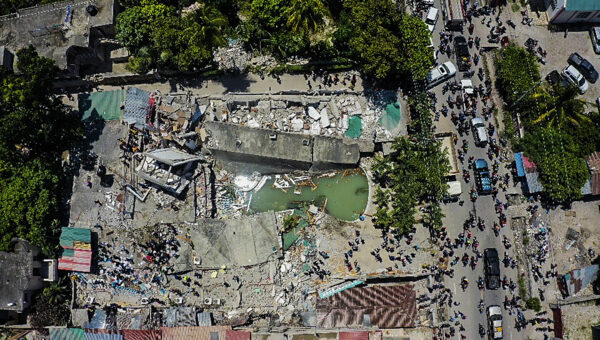 President Joe Biden has authorized an immediate response and named U.S. Agency for International Development (USAID) Administrator Samantha Power to oversee the U.S effort to help Haiti. A 65-member team from Fairfax County, Virginia, is being deployed by USAID to assist with search-and-rescue operations.
Bocchit Edmond, the Haitian ambassador to the United States, said he has requested a team from Miami–Dade County, Florida, to assist in search-and-rescue efforts.
"We want [U.S. first responders] to help," Edmond said. "We have news that in some parts of the country, there are probably people under rubble, and we want to give them a chance."
Hospitals in the country are overwhelmed, as Haiti has been struggling with the CCP (Chinese Communist Party) virus pandemic and lacks the resources to deal with it. The country of 11 million people received its first batch of U.S.-donated COVID-19 vaccines only last month via a United Nations program for low-income countries.
The powerful quake also struck just more than a month after the assassination of Haitian President Jovenel Moïse, which sparked political turmoil in the country. His widow, Martine Moïse, who was seriously wounded in the attack, posted a message on Twitter on Aug. 15 calling for unity among Haitians.
"Let's put our shoulders together to bring solidarity," she wrote. "Courage. I am always by your side."
The Associated Press contributed to this report.