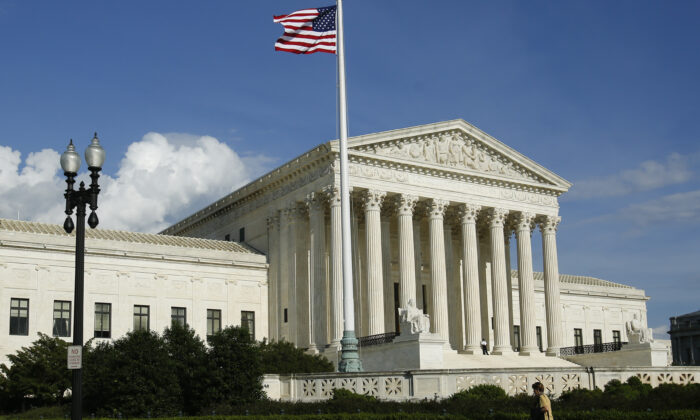 The Supreme Court of the United States in Washington on May 7, 2019. (Samira Bouaou/The Epoch Times)
Supreme Court Rejects Gun-Rights Appeals by Nonviolent Criminals
The Supreme Court has rejected requests by three convicted criminals to overturn lower court rulings that found they could legally be barred from owning firearms.
In an unsigned order, the nation's top court on April 19 declined to hear appeals from Raymond Holloway Jr., Lisa Folajtar, and Kenneth Flick, leaving lower court rulings against them intact. The trio, who all were convicted of nonviolent crimes, had asked the court to consider whether certain felons should be prohibited from possessing or owning guns.
At issue was the court's 2008 decision in "District of Columbia v. Heller." In a narrow 5–4 opinion then, the court found the Second Amendment "protects an individual's right to possess firearms" and that Washington's "total ban on handguns, as well as its requirement that firearms in the home be kept nonfunctional even when necessary for self-defense, violated that right."
However, justices also stated that the Second Amendment right "is not unlimited" and that the majority opinion "should not be taken to cast doubt on longstanding prohibitions on the possession of firearms by felons and the mentally ill."
In a petition to the Supreme Court, attorneys for Folajtar argued the lower courts have "failed" Americans who committed nonviolent crimes by not letting them fully reenter public life as an equal. Barring her from owning a gun because she made a false statement on her tax returns is unconstitutional, they asserted.
Holloway was convicted of driving under the influence, while Flick was convicted of importing and selling counterfeit cassette tapes.
David Thompson, an attorney for Folajtar, told The Epoch Times via email, "We regret that the Court has declined to take up this important issue at this time."
"While we are disappointed the the Supreme Court chose to allow grossly improper lower court rulings to stand, FPC will continue our aggressive litigation strategy and immediately move forward to litigate new challenges in various circuits to address serious constitutional questions including the proper test for Second Amendment cases, unconstitutional lifetime bans, and other restrictions not supported by history, tradition, or evidence," added Adam Kraut, the senior director of legal operations for the Firearms Policy Coalition, which was representing Holloway and Folajtar, in a separate statement.
The Supreme Court also decided on April 19 not to hear an appeal in a separate case concerning gun rights.
The New York State Rifle & Pistol Association and several petitioners asked justices to consider whether the Second Amendment protects a person's right to self-defense outside of the home, and whether states can dictate which people, if any, can exercise that right.
New York state bans open carry of guns entirely and requires that people obtain a license before carrying concealed firearms. The licensing program is excessively onerous, making it "virtually impossible for the ordinary law-abiding citizen to obtain a license," petitioners told the court in a brief.
The Supreme Court's rejection means that lower court decisions finding the petitioners' claims foreclosed by an earlier appeals court ruling, which stated that New York gun laws didn't violate the Constitution, will remain in place.
An attorney for the petitioners didn't immediately respond to a request for comment.