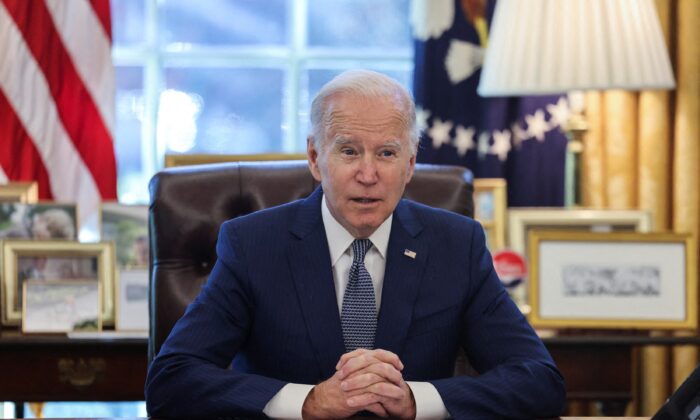 President Joe Biden speaks in the Oval Office at the White House on Dec. 13, 2021. (Evelyn Hockstein/Reuters)
Christian Ministries Ask Supreme Court to Block OSHA Vaccine Mandate
Several Christian ministries said they would file a petition with the Supreme Court in a bid to block President Joe Biden's vaccine mandate for private businesses.
The Fifth Circuit Court of Appeals blocked the mandate, enforced by the Occupational Safety and Health Administration (OSHA), in early November but the Sixth Circuit Court of Appeals lifted the court's stay on Dec. 17. OSHA said over the weekend that businesses now have until Jan. 10 to start making plans to enforce the rule.
Now, the Supreme Court will hear several consolidated lawsuits against the rule, which targets businesses with 100 or more employees and requires them to either have their workers get vaccinated or submit to weekly testing while wearing masks on-site.
"The Sixth Circuit panel's decision to end the stay is outrageous and endangers the freedom of all Americans," Kelly Shackelford, president, CEO, and chief counsel at First Liberty Institute, said in a statement announcing the filing. First Liberty is representing the three Christian ministries, including American Family Association, Answers in Genesis, and the Daystar Television Network.
Their legal challenge was filed with the nation's high court on Saturday.
"Few are aware that, in addition to the President's OSHA mandate being clearly lawless, its takeover of American companies also includes all religious organizations of over 100 employees," Shackelford added. "Our clients simply cannot comply with a government mandate that forces them to violate the conscience rights of their employees. The Supreme Court must act, or there will be a Constitutional crisis."
Any mandate that coerces "organizations to compel their employees to be vaccinated against their will is one that would require it to violate their employees' sacred rights of belief and conscience," Shackelford continued.
Last week, the Supreme Court refused to block a New York mandate that requires COVID-19 vaccines for all health care workers. But Justices Clarence Thomas, Samuel Alito, and Neil Gorsuch wrote they would have supported temporarily halting its enforcement.
"Sometimes dissenting religious beliefs can seem strange and bewildering. In times of crisis, this puzzlement can evolve into fear and anger," Gorsuch wrote in his dissent, published last week.
"One can only hope today's ruling will not be the final chapter in this grim story," Gorsuch continued. "Cases like this one may serve as cautionary tales for those who follow."
And in October, the Supreme Court also declined to take up a similar vaccine mandate for healthcare workers in Maine.
In that case, Gorsuch similarly wrote that "healthcare workers who have served on the front line of a pandemic for the last 18 months are now being fired and their practices shuttered," adding that they have been terminated "for adhering to their constitutionally protected religious beliefs."