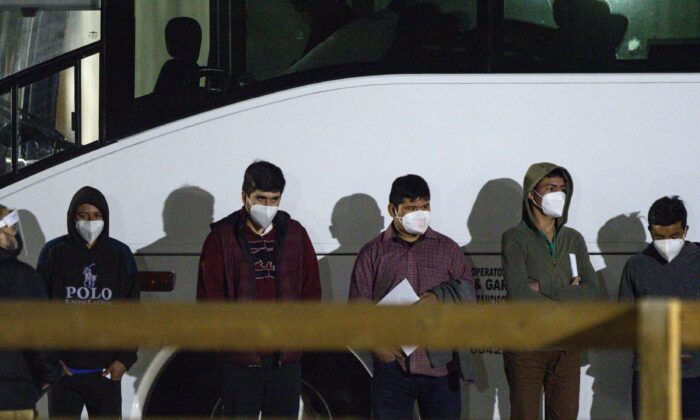 Children and teenagers who illegally crossed the U.S.-Mexico border wait to be processed after entering the site of a temporary holding facility south of Midland, Texas, on March 14, 2021. (Eli Hartman/Odessa American via AP)
500 Unaccompanied Minors to Be Housed in Emergency Holding Facility in San Antonio
Five hundred unaccompanied minors will arrive on Monday evening at an emergency holding facility in San Antonio, Texas, which was set up to address the surge in illegal border crossings in recent weeks.
The U.S. Department of Health and Human Services' (HHS) Office of Refugee Resettlement (ORR) said the Freeman Expo Center has been partly transformed to provide shelter for boys aged between 13 and 17 who had crossed into the United States illegally. The center has a potential capacity of 2,100 beds with an additional 300 medical beds.
The announcement is part of ongoing efforts by the Biden administration to increase bed capacity for unaccompanied minors—children who unlawfully enter the country without an adult—coming into the United States. The influx of illegal immigrants in recent weeks, in particular from unaccompanied minors, has overwhelmed border facilities and resources. The administration is currently seeking to build a bed capacity of 13,500 beds, with the potential for additional capacity in order to meet the continuous flow of unaccompanied minors coming across the border.
More than 18,000 unaccompanied minors were in the custody of either Customs and Border Protection (CBP) or HHS as of March 25, according to the HHS Administration for Children and Families.
The children will be provided with clothing, food, and basic necessities and will also receive a brief medical check, ORR said in a statement. The children will also be screened for COVID-19 every three days while at the San Antonio facility.
The opening of San Antonio's Emergency Intake Site comes shortly after the HHS announced that it had opened similar facilities for unaccompanied children, with the help of the Pentagon, in Fort Bliss, near El Paso, with a bed capacity of 5,000, and another temporary site at Joint Base San Antonio Lackland with a maximum capacity of 350 beds.
The ORR is also seeking federal government volunteers to bolster staff resources at facilities in southwest U.S. border areas such as Dallas, San Diego, San Antonio, and Fort Bliss, the U.S. Office of Personnel Management (OPM) confirmed to The Epoch Times.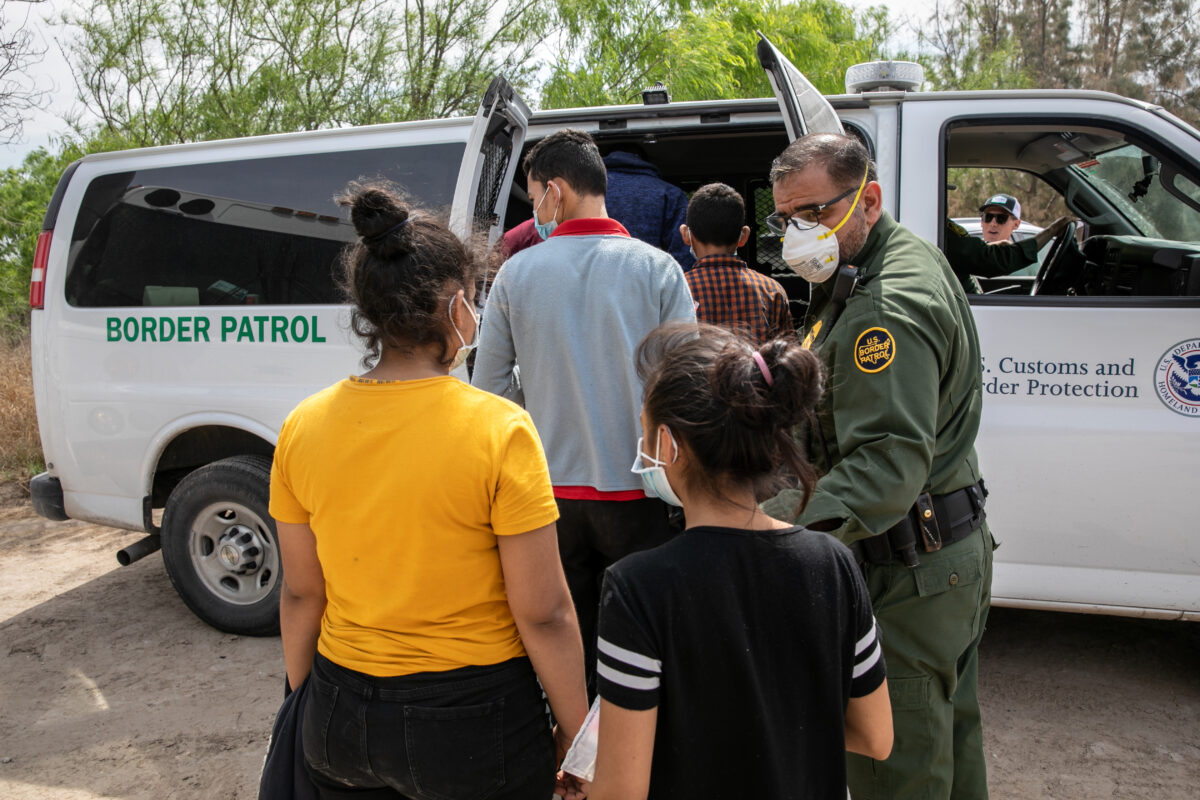 The number of family units (19,246) and unaccompanied minors (9,457) crossing illegally rose significantly in February, compared to 7,294 family units and 5,585 unaccompanied minors in January, and 4,404 family units and 4,993 unaccompanied minors in December 2020.
Similarly, the United States also faced a sharp spike of enforcement encounters in February at 100,441 encounters compared to 78,442 in January, 74,018 in December 2020, and 72,111 in November 2020.
Recent photos of the detention facilities provided by CBP, lawmakers, and non-profits show children sleeping in crowded conditions on floor mats, and in some cases on the floor. Some Republican lawmakers who have visited some of these centers have described the situation a "heartbreaking" humanitarian crisis that was "preventable."
"All of us today witnessed the Biden cages. What is occurring here on the border is heartbreaking and it is a tragedy," Sen. Ted Cruz (R-Texas) told reporters on Friday.
Rep. Henry Cuellar (D-Texas) has also lamented the "terrible conditions" at the border patrol facilities, while urging President Joe Biden to do more to improve his administration's messaging to curb the flow of migrants.
Biden upon taking office overturned several Trump-era immigration policies, including his predecessor's cornerstone Migrant Protection Protocol (MPP), which has been credited for ending the problematic "catch and release" policy. The expansion of MPP significantly stemmed the surge of illegal immigrants that were seen at the southern border in 2019, according to the Trump administration.
In a return to the Obama-era policies that facilitate "catch-and-release," the Biden administration is again releasing unaccompanied minors into the country.