A new study from health researchers shows encouraging signs that a quick and cost-effective screening tool can be developed to identify COVID-19.
The study, conducted by the Lawson Health Research Institute, Western University and the University of Alberta, has identified biomarkers that could be used to detect the COVID-19 virus in as little as 20 minutes in blood screening tests.
"As the second wave progresses and COVID-19 cases rise, there is an overwhelming demand for testing," says Dr. Douglas Fraser, lead researcher from Lawson and Western's Schulich School of Medicine & Dentistry, and Critical Care Physician at London Health Sciences Centre (LHSC).
"While our findings need to be confirmed in a larger group of patients, they could lead to a rapid, cost-effective screening tool as a first line of testing in the community and in-hospital."
According to the study, COVID-19 affects the blood concentration level of specific metabolites of the human body. Metabolites are small molecules broken down in the human body through the metabolism process.
In all, the team discovered four metabolites that can detect the COVID-19 virus.
However, with deeper analysis, they found that the concentrations of two metabolites—kynurenine and arginine—can distinguish the COVID-19 patients from other critically ill patients and healthy participants with 98 percent accuracy.
The researchers also discovered the concentration of two metabolites (creatinine and arginine) could be used to predict which COVID-19 patients are at risk of dying with 100 percent accuracy.
For metabolites that decrease in their concentration levels after being exposed to the COVID-19 virus, the team suggested using dietary supplements to maintain the patient's health.
"Providing dietary supplements could be a simple adjunctive or secondary therapy with meaningful outcomes," Fraser said.
The study analyzed the blood samples of 30 participants at LHSC: 10 COVID-19 patients, 10 patients with other infections admitted to LHSC's ICU, and 10 healthy control participants.
"We're working to uncover hard evidence about how the virus invades the body. Ultimately, we hope our combined findings can lead to faster diagnosis, ways to identify patients most at risk of poor outcomes and targets for novel treatments," Fraser said.
"This could ease the demand for current testing methods, perhaps being used as a portable, first-line screening tool in the community and for when undiagnosed patients present to hospital."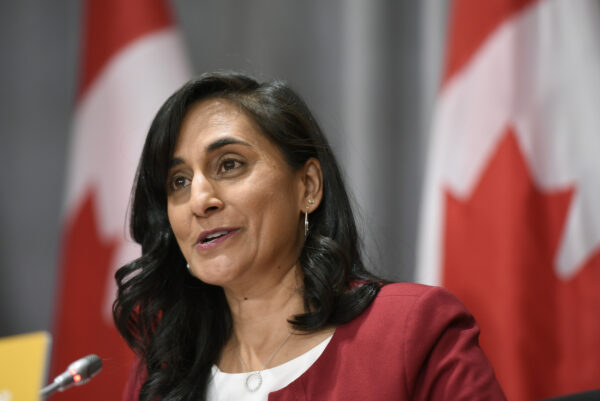 Ottawa announced on Oct. 6 that they have signed a new agreement with Abbott Rapid Diagnostics to purchase up to 20.5 million Panbio COVID-19 Antigen rapid tests—the first antigen rapid test to be approved by Health Canada.
Prior to that, the federal government had also ordered the purchase of 7.9 million ID Now rapid tests from Abbott.
Agreements have also been signed with Biomérieux Canada, which will supply nearly 700,000 diagnostic test kits, and Inter Medico, which will supply up to 1.2 million rapid tests.
On Oct. 21, procurement minister Anita Anand said that the first shipment of 100,000 ID Now rapid tests had arrived in Canada, though the eventual destinations were not disclosed.
With files from The Canadian Press