Children as young as 3 years old will start receiving vaccine doses in China as the country battles what Beijing has described as "rapidly developing" local COVID-19 clusters.
City and provincial authorities in at least seven provinces have issued notices in recent days requiring children between 3 and 11 years of age to be inoculated, widening China's vaccination campaign as the regime looks to lock down cities and quarantine en masse those suspected of carrying the virus.
"All who should get vaccinated will get vaccinated," some government announcements read.
The new rules place China among a handful of countries with the lowest age limits for vaccination, alongside the United Arab Emirates, which rolled out China's Sinopharm COVID-19 vaccine for children aged 3 to 17, and Cuba, which started giving shots to children as young as 2 in September.
The United States is now planning a large-scale rollout of COVID-19 vaccines for children aged 5 and older.
With only about 100 days remaining before Beijing is set to host the 2022 Winter Olympics, the regime has promised a "safe and splendid" games while aggressively pushing ahead with its "zero tolerance" COVID-19 policy. Its heavily restrictive containment measures have caused analysts to warn that they could negatively affect China's already weakening economy.
The virus has continued to spread in China even though more than 76 percent of the population in China has been fully vaccinated.
Over the past week, clusters of infections have emerged in about a dozen provinces, and the outbreak is still at risk of expanding, Mi Feng, a spokesperson for National Health Commission, said during an Oct. 24 press conference.
Shijiazhuang, a provincial capital near Beijing, quarantined nearly 2,000 people in recent days after one case of COVID-19 was reported, with the city mobilizing thousands of medical staff to search for potential infections. Tens of thousands of locals in some parts of the country's northern Inner Mongolia region are now confined to their homes, with officials threatening criminal prosecution for violators.
China approved in June the emergency use of two inactivated vaccines by Sinovac and Beijing Institute of Biological Products, Sinopharm's research institute in Beijing, on those aged 3 to 17. In August, it approved a third vaccine from Sinopharm's Wuhan affiliate on the same age group.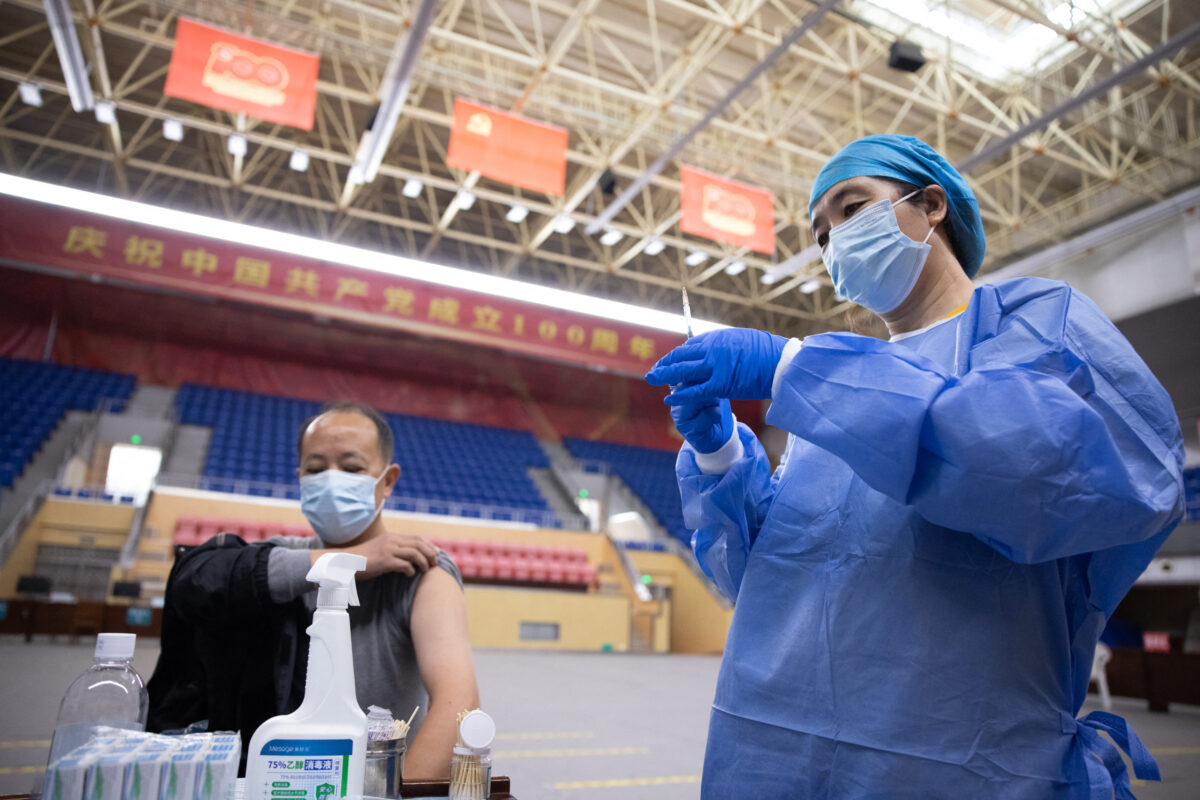 However, these vaccines are still in clinical trials, and there has been no definitive answer about their protection levels against the Delta variant currently driving the country's sporadic outbreaks.
Chinese authorities have also faced accusations of silencing reports of the deaths of individuals occurring shortly after they took Chinese-made vaccines.
Jiang Yanhong, a mother in central China's Henan Province, took her 12-year-old daughter to be vaccinated on Aug. 10. Two days later, the girl began experiencing a high fever with more than a dozen complications. She died on Aug. 28.
Believing that she lost her child because of the vaccine, Jiang petitioned local and national officials, but the local National Health Commission in Nanle County, where she lives, sent people to beat her, she told The Epoch Times. Nanle County's police detained her on Oct. 16 for "picking quarrels and provoking trouble," an umbrella charge typically used against dissidents, according to a detention notice provided to The Epoch Times.

Yang Xiaoming, the CEO of Sinopharm subsidiary China National Biotec Group, told state media in July that the overall data suggest a high safety rate for the vaccines, but didn't disclose the data.
Sinovac started an efficacy trial with 14,000 child participants across multiple countries in September. Its approval in China was based on smaller phase one and phase two trials. Sinopharm's Beijing vaccine was also approved based on smaller phase one and phase two trials.
Wang Lu, who lives in the southern city of Fuzhou in Fujian Province, said she isn't in a rush to get her 3-year-old son vaccinated.
"I'm just not very clear on the vaccine's safety profile, so I don't really want to get him vaccinated. At the very least, I don't want to be the first," she said.
The Associated Press contributed to this report.