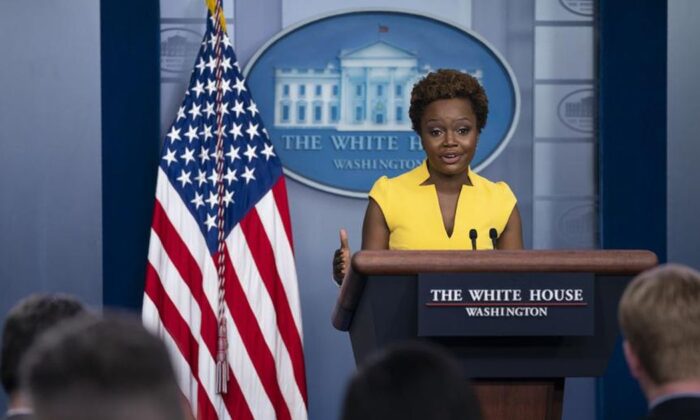 White House deputy press secretary Karine Jean-Pierre speaks during a press briefing at the White House, Wednesday, May 26, 2021, in Washington. (AP Photo/Evan Vucci)
White House Walks Back Statement on COVID-19 Lockdown Possibility
A White House spokeswoman walked back a statement on the possibility COVID-19 lockdowns will be reimplemented due to the Delta variant.
On Thursday, White House principal deputy press secretary Karine Jean-Pierre was asked by a Fox News reporter about whether future COVID-19 lockdowns would be considered. Jean-Pierre didn't provide a direct answer, instead saying that the administration would follow the guidance of the Centers for Disease Control and Prevention (CDC) and other health experts, leading to speculation that more lockdowns could be in order in the near future.
But hours later, Jean-Pierre wrote on Twitter that the administration isn't considering lockdowns.
"To be clear, here is what [President Biden] said this week: 'more vaccinations and mask wearing in the areas most impacted by the Delta variant will enable us to avoid the kind of lockdowns, shutdowns, school closures, and disruptions we faced in 2020 … We are not going back to that,'" she wrote on Twitter.
"We will not be going back into lockdowns. Why? Because we now have the tools to put this virus behind us," she continued. "The science says the vaccines work—including against the Delta variant. We urge Americans to get vaccinated."
On Tuesday, the CDC, which had advised vaccinated people months ago that they no longer needed to wear masks, reversed course, saying even the fully vaccinated should wear face coverings in situations where the virus was likely to spread.
Two days later, President Joe Biden urged local governments to pay people to get vaccinated and set new rules requiring federal workers to provide proof of vaccination or face regular testing, mask mandates, and travel restrictions.
The United States has about 2.18 million civilian employees and 570,000 other U.S. Postal Service (USPS) workers, according to 2020 data. Postal workers are not affected by the new rules.
"Right now too many people are dying or watching someone they love" dying, Biden told reporters at the White House on Thursday. "With freedom comes responsibility. So please exercise responsible judgment. Get vaccinated for yourself, the people you love, for your country."
According to the CDC, roughly 163.8 million people in the United States are fully vaccinated out of a population of some 330 million.
The president said that local governments should start paying people $100 to get their first dose of a COVID-19 vaccine.
"I know that paying people to get vaccinated might sound unfair to folks who have gotten vaccinated already. But here's the deal: if incentives help us beat this virus, I believe we should use them," Biden said Thursday.
Reuters contributed to this report.