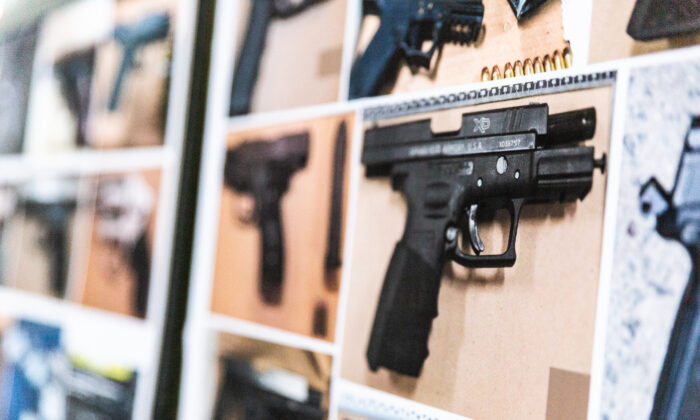 Guns confiscated by the Santa Ana Police Department are displayed for a press event in Santa Ana, Calif., on March 11, 2021. (John Fredricks/The Epoch Times)
Santa Ana's Gun Troubles Continue Following Deadly Shooting
Santa Ana police are investigating another fatal shooting as city officials continue to grapple with a rise in gun crimes.
The latest homicide happened March 26, when police said a man fatally shot his neighbor with a handgun in a mobile home park on the 3100 block of West 1st Street.
The victim died before he could be transported to the hospital.
Alfonso Jasso, 36, later turned himself into police after driving himself to the police department to surrender, and he was booked on suspicion of homicide.
Santa Ana police have said that gun seizures are on the rise.
The city consistency reported an increase in gun seizures from September 2019 to February, according to Santa Ana Police Department data.
Last month, police seized 25 guns, compared to 20 in February 2020. In January, police seized 30 guns as opposed to the 21 they seized in January 2020.
Overall, Santa Ana police seized 71 illegal weapons off the streets during the first 70 days of 2021.
During the week of March 22, police seized approximately another 10 guns of the streets, among loads of drugs and cash.
The increase in gun seizures comes as the Santa Ana Police Department launched a new crime fighting initiative March 11 called "Operation Community First" after they experienced eight homicides from the beginning of the year to March 10. There was one homicide during the same period of 2020.
One of the operation's top priorities will be getting illegal guns off the streets.
"The increase in violent crime, unfortunately, is consistent with patterns, both in small and large cities across the country throughout 2020," Santa Ana Chief of Police David Valentin said during a March 11 press conference.
"The department remains committed to community-oriented policing and partnering with our community to address violent crime."
Additionally, shootings in Santa Ana are up year-over-year, although they have decreased overall in the last five years.
"Removal of illegal firearms from the street is very, very important," Valentin said. "It's one of our top priorities. For every weapon that you remove off the streets, you likely further prevent violent crime."
Since the beginning of the operation, Santa Ana has continued to crack down on weapons being seized during arrests of parolees and other people who are prohibited of owning firearms.