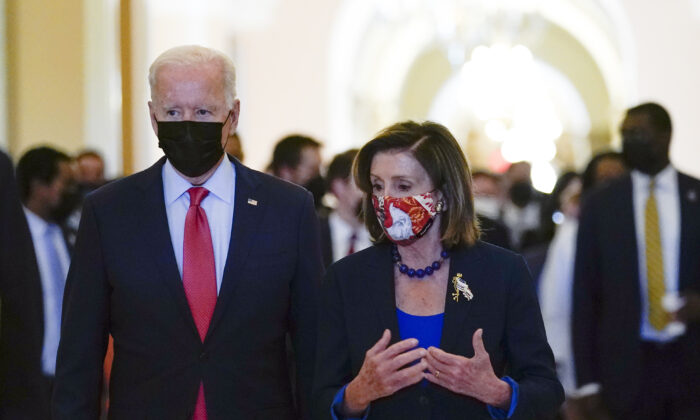 President Joe Biden walks with House Speaker Nancy Pelosi (D-Calif.) on Capitol Hill on Oct. 1, 2021. (Susan Walsh/AP Photo)
Pelosi: Congress Is Nearing Deal on Biden's Social Spending Plan
House Speaker Nancy Pelosi (D-Calif.) has suggested that Democrats are poised to reach an agreement on President Joe Biden's social spending package, although the price tag isn't yet clear.
"We have 90 percent of the bill agreed to and written. We just have some of the last decisions to be made," Pelosi told CNN's "State of the Union" on Oct. 24, before she was pressed on whether an agreement would be made before Oct. 29. "I think we are pretty much there now."
Democrats have struggled to agree on a framework of $2 trillion or less that will allow the House of Representatives to move forward on a $1 trillion bipartisan infrastructure bill and set the stage for the passage of Biden's climate change and social welfare agenda.
All Republicans have opposed the social spending package, but in August, approximately 20 Republican senators voted in favor of the infrastructure bill. Since then, House leadership has held off on approving the legislation as the leftist House Progressive Caucus has frequently signaled that the infrastructure measure can't be passed without the larger package.
Senate Majority Leader Chuck Schumer (D-N.Y.) and Sen. Joe Manchin (D-W.Va.), a moderate Democrat who has objected to portions of, as well as the price of, the mammoth spending package, were scheduled to meet on Oct. 24.
Manchin, as well as Sen. Kyrsten Sinema (D-Ariz.), voiced opposition to the initial, $3.5 trillion social spending package before the measure was cut down to $2 trillion in recent days. Both Manchin, who has denied reports that he was planning to leave the Democratic Party, and Sinema have opposed the size and scope of the legislation.
During the interview, Pelosi confirmed the development.
"Schumer and Manchin are having the meeting on some of the particulars that need to be finalized," she said. "I'm optimistic that we can do that."
Unconfirmed reports citing White House officials asserted that the two Democrats would also meet with Biden on Oct. 24.
Votes on the infrastructure and social spending plan would be held in the coming days, Pelosi said, noting that paid leave could be included in the final package.
"That's our hope, that's what we're fighting for," she said in response to whether paid leave can be included.
Pelosi also suggested that an expansion of Medicare is also "part of the negotiation" but cautioned that "dental is very expensive."
"Dental will take a little longer to implement," she said. "We've been told by people who know about these things that it'll take five or six years in order to implement the dental. So how do we, shall we say, fill in the blank there?"
Reuters contributed to this report.