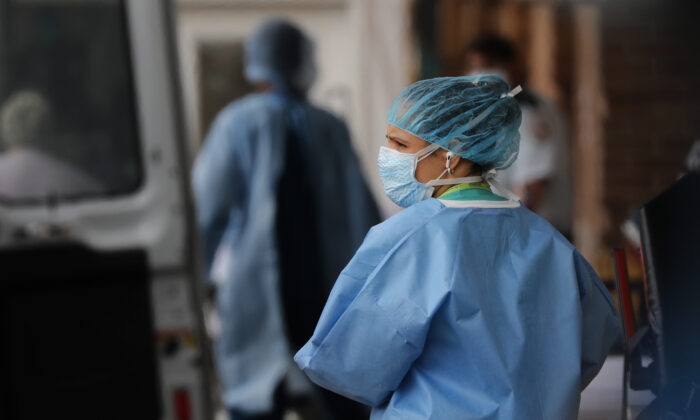 Medical workers bring in patients at a special coronavirus intake tent at Maimonides Medical Center in Borough Park section of Brooklyn on April 2, 2020. (Spencer Platt/Getty Images)
NY Healthcare Workers, Teachers Likely Ineligible for Unemployment If Fired Over Vaccine Mandate
New York healthcare workers and teachers who don't want the COVID-19 vaccine will not only lose their jobs but could also be unable to get unemployment benefits.
Thousands of nurses and other hospital workers have been put on leave, slated to be fired, as the state's vaccination mandate deadline for hospital staff passed on Sept. 27. At least some hospital systems have given their staff some time to still get the needle and return to work before facing termination.
In addition, New York City teachers have until Oct. 1 to get at least one shot of the vaccine lest they face a year of unpaid leave with health benefits or termination with a severance package.
Once fired, the workers could be left without access to unemployment insurance unless they legitimately asked for a health or religious exemption, according to the state's Department of Labor (DOL).
"Workers in a healthcare facility, nursing home, or school who voluntarily quit or are terminated for refusing an employer-mandated vaccination will be ineligible for UI absent a valid request for accommodation because these are workplaces where an employer has a compelling interest in such a mandate, especially if they already require other immunizations," says a guidance on the DOL website.
It explains that "eligibility will depend on the circumstances as each claim is unique and reviewed on a case-by-case basis."
Benefits may be denied to other government workers too.
"A public employee who works in a public setting and is subject to a local government mandate to submit proof of vaccination or negative testing may be disqualified from the receipt of UI if they refuse to get vaccinated or tested," the guidance says.
Aside from exemption requests, another factor in play is whether the employee interacts with the public, according to the website.
"A worker who refuses an employer's directive to get vaccinated may be eligible for UI in some cases if that person's work has no public exposure and the worker has a compelling reason for refusing to comply with the directive," it says.
When asked for additional details, a DOL spokesperson referred The Epoch Times back to the guidance.
Some states are keeping the vaccines voluntary, noting that, at the very least, natural immunity induced by prior COVID-19 infection should be acknowledged alongside vaccination. New York, however, and New York City in particular, has been at the forefront of mandating the vaccines in a growing share of society. Besides the state mandate for healthcare workers, the city requires the vaccine for teachers, other school staff, government employees, staff and seated customers in restaurants, as well as staff and customers in theaters, gyms, cinemas, and other establishments.
The novel vaccines, developed in record time and still in the process of clinical trials, are known to cause severe side effects like myocarditis in young men and blood clots, though authorities and experts say these are rare and pose a lower risk than the disease itself. The vaccines also don't necessarily prevent one from contracting and spreading COVID-19. The clinical trials indicate they minimize the symptoms.
Update: The article has been updated to clarify the vaccine mandate situation in New York State and New York City.