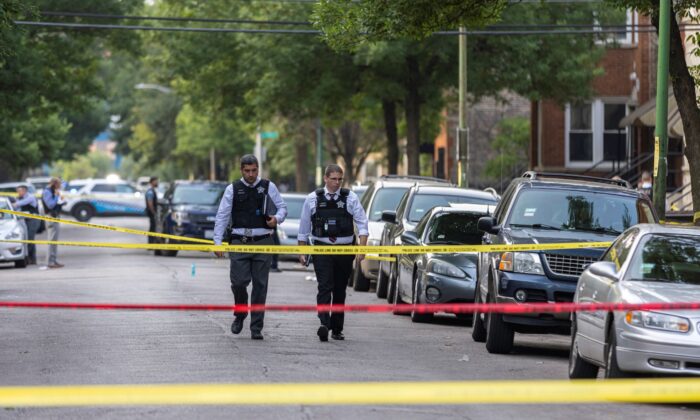 Police investigate the scene of a shooting near 1324 S Christiana Ave in Lawndale, on Chicago's West Side, Wednesday, July 21, 2021. (Anthony Vazquez/Chicago Sun-Times via AP)
More Than 3,000 Chicago Officers Defying City's Vaccine Reporting Mandate: Union President
The head of one of Chicago's police unions estimated that more than 3,000 officers are refusing to comply with the city's COVID-19 vaccine reporting mandate, coming as the city sent out several threatening memos to officers in recent days.
"The unofficial number we have is about over 3,200″ or "about a third of the department," Fraternal Order of Police President John Catanzara told CBS Chicago. Over the weekend, the city said that all city workers need to report their vaccination status.
On Monday, officers who won't report their vaccination status could be immediately suspended without pay, Catanzara predicted. But the citywide mandate, he argued, is illegal because Mayor Lori Lightfoot's administration didn't negotiate with the union.
A memo sent by top officials in the Chicago Police Department to staff on Sunday threatened the firing of officers who refuse to comply with the city's vaccine policy. Police officers who retire while under investigation could be denied their retirement, the memo also warned.
"A Department member, civilian or sworn, who disobeys a direct order by a supervisor to comply with the City of Chicago's Vaccination Police issued 8 October 2021 will become the subject of a disciplinary investigation that could result in a penalty up to and including separation from the Chicago Police Department," said the memo, which was obtained by The Epoch Times. "Furthermore, sworn members who retire while under disciplinary investigations may be denied retirement credentials."
On Sunday night, the Fraternal Order of Police issued a sharply worded response on Facebook.
"Still think this is about COVID or public health?? This mayor is a complete and utter joke," the post read, including a picture of Lightfoot at a sports arena without a mask on. "She is the epitome of hypocrisy. This is [plain] and simple union-busting. The other city unions better wake up. Today it's us under attack. Tomorrow it will be you if you challenge this tyrant. We will not relent."
Earlier this month, Lightfoot agreed to allow city workers to stay unvaccinated until the end of 2021 but submit COVID-19 test results twice per week. Under the memo, workers have to fill out a city form reporting their vaccination status regardless of whether they have received the vaccine or not.
The tug-of-war between the police union and Lightfoot's office comes as at least four people were killed and 20 were injured in shootings over the past weekend across Chicago, local media reported. A website that compiles reports of homicides and shooting incidents says that more than 680 people have been murdered in Chicago so far in 2021.
The Epoch Times has contacted the Chicago Police Department for additional comment.