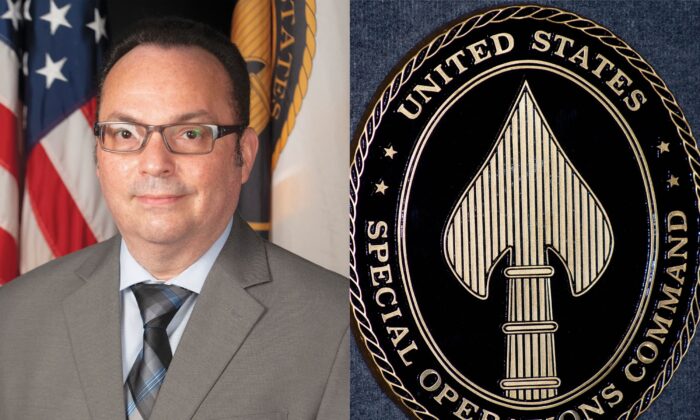 Richard Torres-Estrada in an undated photograph and the USSOCOM logo. (USSOCOM; AFP via Getty Images)
Military Diversity Officer Who Compared Trump to Hitler Reinstated After Pentagon Probe
A diversity officer in a branch of the U.S. military has been reinstated after an investigation into his social media posts, which included one missive comparing then-President Donald Trump to Adolf Hitler, uncovered no violations of Department of Defense policies.
In March, the U.S. Special Operations Command announced the hiring of Richard Torres-Estrada as its chief of diversity and inclusion. Shortly afterward, he was reassigned as officials investigated posts he'd made during the Trump administration, including one in which he made a comparison of Trump to Hitler.
That investigation recently wrapped up after finding no policy violation.
"Mr. Torres-Estrada has resumed the duties of the Chief of Diversity & Inclusion for United States Special Operations Command after a USSOCOM commander-directed investigation into the circumstances surrounding his hiring concluded and found no violations of law or DoD regulation," a USSOCOM spokesman told news outlets.
"USSOCOM is confident in the hiring process and Mr. Torres-Estrada's potential to fill this important position."
Facebook posts reviewed by The Epoch Times show Torres-Estrada compared Trump to Hitler, who perpetrated the Holocaust. He also denigrated Trump on at least one other occasion.
In addition, Torres-Estrada posted an image expressing support for the radical theory of equity, which posits that an equal outcome among people is favorable to certain persons getting ahead of others.
USSOCOM told The Epoch Times in March that officials weren't aware of the posts before hiring Torres-Estrada. The official wasn't terminated immediately after the posts were discovered because actions involving civilian personnel are governed by federal law and other regulations, a spokesman said.
"Civilian employees have rights under those laws and regulations. When allegations are made about an employee, the command must determine what the facts are and what actions, if any, are appropriate under those laws and regulations before taking action," he said previously.
Torres-Estrada didn't immediately respond to requests for comment.
Members of Congress had expressed surprise at Torres-Estrada's hiring.
Rep. Bill Johnson (R-Ohio) said he was shocked, asserting that the official's comparison of Trump to Hitler "shows irredeemably poor judgment and the total inability to separate fact from fiction."
"What do you think, will a 'diversity and inclusion' officer for our elite military units make America stronger? Or are China and Russia laughing at us?" Rep. Vern Buchanan (R-Fla.) said.