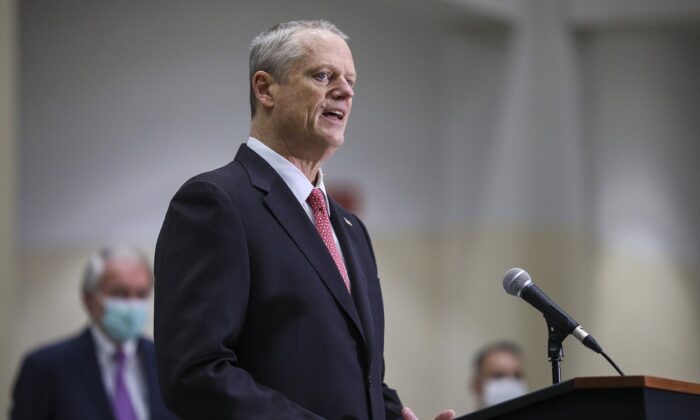 Massachusetts Governor Charlie Baker speaks to the press at the Hynes Convention Center FEMA Mass Vaccination Site in Boston, Mass., on March 30, 2021. (Erin Clark-Pool/Getty Images)
Massachusetts Governor Suspends a 'Few Hundred' State Employees Over COVID-19 Vaccine Mandate
Massachusetts Gov. Charlie Baker, a Republican, said Monday that a "few hundred" state workers face suspension over not complying with the state's COVID-19 vaccine mandate.
Baker issued an executive order on Aug. 19 requiring all Executive Department employees to provide proof of COVID-19 vaccination on or before Oct. 17, 2021.
The order noted that Executive Department employees who are not vaccinated or approved for an exemption as of Oct. 17 will be "subject to disciplinary action, up to and including termination."
As of last week, at least 362 executive branch workers were placed on a five or 10-day suspension for failing to show proof of vaccination or an approved exemption, according to the Baker administration.
Another 141 workers quit over the state's vaccine mandate. In total, more than 500 workers have been impacted.
"We're still working our way through the folks who've requested exemptions and we're trying to be careful and deliberate about that," Baker said at a briefing, Gloucester Daily Times reported.
"But I think at this point the thing we're most pleased about is the fact that so many people went out and got vaccinated after we put the requirement in place," he added.
The Executive Department employees were not alone among those suspended or losing jobs in the state over COVID-19 vaccine mandates.
In September, the State Police Association of Massachusetts has called upon a judge to suspend the state's COVID-19 vaccine mandate for troopers.
The state police union filed the lawsuit against the Commonwealth, seeking an injunctive relief prohibiting the state from implementing its vaccine mandate without bargaining with the union.
The complaint (pdf) claimed that the mandate would cause the union and its members "foreseeable, immediate harm," which includes the impacts of vaccinations, potential side effects, and subjecting troopers to discipline up to termination.
The case was denied, with dozens of Massachusetts state troopers submitting their resignations ahead of the deadline to comply with the state's mandatory COVID-19 vaccination mandate.
"Many of these troopers are going to be returning to their previous municipal police departments within the state that allow for regular testing and masks," State Police Association of Massachusetts President Michael Cherven said in a statement. "To date, dozens of troopers have already submitted their resignation paperwork.
"Throughout COVID, we have been on the front lines protecting the citizens of Massachusetts and beyond," he said. "Simply put, all we are asking for are the same basic accommodations that countless other departments have provided to their first responders, and to treat a COVID-related illness as a line of duty injury."
Li Hai and Jack Phillips contributed to this report.