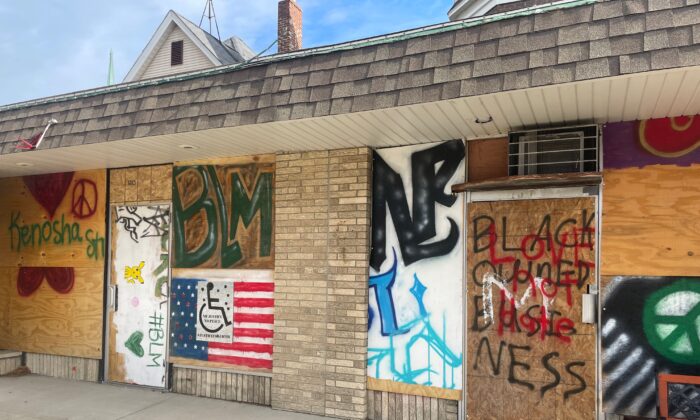 A patchwork of reused plywood protects a business in Kenosha, Wis., on Nov. 21, 2021. (Jackson Elliott/The Epoch Times)
Kenosha Living in Fear Ahead of Sunday Protests of Jury Acquittal
KENOSHA, Wis.—In Kenosha, many everyday businesses are nervously anticipating Sunday's protest march against a jury's acquittal of Kyle Rittenhouse.
Over six businesses interviewed by The Epoch Times were unwilling to be quoted, even with the offer of anonymity.
Most explained that their silence was out of concern that sharing their perspective would result in their stores being looted during tomorrow's 2 p.m. protest.
It remains unclear how many protesters will appear. If the event's organizers reach their own highest benchmark, about 120 people may attend. In the Jacob Blake riots, 175 people were arrested, and many more participated.
Even so, the town is on edge.
"I'm not commenting on anything," one business owner said while declining to comment. "If I say something wrong, my business is gonna get targeted."
Although Kenosha's streets were quiet and peace-filled while bathed in the afternoon sunlight, many of its people spent the day dreading what Sunday's protest march may bring.
One of the few people willing to be quoted by name was John Chaney. Along with two other men, Chaney was working to put up plywood barricades over the windows of businesses.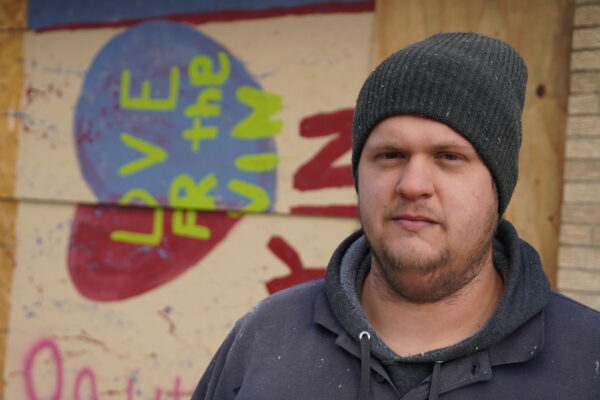 "Last time we boarded up here, we were a day late," he said. "What was originally a Boost Mobile here got broken into," Chaney said.
Since the riots after the shooting of Jacob Blake, plywood has gotten far more expensive, Chaney said. It's now about $14 for a new eight-by-four board, and he has resorted to reusing plywood used in the first set of riots. Two-by-four boards cost even more, he said.
To board up businesses, Chaney used boards originally earmarked for use in construction.
One building Chaney boarded up today had at least 24 plywood sheets—over $336 of wood.
The plywood, decorated with paints from the first riot, was a hodgepodge quilt of symbols—an American flag on one piece, "BLM" on another, "Black-owned business" on a third, and art on a fourth.
Despite the preparations, Chaney said he expects that the protest will be peaceful and small.
"They're just gonna come up here and yell in small groups for a little bit and everyone's gonna shout at them in bitter tones to go home," he said.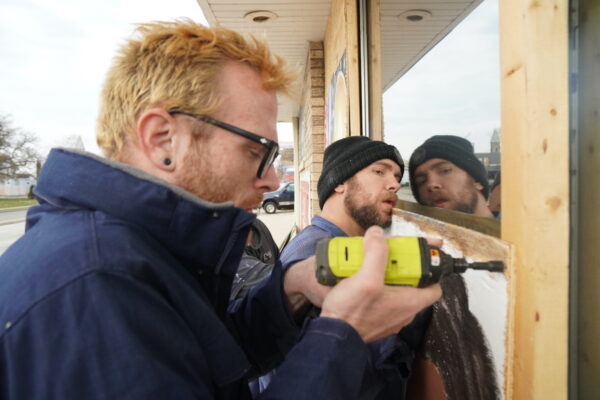 This time, Kenosha will be better prepared for riots, he added. When the Jacob Blake riots happened, no one expected the small Wisconsin town to crackle with flames and gunshots. People thought the police would stop any riots, he said.
"No one could have expected it," he said, referring to last year's burning and looting. "But this time, it's no holds barred."
If there is violence, Chaney said, Kenoshans are better prepared this time.
After the last riots, the town also saw a massive post-riot gun-buying spree.
"You have the God-honest right to keep a gun in your home. If someone crosses that line, you have got the right," Chaney said.
One armed Kenosha resident said that he dreads the thought of any potential violence in his town, although he is prepared for it.
Gun owner Terry Weidig said that after the Jacob Blake riot, many Kenoshans and nearby people bought so many guns and ammunition that they were almost impossible to find.
In that riot, protesters passed his house as he heard reports of them damaging cars and throwing rocks.
Weidig said that after the riots, he bought 250 .380 bullets for $1 apiece because he feared more violence. Usually, these bullets cost less than a dollar.
Weidig said he hated even the thought of using a gun in self-defense.
"The last thing I ever want to do is [to] have to pull a firearm on someone," he said. "That's one of my biggest fears. But it gives me a little bit of comfort knowing I have protection for me, my wife, my daughter, and my mother-in-law."
Paladin Protection Academy gun store owner Brian Gard said that he is committed to keeping his store safe if a riot does break out.
"If they walk with body armor, rifles, ammo … [if] that walks out onto the street … people with that mindset, again, what do we believe their intent is with those weapons?" Gard said.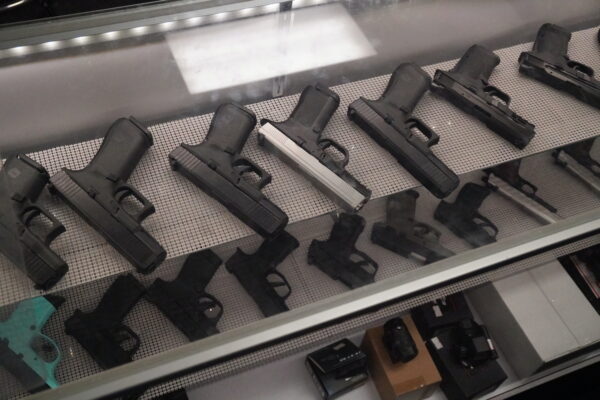 In the past week, Gard said he has seen a far steadier stream of buyers than normal.
"A lot of folks, I think, are looking at home defense," Gard said.
His best-selling items this week were body armor, handguns, and shotguns, he said.
From 3 to 4 p.m. on Saturday, the metallic slap of customers testing handgun slides didn't stop. Three staff members could hardly handle the flow of both African American and white American customers.
Gard and the other staff members helped customers find the best handgun to suit their needs.
"We believe the Second Amendment's for everyone," Gard said. "It doesn't matter if you're white, black, or LGBTQ+," he said.
If the worst happens tomorrow, it will happen in a better-prepared Kenosha, with the Wisconsin National Guard and law enforcement already on standby days ahead of the planned protest.
Wisconsin Gov. Tony Evers on Friday reiterated his call for protesters to remain peaceful following the acquittal.
"I echo the calls of local Kenosha community leaders and join them in asking everyone who might choose to assemble and exercise their First Amendment rights in any community to please only do so safely and peacefully," he said in a statement. "We must have peace in Kenosha and our communities, and any efforts or actions aimed at sowing division are unwelcome in our state as they will only hinder that healing."
President Joe Biden also urged protesters to advocate peacefully and within the bounds of the law.
"I urge everyone to express their views peacefully, consistent with the rule of law," Biden said. "Violence and destruction of property have no place in our democracy."
The Epoch Times has reached out to the mayor's office for comment but did not hear back by press time.