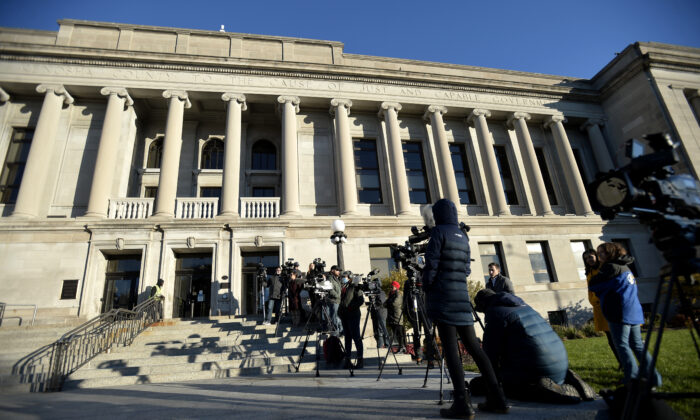 Reporters are seen outside the Kenosha County Courthouse in Kenosha, Wis., on Nov. 2, 2021. (Sean Krajacic/Pool/Getty Images)
Kenosha Closes Schools as Protesters Appear Outside Courtroom
Five schools near the Kenosha County Courthouse have begun to close as protesters started to congregate outside the court in anticipation of a verdict in the Kyle Rittenhouse trial.
The Kenosha Unified School District announced in a statement that students will receive virtual instruction because "activity surrounding the courthouse continues to grow."
"While we have not been advised of any existing imminent danger, we feel this is the best course of action to protect our students and staff during an uncertain time. We will continue to work closely with law enforcement to receive support as needed in the days and weeks ahead," the letter stated.
Outside the courtroom, Black Lives Matter demonstrators as well as individuals who support Rittenhouse have been chanting slogans as the jury deliberates the teen's fate.
Rittenhouse faces charges in the shooting deaths of two people during riots and protests in Kenosha last year. Rittenhouse could get life in prison if convicted of the most serious charge against him.
Already, a 20-year-old man was arrested for battery and a 34-year-old woman was arrested for disorderly conduct outside the courtroom on Wednesday, said the Kenosha Police Department.

"The Kenosha Police Department and the Kenosha County Sheriff's Department fully recognize the importance of media coverage surrounding the trial. The media and the public have a responsibility to give space to law enforcement and allow them to perform their duties. Please do so," the department said in a statement.
Authorities said that the woman who was arrested outside the court was identified as Shaquita Cornelious. According to a Facebook profile, she describes herself as the co-chairperson of a Black Lives Matter chapter in Lake County, Illinois.
The other suspect, Anthony Chacon, was charged with felony bail jumping, misdemeanor bail jumping, battery, resisting, and disorderly conduct, a spokesperson for the Kenosha Sheriff's Department told Fox News.
On Thursday, Judge Bruce Schroeder banned MSNBC from the courthouse after police said they briefly detained a man who had followed the jury bus and may have tried to photograph jurors. The judge said the man claimed to be working for the network.
NBC News said in a statement that the man was a freelancer who received a citation for a traffic violation that took place near the jury vehicle, and he "never photographed or intended to photograph them."
The Associated Press contributed to this report.