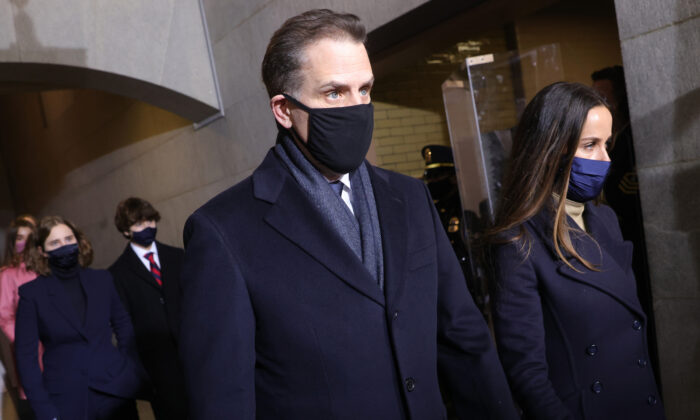 Hunter Biden arrives to the inauguration of Joe Biden on the West Front of the U.S. Capitol on Jan. 20, 2021. (Win McNamee/Getty Images)
Hunter Biden: Ukraine Laptop 'Could' Be His but Says It Was Possibly Hacked by Russians
President Joe Biden's son Hunter has acknowledged a laptop computer with a slew of previously secret messages could be his but also suggested he was hacked by Russians.
"There could be a laptop out there that was stolen from me. It could be that I was hacked. It could be that it was the—that it was Russian intelligence," Hunter Biden told CBS in an interview clip released Friday.
The laptop was dropped off in 2019 at a computer store in Delaware owned by John Paul Mac Isaac, who says Hunter Biden asked him to recover contents from the damaged machine. An authorization allegedly signed by the younger Biden was submitted in a recent lawsuit filed by Mac Isaac against Twitter.
The computer contained explosive messages and emails between Hunter Biden regarding his various business dealings, which have taken place in countries such as Ukraine and China. A cybersecurity expert authenticated one email that indicated Vadym Pozharskyi, a top executive from Ukrainian gas firm Burisma, met with Joe Biden while in Washington in 2015. Joe Biden was vice president at the time, and Hunter Biden served on the board of Burisma.
Hunter Biden's dealings are under investigation by lawmakers in Congress and his tax returns are being probed by the U.S. Attorney's Office in Delaware.
President Biden has called the release of information from the laptop allegedly belonging to his son part of a "smear campaign." The contents were first published in October, as Biden challenged then-President Donald Trump.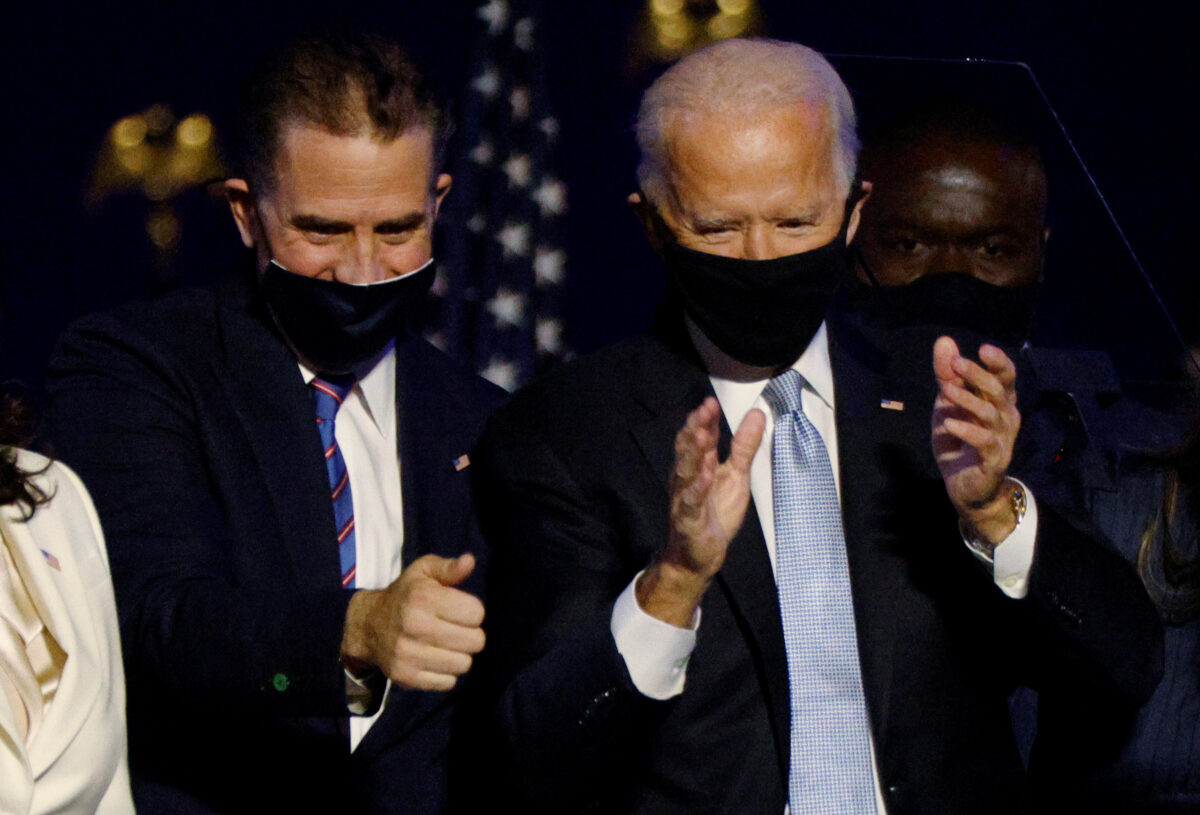 In the new interview, Hunter Biden, who is promoting his new book, also spoke about a moment during the 2020 campaign that he said saved him from doing drugs. The younger Biden has long struggled with addiction.
Hunter Biden said his father chased him down the driveway at his father's home in Wilmington, Delaware. He said his daughters blocked the door to his car and his father "grabbed me—gave a bear hug, and he said—and just cried, and said—'I don't know what to do. I don't know what to do. Please.'"
"I thought: 'I need to figure out a way to tell him that I'm gonna do something, so that I can go take another hit.' It's the only thing I could think. Literally," Hunter Biden added. "That's how powerful. I don't know of a force more powerful than my family's love. Except addiction."
The interview came after National Public Radio (NPR) issued a correction to a review of Hunter Biden's book that claimed the idea that the laptop belonged to him was "discredited by U.S. intelligence and independent investigations by news organizations."
That line now says, "Numerous news organizations cast doubt on the credibility of the laptop story."
The correction states: "A previous version of this story said U.S. intelligence had discredited the laptop story. U.S. intelligence officials have not made a statement to that effect."
The author of the article didn't respond to a request for comment.
NPR's news editor said last year that the outlet wasn't covering the laptop because "we don't want to waste our time on stories that are not really stories."