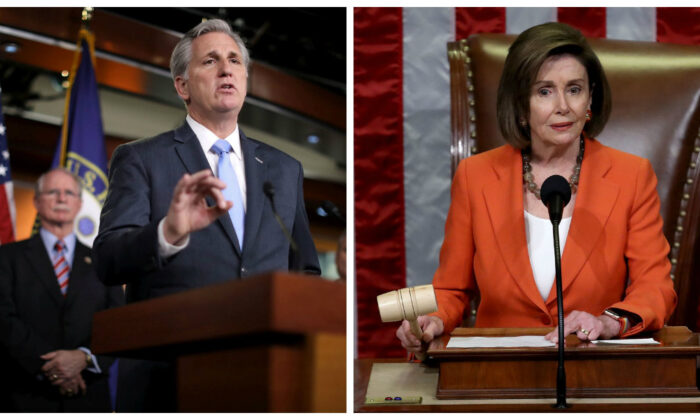 House Minority Leader Kevin McCarthy (R-Calif.) and House Speaker Nancy Pelosi (D-Calif.) in file photos. (Chip Somodevilla/Getty Images; Win McNamee/Getty Images)
House GOP Leader Predicts More House Democrat Retirements Ahead of Midterms
House Minority Leader Kevin McCarthy (R-Calif.) predicted there will be more Democrat retirements ahead of the 2022 midterm elections—coming after three announced they wouldn't seek reelection in the past week.
"Once you get past Thanksgiving and members go home, and they're Democrats and they've been challenged before and they're going to get beat up, Congress is not that great," the Republican from California told Fox News on Tuesday.
On Monday, two longtime Democrat congressmen—Reps. David Price (D-N.C.) and Mike Doyle (D-Pa.)—announced they would resign. Both had been elected to the House in the mid-1990s.
About a week before that, Rep. John Yarmuth (D-Ky.), the chairman of the House Budget Committee, said he's retiring and won't try to seek reelection. Yarmuth was elected in 2006.
Price, Doyle, and Yarmuth are all considered safe Democrat seats and aren't expected to be competitive in 2022, according to the Cook Political Report.
In the House, Democrats have a slim advantage over Republicans. Historically, the party of the president generally loses seats in the House and Senate during the next midterms. After former President Donald Trump's 2016 victory, Republicans lost their House majority in 2018.
The House GOP needs to pick up five seats to secure a House majority, and they need just one seat to take the Senate.
McCarthy previously said that the redistricting process after the recent Census could lead to more retirements, saying that Republicans are now favored.
"They've got new lines where they have to go meet new people and they're still going to have the White House," he told Fox News in August. "They're going to make a decision to retire, that's the best time so they can go get another job. When we get that retirement number up higher, into double-digit figures, the whole thing becomes a different play."
McCarthy pointed to Rep. Ron Kind (D-Wis.), who was first elected in 1996, announcing his retirement at a pivotal moment in his party's bid to retake the House.
"When you sit back and you look and you want to pinpoint when was the bellwether, when was the moment in time that you truly felt that you knew that the majority was in play and you had the capability of winning—when Ron Kind said that he was retiring," he said.
Around the same time, House Speaker Nancy Pelosi (D-Calif.) expressed confidence that her party would secure the House majority, dismissing poll numbers and Democratic infighting.
"I'm very confident that we will win the House," Pelosi told reporters in August. "There are several scenarios here," she said, referring to warnings about her party potentially losing. "That was one of them."
Last week, the Democratic Congressional Campaign Committee (DCCC) told news outlets that they have a fundraising edge over National Republican Congressional Committee (NRCC).
"Our Democratic Frontline Members are battle-tested and have proven that they know what it takes to win in the nation's most competitive districts—And they have the infrastructure and resources needed to do so," Democratic Congressional Campaign Committee spokeswoman Nebeyatt Betre said in a statement.
And, she added, that the "DCCC has had three record-breaking fundraising quarters and we just outraised the NRCC by $10 million in Q3 because voters are eager to send Democrats back to Congress with a majority," referring to the third fundraising quarter spanning July to September.