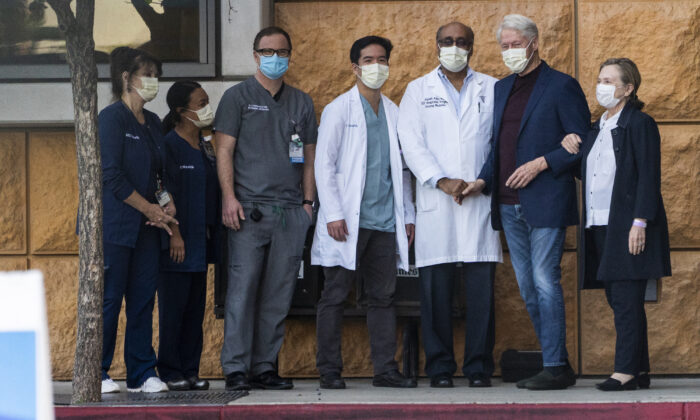 Former President Bill Clinton and former First Lady and Secretary of State Hillary Clinton thank Alpesh N. Amin, MD, third from right, and the medical staff as the former president is released from the University of California–Irvine Medical Center in Orange County, Calif., on Oct. 17, 2021. (Damian Dovarganes/AP Photo)
Former President Bill Clinton Released From Hospital After Infection: Doctors
Former President Bill Clinton was released from a Southern California hospital after spending the previous five days there for a urinary tract infection, his spokesman confirmed on Oct. 17.
Photos showed Clinton, 75, and former First Lady Hillary Clinton leaving the University of California–Irvine (UCI) Medical Center in Orange County at around 8 a.m. local time on Oct. 17. After exiting the facility, the Clintons were seen departing in a black Ford SUV.

Clinton spokesman Angel Urena issued a statement from Dr. Alpesh N. Amin, with the UCI Medical Center, who said that the former president was discharged after his white blood cell count and fever normalized.
"He will return home to New York to finish his course of antibiotics," Amin said in the statement.
Urena had said in an Oct. 16 statement that Clinton would remain there until Oct. 17 to receive IV antibiotics.
"President Clinton has continued to make excellent progress over the past 24 hours," Urena said. "He is in great spirits and has been spending time with family, catching up with friends, and watching college football."
President Joe Biden said on Oct. 15 that he spoke with Clinton and reported that "he's doing fine. He really is," during remarks at the University of Connecticut on Oct. 16.
When Clinton was admitted to the hospital, Urena and other representatives stressed that it wasn't due to COVID-19 or heart issues.
Two of the former president's physicians, Amin and Lisa Bardack, told Reuters that he was "admitted to the hospital for close monitoring and administered IV antibiotics and fluids."
"He remains at the hospital for continuous monitoring," they said in a statement. "After two days of treatment, his white blood cell count is trending down and he is responding to antibiotics well."
Clinton underwent quadruple bypass surgery in September 2004. Several months later, he again had surgery to remove scar tissue from his left chest cavity. And in 2010, Clinton underwent a procedure to open a blocked artery in his heart with two stents.
Clinton, a Democrat who was president from 1993 to 2001, came to the White House after defeating incumbent president George H.W. Bush, a Republican. Clinton, who had faced numerous investigations while in office, was impeached in 1998 by the Republican-led House of Representatives over his relationship with then-White House intern Monica Lewinsky, but he remained in office when the Senate acquitted him in 1999.
Reuters contributed to this report.