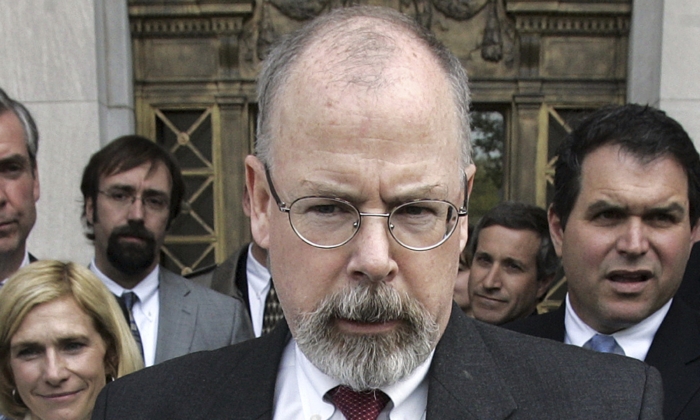 John Durham speaks to reporters on the steps of U.S. District Court in New Haven, Conn., on April 25, 2006. (Bob Child/AP Photo)
Durham Grand Jury Indicts 'Steele Dossier' Source Igor Danchenko
An analyst who was a source for the infamous 2016 "Steele dossier" that contained allegations against then-presidential candidate Donald Trump has been arrested on charges stemming from special counsel John Durham's investigation.
A grand jury indictment issued in a federal court in Virginia charges Igor Danchenko, a Russian analyst, with five counts of false statements. The case was brought as part of Durham's investigation into the origins of the FBI's probe into alleged ties between Russia and Trump's 2016 presidential campaign.
Specifically, Danchenko was charged with misleading FBI officials about the sources of the information he provided to former UK spy Christopher Steele. He was interviewed multiple times by FBI officials in 2017 as they attempted to corroborate the allegations in Steele's dossier.
According to the indictment, Danchenko's alleged lies "were material to the FBI because … the FBI's investigation of the Trump Campaign relied" on the dossier to obtain warrants to surveil former Trump aide Carter Page.
"The FBI ultimately devoted substantial resources attempting to investigate and corroborate the allegations contained in" the dossier, including whether Danchenko's sub-sources were reliable, the indictment states. The dossier and information provided by Danchenko "played a role in the FBI's investigative decisions and in sworn representations that the FBI made to the Foreign Intelligence Surveillance Court throughout the relevant time period."
The Epoch Times has contacted the Department of Justice and Danchenko lawyer Mark Schamel for comment.
Danchenko provided information to Steele, who was hired by Fusion GPS to conduct opposition research on members of the Trump campaign during the 2016 election. Fusion GPS was, in turn, retained by law firm Perkins Coie on behalf of the Democratic National Committee.
Steele's memos, collectively known as the Steele dossier, alleged that Trump had colluded with Russian intelligence officials to help him defeat then-candidate Hillary Clinton in the 2016 presidential election. However, Trump has long panned the allegations in the dossier as a long-running "witch hunt" designed to discredit his presidency and suppress his reelection chances.
Numerous claims in the dossier turned out to be false, triggering criminal, congressional, and inspector general investigations into how the reports were used for the basis of a surveillance campaign targeting Trump campaign officials.
Steele gave the dossier to the FBI, which then used it as the basis for a Foreign Intelligence Surveillance Act court order to surveil former Trump campaign aide Carter Page. In 2019, the Department of Justice's Inspector General's Office released a lengthy report that criticized the FBI's processes in handling the surveillance of Page.
Danchenko previously told the FBI that he had acquired the information that was used in the dossier by "word of mouth and hearsay" from his sources in Russia, according to the inspector general's report. But affidavits filed earlier this year said that sources for Danchenko denied having provided any information that was used in the dossier.
All of Danchenko's sub-sources have now denied—under penalty of perjury—that they provided Danchenko with any information that was attributed to them in Steele's dossier, according to court documents filed earlier in 2021. Before, Steele claimed in testimony that Danchenko's sources were "Russians with 'personal knowledge of and/or direct access to the relevant information' and that they included 'top-level' Russian government officials 'at the peak of the vertical of power.'"
Danchenko is now the third person who has been charged in connection to Durham's probe. In September, Durham's office charged former Perkins Coie attorney Michael Sussmann, alleging that he gave false information when he spoke with then-FBI General Counsel James Baker in 2016. Sussmann has pleaded not guilty to a charge of lying to the FBI.
Prosecutors involved in Durham's probe said during a court hearing last month that they're planning to call Baker, who now works for Twitter's legal department, to testify in the Sussmann case. The indictment against Sussmann alleges that he lied to Baker when he provided data that linked the Trump Organization to a Russian bank.
In 2020, former FBI lawyer Kevin Clinesmith was found guilty of altering an email related to the Trump–Russia investigation, known as Crossfire Hurricane, although he was spared prison during sentencing earlier this year.