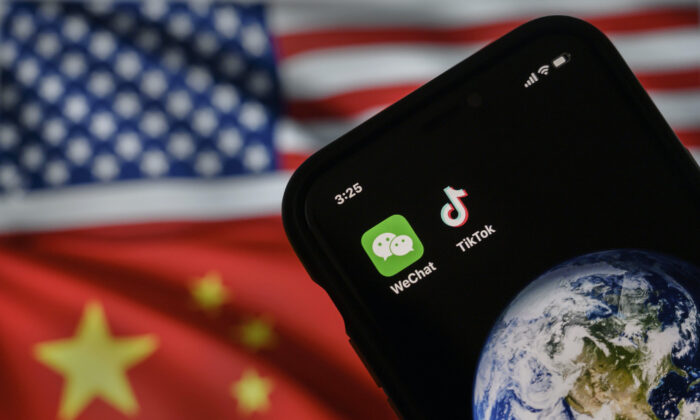 A mobile phone can be seen displaying the logos for Chinese apps WeChat and TikTok in front of a monitor showing the flags of the United States and China on an internet page, in Beijing, on Sept. 22, 2020. (Kevin Frayer/Getty Images)
China Exerts Influence in US Through TikTok and WeChat, Expert Says
The communist regime in Beijing is using the popular apps WeChat and TikTok to exert influence over Americans and the Chinese diaspora, a China expert told U.S. lawmakers on Nov. 17.
"It's essential to remember that all Chinese tech companies are subject to the control of the Chinese Communist Party [CCP]," Wang Yaqiu, a senior researcher at New York-based Human Rights Watch, said during a hearing hosted by the Congressional-Executive Commission on China (CECC).
Wang said that TikTok, which announced in September that it had 1 billion active users worldwide, isn't a normal social media app and puts users at risk.
"There is no way for outsiders to know what information is being suppressed or promoted on TikTok that is due to the Chinese government's influence," she said.
"What you see on TikTok is not so much decided by who you follow, but by the company's algorithm."
"If you search the hashtag Xinjiang, you will find many videos with smiling and dancing Uyghurs, but not so many videos that [are] about the camps and surveillance and human rights violations," Wang added. "Why is this the case? We don't know."
More than 1 million ethnic Muslim minorities, including Uyghurs, Kazakh, and Kyrgyz people, are being detained in roughly 1,200 internment camps in China's northwestern region of Xinjiang, according to the U.S. State Department's 2019 Trafficking in Persons report. Beijing claims these camps are "vocational training centers."
Inside these camps, the detainees are known to be subjected to human rights abuses, including forced sterilization, forced abortion, rape, torture, forced labor, and the removal of children from their families.
In January, the United States designated the suppression campaign in Xinjiang a "genocide" and "crimes against humanity."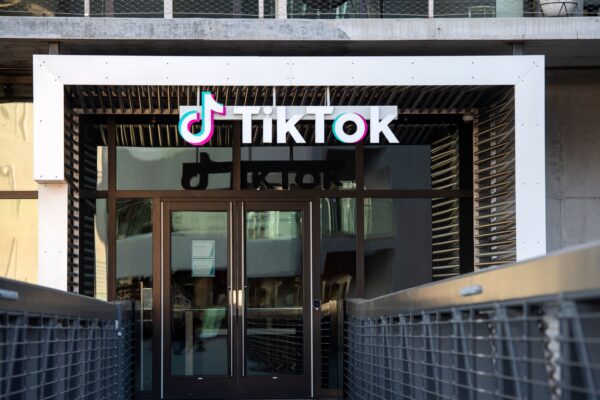 Canberra-based think tank Australian Strategic Policy Institute (ASPI) pointed to the oddity of TikTok's video ranking in March, in its latest report on how Beijing uses U.S. social media to spread propaganda on Xinjiang.
The report found that a video with the caption "Free Uyghur" and 2,831 likes was ranked 129th on the Xinjiang hashtag page in March. Meanwhile, three videos showing Xinjiang's beautiful scenery were ranked in the top 10 and each one had fewer than 600 likes.
"There's a lot we don't know about what Chinese tech companies are doing in the U.S., what is being censored, promoted, and suppressed, and how data is being accessed, used, and shared," Wang said. "And to what extent is the Chinese government … telling them to do these things."
In October, TikTok Vice President Michael Beckerman testified before Congress at a time when the company's privacy policy had come under scrutiny. Sen. Ted Cruz (R-Texas) asked Beckerman several questions on whether the vague language in the policy would give TikTok's parent company, China-based ByteDance, and its affiliates, access to user data collected by TikTok.
Beckerman's refusal to give a yes or no response to questions prompted Cruz to say that the TikTok executive was "hiding something." The senator added that Beckerman dodged questions "more than any witness" he'd ever seen in the Senate.
WeChat
Wang said mainland Chinese living in the United States are still heavily dependent on WeChat, China's most popular social media app. WeChat is owned by Chinese tech company Tencent.
"It is impossible not to use WeChat to live your life," Wang said. "This convenience provided by WeChat sucks us all into the system."
She said the app is being used for everything from information and communication to political organizing.
"This heavy reliance on this one app for everything gives Beijing huge latitude to shape the [Chinese] diaspora's views in ways more favorable to the CCP," Wang said.
"It allows Beijing to know a lot about the people who have left China, down to things like who is meeting whom, and what time and where. It also allows Beijing to potentially mobilize an important demographic in the U.S."
In May 2020, Canada-based digital watchdog Citizen Lab revealed in its report that WeChat monitored communications between its users outside of China in order to improve its algorithm to censor its China-based accounts.
There are about 1.2 billion monthly active WeChat users around the world. According to Wang's written testimony (pdf), there are about 19 million daily active WeChat users in the United States.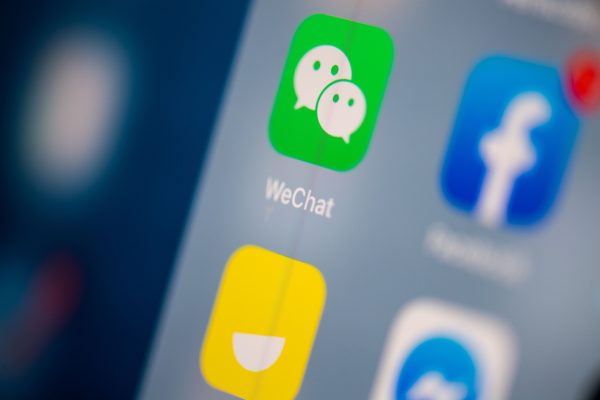 Wang alluded to a recent report by U.S. security firm Mandiant Threat Intelligence to warn how WeChat could similarly be exploited. That report found that pro-Beijing operatives used dozens of social media platforms, including Facebook, Twitter, and YouTube, in unsuccessful attempts to mobilize Asian Americans to protest against "racial injustice" in the United States.
"We do not know whether similar schemes targeting the Chinese diaspora are happening on WeChat because it's hard to do research," Wang said.
What's more, WeChat potentially opens the door for the Chinese regime to tap into U.S. social movements, Wang warned, considering that the Chinese diaspora has been using WeChat to organize activities to support anti-affirmative action.
"The idea that a very important civil rights movement in the United States, and that organizing of this movement is on a platform that is controlled by the Chinese government, that can be manipulated by the Chinese regime, is definitely a source of concern," she said.
Similarly, Wang expressed concerns about anti-Asian racism protests in New York City because some of these activities were known to be organized on WeChat. She offered some recommendations to the lawmakers, including passing laws to require tech companies operating in the United States to be more transparent.
"I urge the U.S. government to invest in Chinese-language journalism and media. Making fact-based information available in our native language is one of the most effective ways to counter Beijing's malign influence."
TikTok and Tencent officials didn't immediately respond to requests by The Epoch Times for comment.