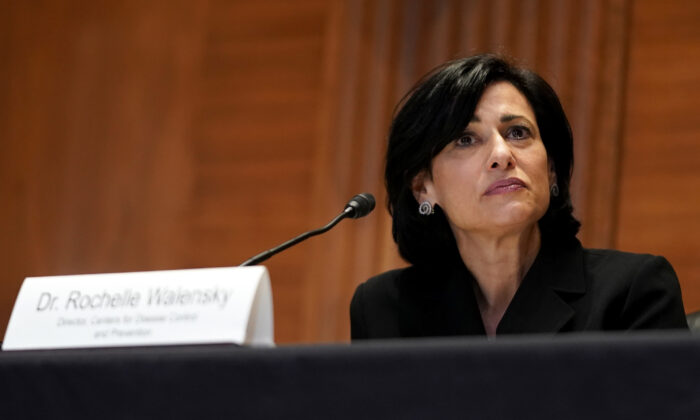 Centers for Disease Control and Prevention Director Dr. Rochelle Walensky answers is seen during a Senate Appropriations Subcommittee hearing in Washington on May 19, 2021. (Greg Nash-Pool/Getty Images)
CDC Publishes Rule Restricting Travel Into US, Requires Negative COVID-19 Test Within One Day of Arrival
The U.S. Centers for Disease Control (CDC) published new travel restrictions for anyone trying to enter the United States, saying that travelers will have to submit a negative COVID-19 test one day before arriving.
"As the virus that causes COVID-19 spreads, it has new opportunities to change (mutate) and become more difficult to control," the CDC wrote in the new order, published this week (pdf). "While it is known and expected that viruses change through mutation leading to the emergence of new variants, the emergent Omicron variant is particularly concerning and of critical significance for this Amended Order."
The agency rationalized the move by saying that it's not known whether the COVID-19 Omicron variant can breach the protection provided by vaccines.
Tests that are approved by the U.S. Food and Drug Administration (FDA) are the only ones acceptable for use, the agency said.
All passengers, including people who are fully vaccinated, must obtain a viral test "collected no more than 1 calendar day before their flight's departure to meet the requirements of this Amended Order," it reads. The lone exception is people "who present a valid Documentation of Recovery," said the CDC order.
"The one-day time window, a reduction from the previous 3-day window for fully vaccinated passengers, will provide less opportunity to develop infection with the Omicron variant prior to arrival into the United States," the CDC wrote, adding that its rule takes effect Dec. 6.
The fresh restrictions come amid worldwide panic over the Omicron strain, which was dubbed a variant of concern by the World Health Organization (WHO)  last week. Other countries, including the 27-nation European Union, have placed travel restrictions on southern Africa, where Omicron was discovered by local officials.
WHO's chief scientist on Friday,  Soumya Swaminathan, urged people not to panic over the emergence of the new variant, saying it's too early to determine if COVID-19 vaccines need to be modified.
In an interview with Reuters, Swaminathan also said it was impossible to predict if Omicron would become the dominant strain. Omicron has gained a foothold in Asia, Africa, the Americas, the Middle East, and Europe and has reached seven of the nine provinces of South Africa, where it was first identified.
"How worried should we be? We need to be prepared and cautious, not panic, because we're in a different situation to a year ago," she remarked Friday. "Delta accounts for 99 percent of infections around the world. This variant would have to be more transmissible to out-compete and become dominant worldwide. It is possible, but it's not possible to predict."
COVID-19 is the illness caused by the CCP (Chinese Communist Party) virus.