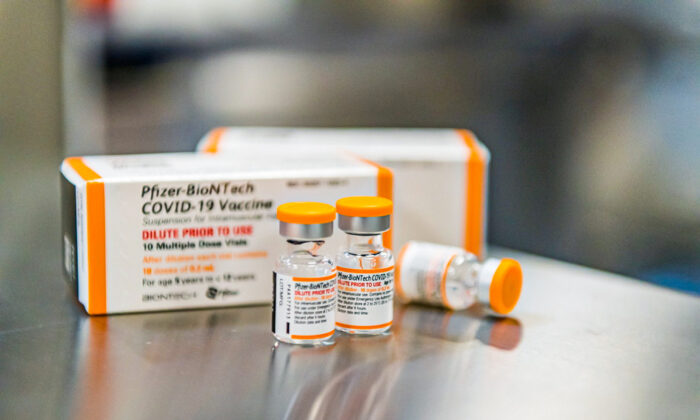 Pfizer/BioNTech's new pediatric COVID-19 vaccine vials are seen in this undated handout photo. Pfizer/Handout via REUTERS/File Photo
CDC Recommends Children Between 5 and 11 Get Pfizer's COVID-19 Vaccine
The Centers for Disease Control and Prevention (CDC) on Tuesday night recommended practically every child in the United States between 5 and 11 get Pfizer's COVID-19 vaccine.
CDC Director Dr. Rochelle Walensky made the recommendation, following advice from the agency's vaccine advisory panel.
"Together, with science leading the charge, we have taken another important step forward in our nation's fight against the virus that causes COVID-19," Walensky said in a statement.
COVID-19 is the disease caused by the CCP (Chinese Communist Party) virus, also known as SARS-CoV-2.
"As a mom, I encourage parents with questions to talk to their pediatrician, school nurse or local pharmacist to learn more about the vaccine and the importance of getting their children vaccinated," Walensky added.
Nearly every one of the 28 million 5- to 11-year-olds in the country are now being advised to get vaccinated. The only exceptions are people with a history of severe allergic reactions to a previous COVID-19 vaccine dose or a component of the vaccine, or a known allergy to a component of the shot.
The White House has already begun distribution of the vaccine. Millions of doses were en route this week to states across the country. Another 12 million or so were expected to arrive next week.
Hours before Walensky's endorsement, the CDC advisory panel, formally the Advisory Committee on Immunization Practices (ACIP), recommended in a 14-0 vote that the agency recommend Pfizer's vaccine for the young children.
Panel members said they were worried about post-vaccination incidence of heart inflammation seen in youth, especially males, but ultimately agreed with CDC scientists that the benefits of vaccinating children, even those who have had COVID-19, would outweigh the risks.
"I think the data supports that we have one more vaccine that saves lives in children and that we should be very confident to employ it to the maximum to do what it is meant to do without significant concerns about serious adverse events," said Dr. Sarah Long, a panel member and professor of pediatrics at the Drexel University College of Medicine.
The Food and Drug Administration (FDA) last week granted emergency use authorization for Pfizer's jab for children 5–11 after its advisory panel, save one abstention, recommended doing so.
After regulators grant emergency clearance for a population, the CDC decides which people within that population can get a vaccine. The agency typically accepts recommendations from its advisory panel, though it has the power to overrule it.
Some FDA advisory panel members had voiced concerns about giving the COVID-19 vaccine to all children within the age group. They pointed to evidence that people who recover from COVID-19 enjoy similar levels of immunity to people who get a COVID-19 jab, that four in 10 young children have had the disease, and the lack of longer-term safety data for young kids.
"While there are clearly high-risk groups within the 5–11 age group for which this vaccine would significantly reduce serious disease, I do not expect protection from infection to last more than a few months and this may negatively impact public perception of vaccines," Dr. Michael Kurilla, a member of that panel, told The Epoch Times in an email.
But counterparts on the ACIP shared little of that concern, even though many young children are at much lower risk from COVID-19 than older groups.
Over 1.9 million reported cases have been recorded in children between 5 and 11 since the start of the pandemic. Over 8,300 have been hospitalized with the disease and 94 have died. About 20 percent of the hospitalizations are for other reasons, according to the CDC.
Many panel members said they hoped vaccinating young children would cut both COVID-19 infections and hospitalizations in the age group.
"If we wait, we miss the chance to prevent many cases of COVID-19 in this age group, and that includes severe cases," said Dr. Matthew Daley, a senior investigator for Kaiser Permanente Colorado who sits on the committee.
Some studies indicate that children get COVID-19 at a lower rate than adults, though several more recent ones have suggested children get COVID-19 at similar rates. Many infections in children are asymptomatic.
Vaccinating 26 children between 5 and 11 against the virus would prevent one case and vaccinating 8,187 children would prevent a single hospitalization, according to CDC estimates using epidemiology averaged across the pandemic.
Other expected benefits include keeping children in schools and preventing parents from having to miss work when their children test positive, CDC officials said.
The key evidence supporting the emergency use authorization came from a Pfizer-run clinical trial that examined approximately 3,100 participants who got the vaccine, along with about half that many who received a placebo. The vaccine was 90.7 percent effective against symptomatic COVID-19 infection, the trial indicated.
Pfizer officials and government scientists said the data, which relied on an approach called immunobridging, showed the vaccine triggered an immune response similar to that seen in those 16 to 25. That older group was used as a comparison.
"The immune response to vaccine in children age 5 to 11 was at least as strong as the immune response in young adults 16- to 25-years, based on SARS-CoV-2 neutralizing titers measured one month after vaccination in participants without prior infection" Dr. Sara Oliver, a CDC scientist, told members.
But officials were also forced to hedge on the predicted benefits. For example, Oliver said the vaccine would "likely prevent" hospitalizations, deaths, and post-COVID conditions.
They also claimed that the vaccine could prevent virus transmission even though Walensky over the summer said none of the vaccines prevent transmission any longer due to the dominance of the Delta CCP virus variant.
Much of the discussion and multiple presentations dealt with heart inflammation, a side effect seen at higher-than-expected rates in youth following vaccination with the Pfizer and Moderna vaccines.
Data from federally-run surveillance systems, for instance, show that the inflammation occurs in 16- to 17-year-old males at least 69 times per 1 million doses after the second dose of the Pfizer primary series.
CDC investigators identified nine reports of deaths in people under 30 years old that were reported to VAERS and may have involved myocarditis. They have confirmed that three of the people had myocarditis but also identified other potential death causes and weren't ready to say myocarditis caused the deaths, Dr. Matthew Oster, a CDC researcher, told panel members.
Over 9,300 reports of post-COVID-19 vaccination deaths have been submitted to the federally-run Vaccine Adverse Event Reporting System (VAERS) as of Nov. 1. That number represents 0.0022 percent of people who have received a COVID-19 vaccine. Reports to VAERS do not mean a vaccine caused the death. The CDC says on its website that a review of available clinical information "has not established a causal link to COVID-19 vaccines," though it acknowledged that there is a "plausible causal relationship" between the Johnson & Johnson vaccine and a serious adverse event called TTS, or blood clots with low platelets, which has caused deaths.
Oster reported that in a three-month follow-up of 16 youth between 12 and 17 who experienced post-vaccination myocarditis, four were still symptomatic, two were still on medication, and seven were still on exercise/physical activity restrictions. Researchers also found abnormal cardiac MRI results for some of the children who suffered from heart inflammation in that timeframe.
Additionally, most of the youth who suffer post-vaccination myocarditis were admitted to hospitals. Still, many have been discharged, and Oster said that he's much more concerned about heart inflammation in kids who contract COVID-19 versus post-vaccination inflammation.
"Getting COVID is much riskier to the heart," he said.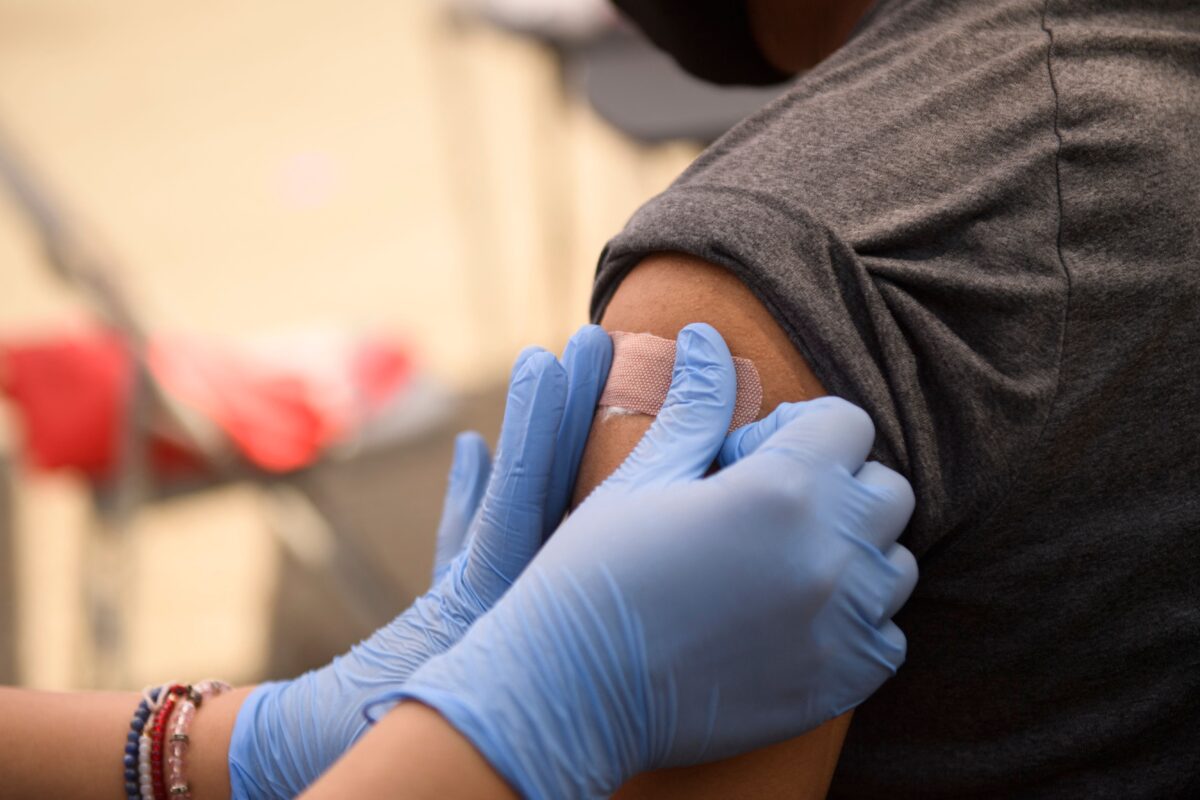 Several members said they were reassured by the presentations and believed surveillance systems in place would detect safety signals in the 5 to 11 group after the vaccine rollout begins.
The Pfizer trial didn't enroll enough participants to assess the rate of rare adverse events, officials said. No cases of myocarditis or the related pericarditis were detected.
Children between 5 and 11 who got the vaccine as part of the trial experienced a higher percentage of adverse events than the placebo group but few serious events were detected, and most of those were ruled unrelated to the jab.
Pfizer did include children who previously had COVID-19 in its study, approximately 225 in total. None of those children, regardless of vaccination status, contracted COVID-19, Dr. William Gruber, a Pfizer official, told the meeting.
Approximately 40 percent of children in the United States between 5 and 11 have recovered from COVID-19, according to seroprevalence estimates.
Recovery from COVID-19 grants some level of immunity from reinfection, according to dozens of studies. The CDC, though, continues to insist that even the recovered should get vaccinated, asserting that natural immunity is boosted by the vaccines. Some outside experts say vaccination isn't needed among the recovered, or some of the recovered—or children at all. Others argue children should only get one shot, especially if they have had COVID-19 before.
Pfizer did not include any children deemed immunocompromised in its trial, though the company plans to study its vaccine in that population soon.
Correction: A previous version of this article misstated the incidence of myocarditis following Pfizer vaccination in 16- to 17-year-olds. It is 69 per 1 million, according to VAERS data. The Epoch Times regrets the error.