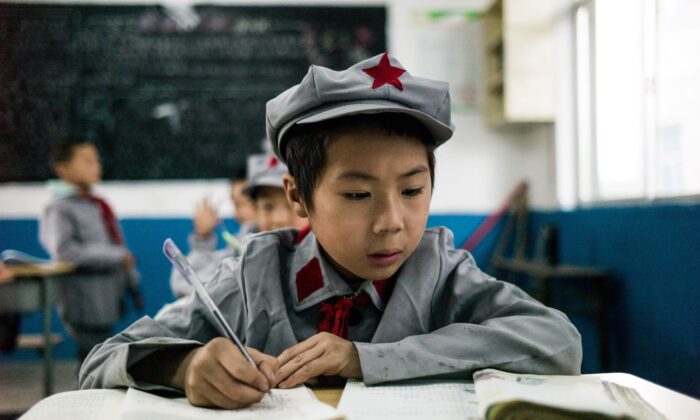 Students study in their classroom at the Yang Dezhi "Red Army" elementary school in Wenshui, Xishui county, Guizhou Province, on Nov. 7, 2016. (Fred Dufour/AFP via Getty Images)
CCP Moves to Indoctrinate School Children With 'Xi Jinping Thought'
Chinese leader Xi Jinping wants to instill loyalty in all Chinese citizens—beginning with elementary school students.
As students across the country return from summer break in September, they'll find one more course on their curriculum: "Xi Jinping Thought."
The new drive for ideological control will run from grade school through college. The mandatory textbook, titled "Xi Jinping Thought on Socialism with Chinese Characteristics in the New Era," will have five editions, to be taught to students in grades three, five, eight, and 10 on a weekly basis.
The book aims to "gradually shape students' support for the Party's leadership and the socialist system," a recent notice from the Ministry of Education reads.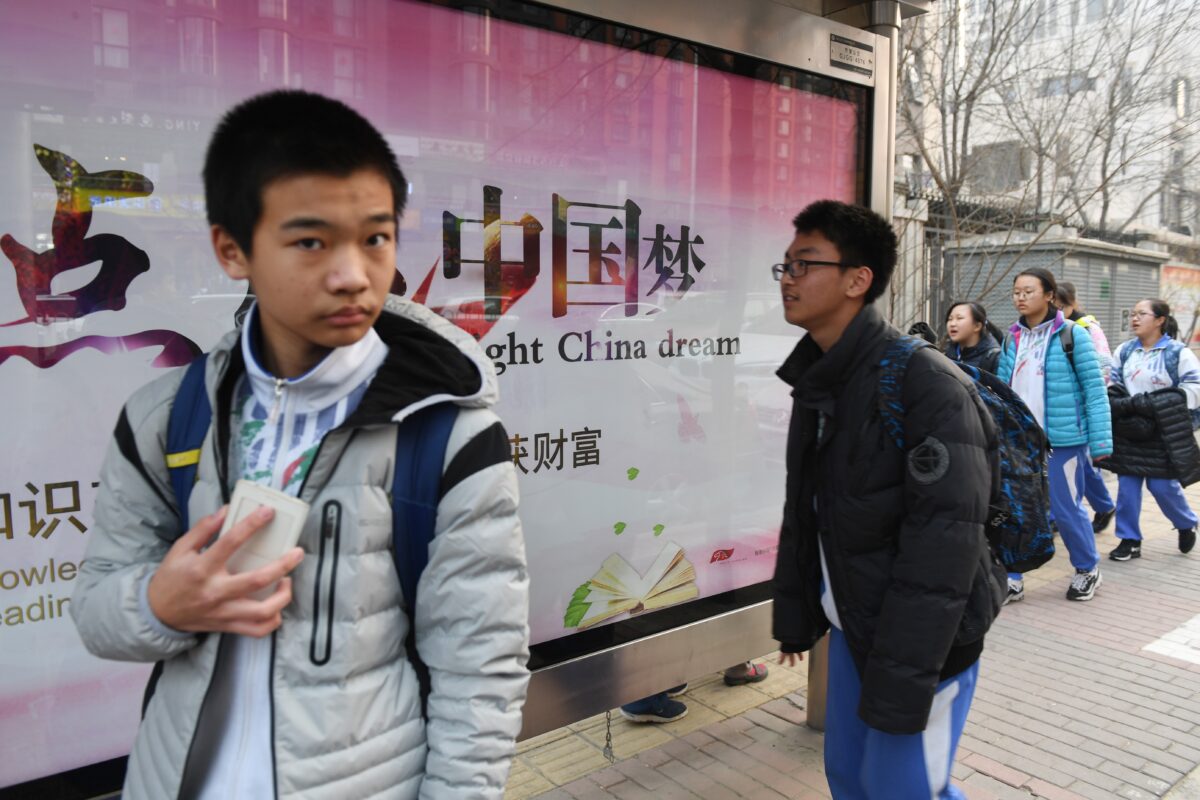 The move, coupled with an escalating clampdown on Western materials in classrooms, points to the regime's desire to strengthen ideological control, starting by shaping the world view of the youngest generation, experts say.
"If you control education, you, in effect, control the thoughts of the entire populace," Li Yuanhua, a former associate professor at the Capital Normal University College of Education in Beijing, told The Epoch Times.
A 'Political Task'
Xi Jinping Thought, alternatively known as "Xism," was written into the Chinese Communist Party charter during the Party's all-important National Congress in 2017. Since then, Chinese authorities and state-backed institutions have set up 18 research centers dedicated to studying the ideology.
As the new school year fast approaches, local education authorities have ramped up training to bring their teachers up to speed with the new material, while state outlets have churned out propaganda setting the stage for the launch of the textbooks. In Hebei, a northern Chinese province that surrounds Beijing, 20 experts in a virtual seminar on Aug. 3 explained the key principles behind the book to about 44,000 teachers from around the province and coached them on how to teach their classes, according to the state-run Hebei Daily.
Huang Qiang, head of the state-run People's Education Press, which publishes the book, described the textbook's release as "another important political task," adding that it was a "concrete step" to ingrain Xi Jinping Thought "into students' brains."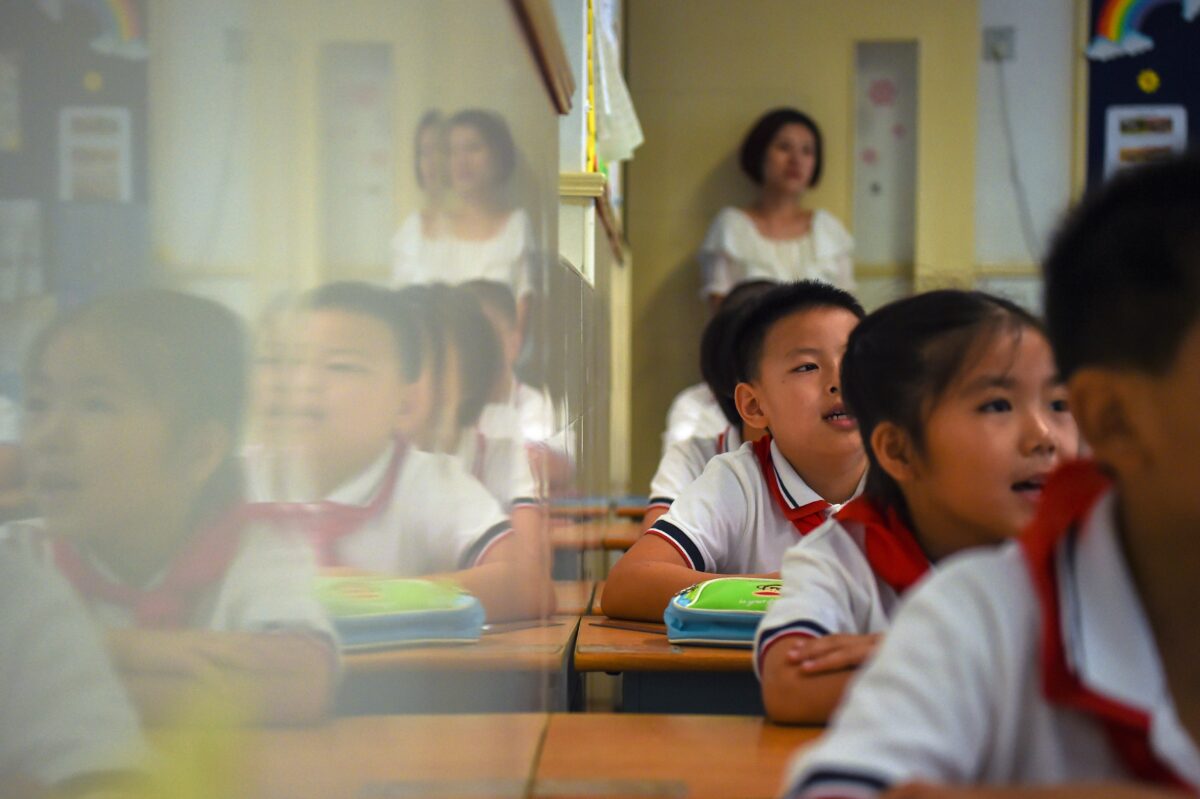 The most detailed description of the course came from Ding Lili, a Shanghai public primary school teacher who had done a test run of the material on her students. After lauding the book's "magnetic appeal," Ding offered an anecdote that revealed how the book can play a role in fanning hostility toward the West while bolstering nationalism, according to an Aug. 1 article on China Education Daily, a newspaper administered by the publisher.
In a lecture titled "large size doesn't equal to strength," in a quote taken from a 2014 speech by Xi on the importance of domestic technological innovation, Ding held a phone from Chinese telecom giant Huawei, whose smartphone business has been devastated by U.S. sanctions over national security concerns, which cut off the company's access to vital U.S. technology, including high-end processor chips.
"When the kids heard that such outstanding national brand is in trouble because its chips are subject to other people, they were surprised, confused, and angered," Ding said, adding that she then asked a series of questions to drive home the idea that Chinese people must have "core technology in our own hands."
Blocking Foreign Content
In lockstep with the push for Xi Jinping Thought in students, the regime is also tightening scrutiny on foreign content taught in classrooms.
Education regulators recently terminated as many as 286 partnerships between Chinese and foreign universities, such as New York University, Georgia Institute of Technology, and the City University London.
In a late-July order ostensibly to lighten students' workloads, Chinese authorities also made it illegal for off-campus tutoring agencies to provide foreign teaching, or employ tutors based overseas.
Following the mandate, at least eight tutoring companies stopped selling foreign-based tutoring to students in China, with some saying they would focus on alternative courses such as Chinese speaking and reading.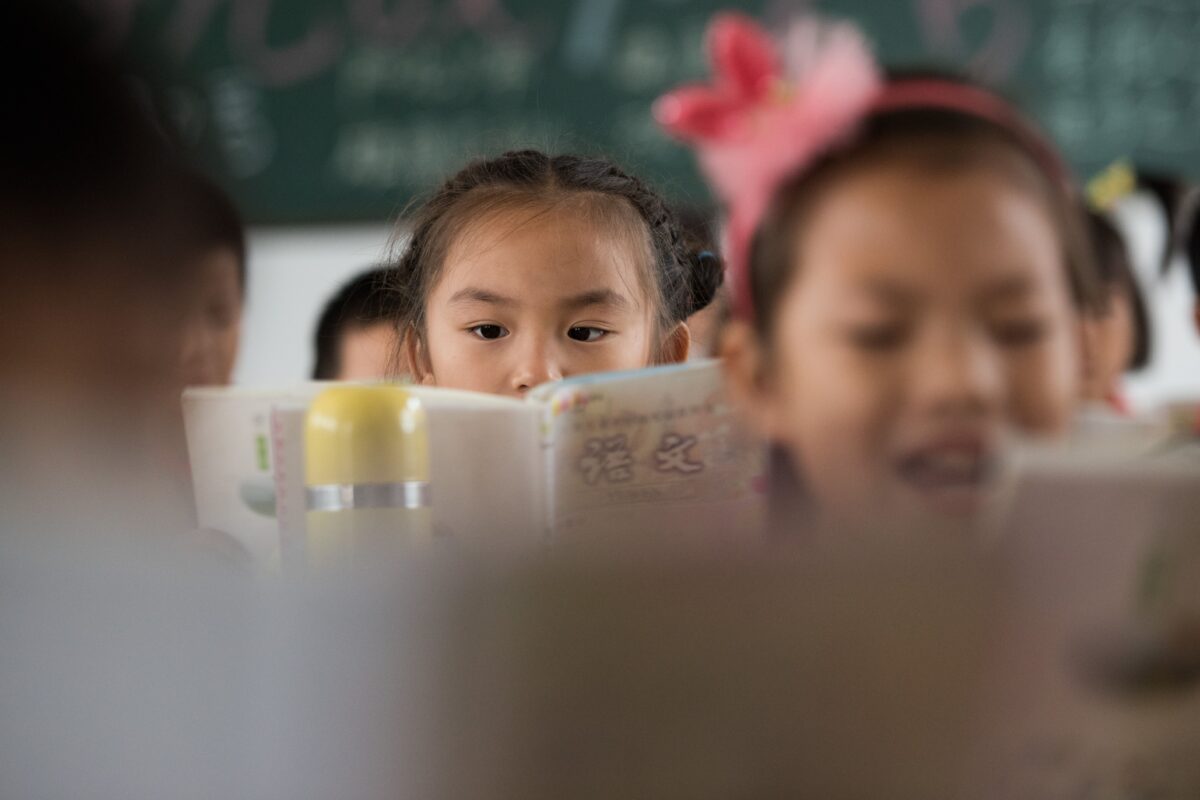 The regulation dealt a huge blow to the $120 billion private tutoring industry. As of Aug. 5, Duolingo, a popular language-learning app, was no longer downloadable on Android app stores operated by Huawei and Chinese tech giant Tencent. Wall Street English, a high-end English training center, is shutting its doors, according to Chinese media reports.
Frank Tian Xie, who teaches an online MBA program at the University of South Carolina–Aiken, said the regime—under a sense of "impending crisis"—likely felt threatened by these companies' freedom in teaching content outside of its control.
"They want to block off every possible channel that can spread freedom and truth," he told The Epoch Times.
Some major Chinese cities separately carried out stricter measures.
In Beijing, education officials reaffirmed a ban on teaching materials from outside China in primary and middle schools. Shanghai, which told its schools to do the same in early August, also canceled tests on the English language for grades three through five.
By drawing down English-language learning among students, the regime aims to ultimately weaken Chinese people's ability to participate in the international community, according to dissident and independent scholar Wu Zuolai.
In Wu's view, Chinese authorities are trying to "make children study the minimum amount they need and reduce their contact with English-language materials during their leisure time so that they could give the rest of their time listening to the Xi ideology."
"This is how indoctrination works," he told The Epoch Times.
Ms. Li, a mid-level manager in a Shanghai financial firm who requested that her full name not be used, said she was troubled by her city's sweeping new policies.
"I'm not suggesting that English is so amazing, but it's a tool—a window to see the world," she told The Epoch Times. "Only by looking at how different countries and different people see the same issue can you form your own views."
She nonetheless doubted whether Chinese parents, who tend to invest heavily in their children's education to help them get a leg up in life, would willingly oblige and let their children "lose at the starting line."
"Parents aren't stupid," she said.
Luo Ya contributed to this report.