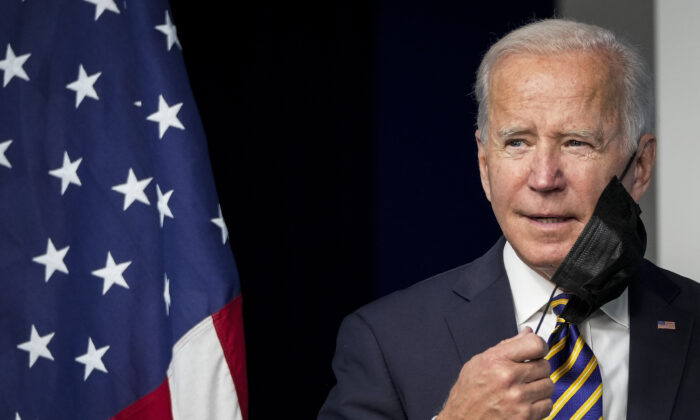 President Joe Biden removes his face mask as he arrives to speak in the South Court Auditorium on the White House campus on Oct. 14, 2021. (Drew Angerer/Getty Images)
Business Groups Urge White House to Delay Biden COVID Vaccine Mandate
More business groups have asked the Biden administration to delay its announced COVID-19 mandate until after the holiday season, coming just days after a shipping organization issued a warning that the proposed rule would trigger widespread supply chain chaos during Christmas.
Evan Armstrong, a lobbyist at the Retail Industry Leaders Association, told CNBC that his organization is concerned that President Joe Biden's rule would trigger a surge in resignations and would cause even more staffing shortages.
"It has been a hectic holiday season already, as you know, with supply chain struggles," Armstrong said after meeting with officials at the White House. "This is a difficult policy to implement. It would be even more difficult during the holiday season."
"We're already having supply chain issues; we're already having workforce shortage issues," Ed Egee, a top lobbyist at the National Retail Federation, told the network after a meeting with federal officials. "This mandate cannot be implemented in 2021 without having serious repercussions on the American economy."
Earlier this month, the Office of Management and Budget (OMB) received the proposed vaccine rule from the Occupational Safety and Health Administration (OSHA), coming more than a month after Biden announced mandates for private-sector workers at companies with 100 or more employees, federal contractors, federal employees, and health care staff at facilities that receive Medicare or Medicaid funding.
For private businesses, Biden said that workers who don't get vaccinated would need to submit to weekly testing.
"If folks are allowed to refuse vaccination, and the employer takes testing obligations from a cost standpoint, then there's no real motivation for those employees to get the vaccine," Armstrong remarked on Oct. 25, estimating that there are millions of unvaccinated retail workers across the United States. Weekly testing would also prove costly, he said.
The Business Roundtable told the outlet that it urged the White House to delay the rule and requested officials to "allow the time necessary for employers to comply, and that includes taking into account employee retention issues, supply chain challenges, and the upcoming holiday season."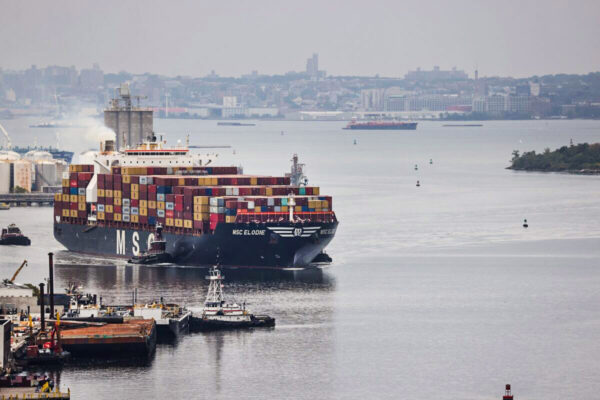 The Michigan Chamber of Commerce and six local chambers last week also raised concerns about the pending mandate for businesses, including the potential cost, logistical challenges, and issues with staffing. They also argued that the 100-employee threshold is arbitrary.
"Sometimes there's been a tendency in the past that state officials look at a federal standard as a jumping-off point to do more, to do differently, to enact substantially more stringent standards. That would be our concern," Rich Studley, president and chief executive of the Michigan Chamber of Commerce, told The Associated Press.
The U.S. Chamber of Commerce also has publicly voiced similar concerns over the potential mandate.
"We really stressed the concern about employers losing employees, and what that would mean in the context of current supply-chain challenges and the upcoming holiday season," Marc Freedman, vice president for employment policy with the group, told the AP in a separate report.
In a more ominous warning, the Cargo Airline Association—which represents the likes of FedEx, UPS, and other shipping firms—last week wrote a letter to the Biden administration about concerns it has regarding the president's Dec. 8 mandate for federal contractors.
Unlike Biden's mandate for private businesses, federal contractors can't opt out of the mandate unless an employee seeks a religious or medical exemption.
"The looming December 8 mandate for having fully vaccinat[ed] workforces creates a significant supply chain problem," the group said in the letter, obtained by The Epoch Times. "This problem is further exacerbated by the fact that we are already experiencing a worker shortage, both in the air and on the ground, and any loss of employees who refuse to be vaccinated will adversely impact needed operations."
During his Sept. 9 announcement, Biden said the proposed mandates would cause more workers to get the vaccine, although he simultaneously characterized unvaccinated Americans as a strain on U.S. economic recovery. Later, White House officials publicly expressed confidence that the mandates wouldn't cause any significant economic upheaval and would instead spur economic growth by getting more people vaccinated.
Representatives of OMB and OSHA didn't respond to several requests for comment by The Epoch Times about the business groups' requests.