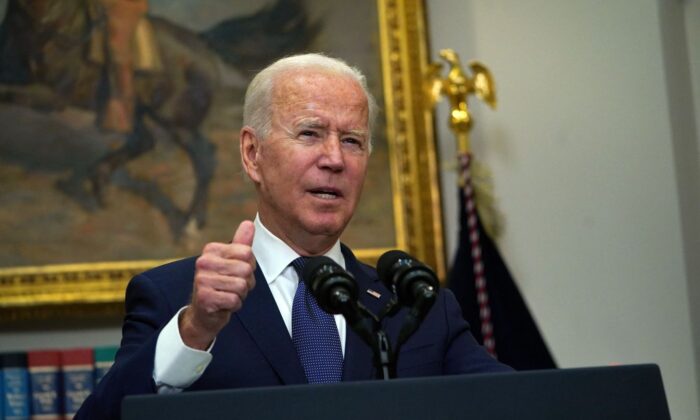 President Joe Biden speaks during an update on the situation in Afghanistan and the effects of Tropical Storm Henri at the White House on Aug. 22, 2021. (Andrew Caballero-Reynolds/AFP via Getty Images)
Biden: Afghan Evacuation Has 'Long Way to Go,' Much 'Could Still Go Wrong'
President Joe Biden said on Aug. 22 that his administration is hoping the U.S.-led Afghanistan evacuation will end by the self-imposed Aug. 31 deadline, adding that there is still "a long way to go and a lot could still go wrong."
Speaking at the White House, Biden said there have been "discussions among" those in the White House "and the military" to potentially extend the operation past Aug. 31. But the "first priority," he said, is to evacuate Americans, stressing that his administration "is working hard and as fast as we can to get people out. That's our mission. That's our goal."
Over the weekend, the evacuation was marred by more deaths and chaos as throngs of people attempted to crowd into the Kabul airport—one of the few evacuation points in Afghanistan. The UK Ministry of Defense confirmed on Aug. 22 that at least seven people died during the crush, according to The Associated Press.
Since the Taliban terrorist organization took over the country last week, Biden has faced unprecedented criticism from a number of angles on how his administration is handling the pullout and military-led evacuation. In public comments, the president has repeatedly been on the defensive and said it was necessary to withdraw from Afghanistan now, although serious questions remain about the security situation on the ground.
Again on Aug. 22, Biden mounted a defense of his administration and argued there would be no way to "evacuate this many people" without "pain and loss." So far, 28,000 people have been airlifted out of Kabul since Aug. 14, he said.


"We are proving that we can move thousands of people a day out of Kabul," but "we have a long way to go and a lot could still go wrong" in handling the evacuation, he said, adding that the Taliban haven't attacked any U.S. military troops in Kabul.
"Any American who wants to get home will get home," he said.
Over the past week, several of Biden's comments to the media and during press conferences have been contradicted by White House officials.
Defense Secretary Lloyd Austin told news outlets on Aug. 22 that Americans who are trapped in Kabul are having "tough encounters" with the Taliban. That appeared to go against what Biden said two days earlier, when he told reporters he was unaware of any "circumstance where American citizens are—carrying an American passport—are trying to get through to the airport" in Kabul.
Also during the Aug. 22 press conference, Biden didn't address reports of Americans or Afghans having issues with getting past Taliban checkpoints or people being crushed to death at the airport. He didn't mention a warning from the U.S. Embassy in Afghanistan to American citizens on Aug. 21 that they shouldn't travel to the airport due to security threats nearby, although he did say that the security situation in the country is changing and that the ISIS terrorist group might try to exploit the situation and target innocent people.
Secretary of State Antony Blinken told Fox News on Aug. 22 that 8,000 people have been evacuated from Kabul on 60 flights in the previous 24 hours.
The Department of Defense ordered U.S. commercial airlines to provide flights to transport people who have flown out of Afghanistan to other bases around the Middle East and Europe.