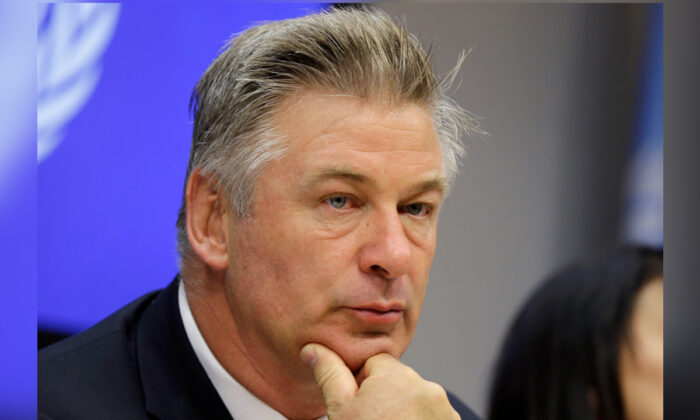 Alec Baldwin attends a news conference at U.N. headquarters in New York on Sept. 21, 2015. (Seth Wenig/AP Photo)
Alec Baldwin Speaks Out in Public About Shooting Death of 'Rust' Cinematographer
Alec Baldwin spoke out as authorities continue to investigate the on-set shooting death of cinematographer Halyna Hutchins, saying that the woman "was my friend."
"It's an active investigation in terms of a woman died, she was my friend," Baldwin told reporters while he was walking in a rural area in Vermont with his wife, Hilaria Baldwin. "We were a very, very well-oiled crew shooting a film together, and then this horrible event happened," he added.
His wife was captured on camera filming the actor's encounter with reporters with a cell phone. Video footage of the interview was posted on TMZ's website over the weekend.
Baldwin, who New Mexico officials have said shot Hutchins during filming, said the incident was a "one in a trillion event." Director Joel Souza, 46, was injured during the incident.
"There are incidental accidents on film sets from time to time, but nothing like this," he added. "This is a one in a trillion episode. It's a one in a trillion event."
The 63-year-old actor then said he is interested in limiting the usage of firearms on set.
"But remember, how many bullets have been fired in films and TV shows in the last 75 years. This is America," Baldwin said in a rambling statement to reporters. "How many bullets have gone off in movies and on TV sets before? How many, billions in the last 75 years? And nearly all of it without incident."
He added: "So what has to happen now is, we have to realize that when it does go wrong and it's this horrible, catastrophic thing, some new measures have to take place. Rubber guns, plastic guns, no live … no real armaments on set. That's not for me to decide. It's urgent that you understand I'm not an expert in this field, so whatever other people decide is the best way to go in terms of protecting people's safety on film sets, I'm all in favor of and I will cooperate with that in any way that I can."
When asked about whether production of "Rust" will continue, Baldwin said that "I doubt it."
The Santa Fe sheriff's office said last week that it recovered hundreds of rounds from the film set, some of them possibly live.
"The facts are clear: a weapon was handed to Mr. Baldwin," Santa Fe County Sheriff Adan Mendoza said in a news conference last week. "The weapon is functional and fired a live round, killing Ms. Hutchins and injuring Mr. Souza."
Neither Mendoza nor the district attorney's office have ruled out charges in the case.