Former President Donald Trump released a dramatic political video, hours after the FBI raided his Mar-a-Lago estate in Florida, in which he laments the "declining" state of America and says it's "time to start talking about greatness for our country again."
"We are a nation in decline … We are a nation that in many ways has become a joke," says Trump over the ominous sounds of thunder and rain in the nearly four-minute video in which he lists the apparent failures of the Biden administration, before promising, "Soon we will have greatness again."
Trump, who is expected to announce that he will run again for president in 2024, released the video on his Truth Social platform late Tuesday.
In the video, he says that America has the "highest inflation in over 40 years" and "highest energy cost in its history." He adds that in the two years since President Joe Biden took office, America has lost its energy independence and dominance.
"We are a nation that is begging Venezuela and Saudi Arabia for oil," Trump says. "We are a nation that surrendered in Afghanistan, leaving behind dead soldiers and American citizens and $85 billion worth of the finest military equipment in the world."
Trump accuses the Biden administration of allowing "Russia to devastate a country, Ukraine, killing hundreds of thousands," and suggests that "it will only get worse."
'Weaponization of the Justice System'
"We are a nation that has weaponized its law enforcement against the opposing political party like never before. We've never seen anything like this," Trump says in his video.
Late on Monday, Trump announced that the FBI was raiding his Palm Beach estate, Mar-a-Lago, calling it evidence of "prosecutorial misconduct" and a "weaponization of the Justice System."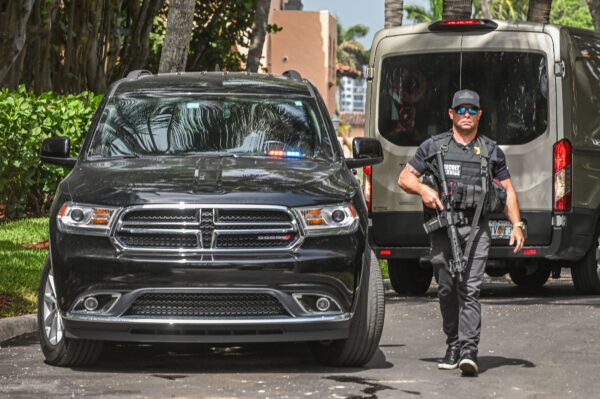 The former president said the raid wasn't announced and that it was motivated because Democrats do not want him to run again for president in 2024.
"They detest Donald Trump, not just on the Democrat side but the general establishment, because he's not one of them. Because he doesn't play their game," his daughter-in-law Lara Trump told Fox News on Tuesday.
"They are terrified he's going to announce any day that he's running for president in 2024. And this is a very convenient way to just throw a little more mud on Donald Trump."
America 'No Longer Respected'
In his video, Trump also cites the legacy media as contributing to what he says is a nation in decline, saying America "no longer has a free and fair press. Fake news is about all you get."
Traditionally, the media acts as a guardian of the public interest and a watchdog on government activities. But Trump has in the past accused legacy outlets of being partisan and colluding with "radical left Democrats … to hide the real facts."
"We are a nation that is allowing Iran to build a massive nuclear weapon and China to use the trillions and trillions of dollars it's taken from the United States to build a military to rival our own," Trump says in the video.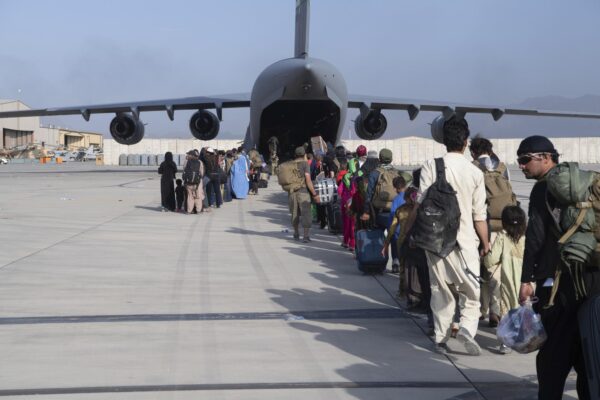 "We are a nation that over the past years is no longer respected or listened to all around the world. We are a nation that is hostile to liberty and freedom and faith.
"We are a nation whose economy is floundering, whose stores are not stocked, whose deliveries are not coming, and whose educational system is ranked at the bottom of every list," he says.
"We are a nation that in many ways has become a joke," says Trump. "But soon we will have greatness again."
'Soon We Will Have Greatness Again'
Trump's political video starts in black and white with only the sounds of rain and thunder underscoring it. This sequence features video representative of the Biden administration's apparent failures, including oil fields, the chaotic withdrawal from Afghanistan, and Russian President Vladimir Putin.
However, the last third of the video becomes colorized and the musical score uplifting as Trump shifts to speak about his promise of America having "greatness again."
"It was hard-working patriots like you who built this country. And it is hard-working patriots like you who are going to save our country," Trumps says in his video.
"There is no mountain we cannot climb. There is no summit we cannot reach. There is no challenge we cannot meet. There is no victory we cannot have.
"We will not bend. We will not break. We will not yield ever, ever, ever. We will never give in, we will never give up, and we will never ever back down. We will never let you down.
"As long as we are confident and united the tyrants we're fighting do not stand even a little chance. Because we are Americans and Americans kneel to God and God alone. And it is time to start talking about greatness for our country again," he says.
The video ends on a black screen with the words, "The best is yet to come."