Former Vice President Mike Pence's national security adviser, retired Gen. Keith Kellogg, said he would back former President Donald Trump in a hypothetical 2024 matchup with his former boss.
"Sometimes, you have to pick the lane you're gonna run with," Kellogg told the Washington Examiner on Tuesday when asked about a possible contest between Trump and Pence. "I've always been a Trump guy."
Of the relationship between Trump and Pence, "We tried to bring him in tight," Kellogg said in reference to Pence. "It's not because we haven't reached out to him." Pence advisers "like Marc Short," Kellogg added in the interview, "have pulled away from the Trump team," referring to the former vice president's chief of staff.
Neither Pence nor Trump have declared their candidacies for president. While Trump has strongly suggested that he might run again, there is growing speculation about a Pence 2024 candidacy as he continues to deliver speeches, including one to a conference of young conservatives in Washington on Tuesday.
"If I was putting money in Las Vegas down on the table as to whether he is going to run or not, I think he is running," Kellogg said of Trump, "but I don't know." The retired general said he spoke with the former president several weeks ago.
Dual Speeches
Trump also returned to Washington to speak for the first time in more than a year, telling a crowd that the United States needs to place more emphasis on public safety amid rising crime, drug use, and homelessness.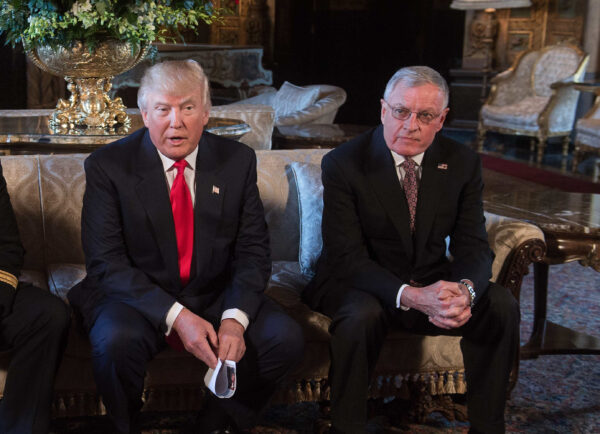 Americans "don't have safety" and "don't have freedom" right now, Trump said during a speech at the America First Policy Institute's America First Agenda Summit on Tuesday.
"Our country is now a cesspool of crime," the former commander-in-chief said. "We have blood, death, and suffering on a scale once unthinkable because of the Democrat Party's effort to destroy and dismantle law enforcement."
Trump added: "We're living in such a different country for one primary reason … there is no longer respect for the law and there certainly is no order."
Pence, meanwhile, told an audience on Tuesday that conservatives should look toward the future.
"In order to win, conservatives need to do more than criticize and complain," Pence said. "We must unite our movement behind a bold, optimistic agenda that offers a clear and compelling choice to the American people."
During the Joint Session of Congress on Jan. 6, 2021, Trump issued a rare critical comment about Pence for taking part in the congressional certification of the 2020 election.
Trump wrote on his now-deleted Twitter account that the former vice president—before the breach of the Capitol—did not "do what should have been done to protect" the United States and Constitution.
The Epoch Times has contacted Pence's Advancing American Freedom PAC for comment.