The Florida Supreme Court announced Thursday it approved a request by Gov. Ron DeSantis to impanel a statewide grand jury to investigate any wrongdoing related to COVID-19 vaccines.
"A statewide grand jury shall be promptly impaneled for a term of twelve calendar months, to run from the date of impanelment, with jurisdiction throughout the State of Florida, to investigate crime, return indictments, make presentments, and otherwise perform all functions of a grand jury with regard to the offenses stated herein," reads the court order (pdf) issued Thursday.
DeSantis, a Republican, is seeking to investigate Pfizer-BioNTech and Moderna and their executives, as well as other medical associations or organizations involved in the provision of the COVID-19 vaccines in Florida.
Among other things, the governor seeks to probe whether any deceitful information was disseminated about "vaccines purported to prevent COVID-19 infection, symptoms, and transmission."
DeSantis had petitioned the seven-member court for the investigation earlier this month. Out of the seven judges on the Florida Supreme Court, DeSantis had appointed four of them.
At least five justices must participate in every case and at least four must agree for a decision to be reached. A panel of six justices, three of whom were appointed by DeSantis, approved the governor's request. Chief Justice Carlos Muniz, and Justices Charles Canady, Ricky Polston, John Couriel, and Jamie Grosshans voted yes, while Justice Jorge Labarga voted no.
The Florida Supreme Court appointed Tampa-based judge Ronald Ficarrotta to preside over the grand jury, which is to meet for one year. Grand jury members are expected to be drawn from five judicial circuits. Statewide grand juries are usually made up of 18 members.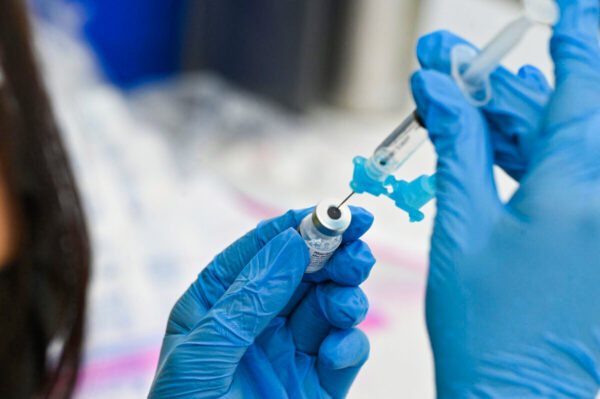 In his petition (pdf) to the court on Dec. 13, the Florida governor argued that "it is likely that individuals and companies with an incentive to do so" created the perception that receiving the COVID-19 vaccine would prevent people from spreading the disease to others.
The view was held and pushed by various state and federal health authorities and entities, including White House COVID-19 adviser Dr. Anthony Fauci and the Centers for Disease Control and Prevention (CDC), DeSantis noted, adding that it is "impossible to imagine that so many influential individuals came to this view on their own."
The governor also noted in his petition that Pfizer and Moderna and their executives had made statements that the companies' vaccines were highly effective at preventing COVID-19 transmission, among other claims.
A number of studies have found vaccines do not limit the spread of COVID-19, and a growing number of papers show that vaccine effectiveness against infection turns negative within several weeks.
More and more doctors and researchers, meanwhile, have argued that younger people should not receive COVID-19 vaccines due to reports of heart inflammation associated with the shots. A study carried out in Israel found there was a 25 percent rise in heart attack emergency calls among Israeli men aged 16 to 25 following the rollout of the COVID-19 vaccine.
"The main question that we need to ask ourselves is, do we have enough evidence from this study and many other studies, to say halt," Retsef Levi, a professor at the Massachusetts Institute of Technology, told The Epoch Times in late November, referring to a recent Israeli paper. "We're going to stop these vaccines, for young individuals, but maybe overall, and we're going to take the time to really look very, very carefully and scrutinize every piece of data and bring together every possible piece of data to understand what is the answer."
DeSantis said in his petition: "Florida law prohibits fraudulent practices, including the dissemination of false or misleading advertisements of a drug and the use of any representation or suggestion in any advertisement relating to a drug that an application of a drug is effective when it is not.
"The pharmaceutical industry has a notorious history of misleading the public for financial gain. Questions have been raised regarding the veracity of the representations made by the pharmaceutical manufacturers of COVID-19 vaccines, particularly with respect to transmission, prevention, efficacy, and safety.
"An investigation is warranted to determine whether the pharmaceutical industry has engaged in fraudulent practices. The people of Florida deserve to know the truth."
Jack Phillips contributed to this report.