Thousands of Australians fed up with COVID-19 lockdowns marched in Sydney and Melbourne on Saturday as part of the "World Wide Rally for Freedom" protests.
Australians gathered in the thousands at inner Sydney's Victoria Park before marching to Town Hall in the central business district, escorted by a heavy police presence which included mounted police and riot officers.
Protestors carried signs, and in a video posted on Twitter by Pedestrian Daily journalist Zac Crellin, they can be heard chanting: "What do we want? Freedom. When do we want it? Now!"
In Crellin's videos, supporters can be heard honking their horns and displaying their own signs, amid cheers and shouts by the protestors as they marched.
Some of the signs read "Unmask the truth" and "You'll be safer media distancing than social distancing."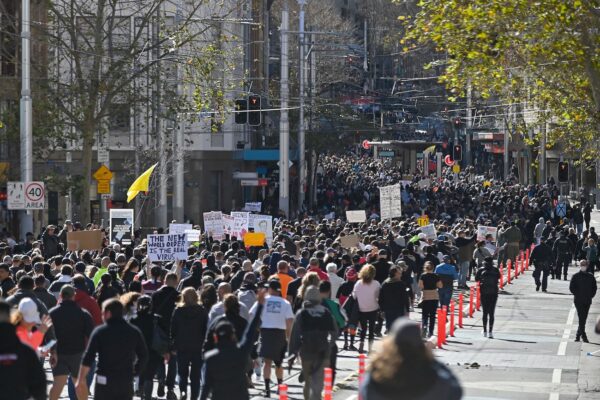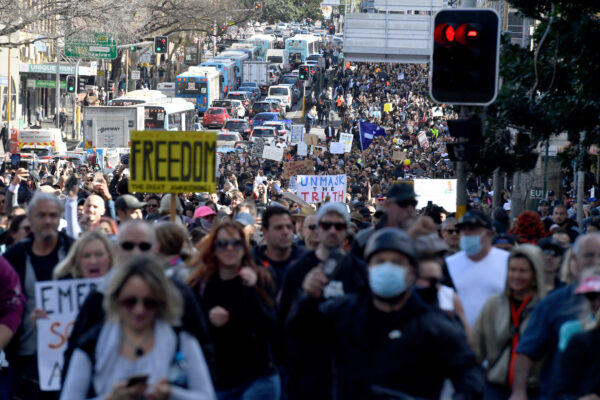 NSW Police said it recognised and supported the rights of free speech and peaceful assembly, but the protest was a breach of public health orders.
"The priority for NSW Police is always the safety of the wider community," a police statement said, describing it as a "high-visibility policing operation" in response to "unauthorised protest activity."
Police confirmed that "a number" of arrests were made. Some protesters reportedly threw plastic bottles and plants taken from the street, AAP reported. Other arrests can be seen in videos posted on Twitter.
Greater Sydney has been locked down for the past four weeks due to an outbreak of the Delta variant of the CCP (Chinese Communist Party) virus, commonly known as the novel coronavirus.
Five million Greater Sydney residents have been told by government officials they cannot leave their homes except for four reasons.
Despite lockdown measures and other restrictions, including mask-wearing and social distancing, the CCP virus has continued to spread, with New South Wales reporting another 163 locally acquired COVID-19 cases on Saturday.
Prior to the event, NSW Health Minister Brad Hazzard condemned the planned protest as "really silly" on Saturday morning.
"We live in a democracy and normally I am certainly one who supports people's rights to protest … but at the present time we've got cases going through the roof and we have people thinking that's OK to get out there and possibly be close to each other at a demonstration," he said.
NSW Police Deputy Commissioner Gary Worboys said it was not the time for a protest.
He said police wanted to work with the organisers to make sure people were complying with public health orders and that it did not turn into a "disastrous" mass spreading event.
The Sydney anti-lockdown protest is one of the largest to occur in Australia amid the pandemic since last year, when tens of thousands of Black Lives Matters supporters and protestors marched in Melbourne. Those protests were held in solidarity with BLM protests in the United States, and alongside domestic activism against Indigenous deaths in custody.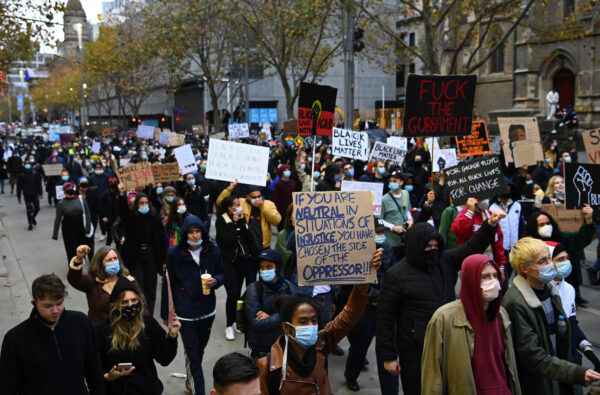 The Melbourne BLM protests came weeks before the city and the entire state of Victoria went into one of the longest lockdowns of any city in the world—lasting 112 days—amid a second outbreak.
Fears were expressed on Twitter via the #SydneyCBD hashtag that Saturday's anti-lockdown protests might have the same result.
In the neighbouring state of Victoria, south of Sydney, at least 1,000 "March for Freedom" protestors have also gathered in Melbourne's central business district.
Herald Sun journalist Olivia Jenkins posted a video on Twitter showing scenes outside Victoria's Parliament House, where flares were lit and protestors held up flags and chanted: "Freedom!"
One banner, held up on the steps of the Parliament, read: "This is not about a virus, it's about total government control of the people! This stops now!"
In another video posted by Rebel News' chief Australian correspondent, Avi Yemini, protestors are seen marching through Melbourne's central business district. Yemini says the crowd broke through the police line after overwhelming them.
A car rally is also planned for Adelaide, which is also locked down, with police there warning they will make arrests over unlawful activity.
AAP contributed to this report.