NEW BRAUNFELS, Texas—The Williams family was lucky enough to turn the recent winter storm in Texas into a big family adventure. With seven children ranging in age between 9 months and 15 years, the main challenges were to keep everyone warm and fed.
But it wasn't without its moments of panic.
At 4 a.m. on Feb. 15, the family was awakened by fire alarms going off. A devastating house fire two years ago immediately sprang to mind as everyone grabbed each other and raced out of the house.
"Our kids were extremely frightened. … We were pretty frazzled," Christine Williams told The Epoch Times on Feb. 25. "It took us a good 30 minutes to figure out, OK, the power is off, but it's out everywhere. And then, within the next hour, on social media, we were able to piece together what was going on."
The winter storm that hit Texas and other states caught many people unprepared as information on the expected severity was scarce.
Christine and her husband, Joel, had lived in Canada, so they weren't unfamiliar with extreme winter conditions, but they were still caught by surprise.
"We heard about 24 hours beforehand that we might get snow—and nobody prepared anyone for the power outage," Christine said.
Up to 48 percent of the state's power generation was offline at times that week. Utilities were ordered to cut power to prevent a larger catastrophe, Bill Magness, chief executive of the Electric Reliability Council of Texas (ERCOT), the state's grid operator, said on Feb. 24.
After the power went out, the cold started to creep into the house, and Christine and Joel decided to find some wood to burn in the fireplace.
"We didn't even know if our chimney was clean or would work, because we've only been in the house a year and we never thought we would use the fireplace," Christine said. "We weren't sure if it was safe, but there was just no choice at that point."
She said the roads were "solid sheets of ice" and most places were closed due to power outages, but they brought home some pine two-by-fours from Home Depot and lit the fire.
"It was seriously expensive firewood … and it burns really quickly," Christine said.
The family brought all their mattresses down by the fire and made use of three minus-40-degree sleeping bags leftover from their Canada days.
"The kids got the sleeping bags, my husband slept on the couch, and I slept closest to the fire to make sure no one would get into the fire," Christine said. "We were looking at the weather and trying to figure out, how do we hold out the longest?"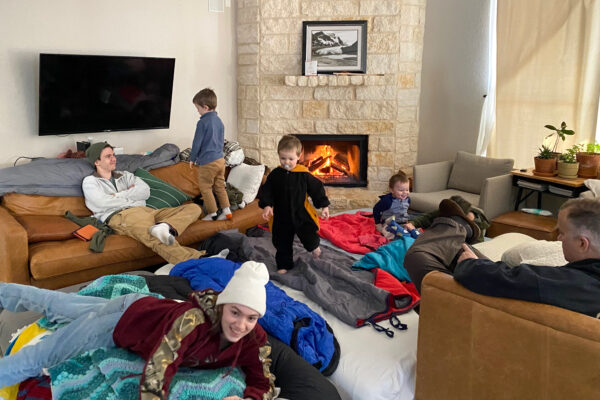 The house hit below freezing the first two nights, outside of the 10-foot radius of heat from the fire.
"We cooked a couple of meals in the fireplace, so that was fun," Joel said. "We made some bread."
The third and fourth nights got up into the 20-degree range, but the two-by-fours were quickly disappearing and Joel, a woodworker, had to cut up some heirloom oak.
"We burned that," Christine said. "And then, about the time that we weren't sure what we were going to do next—put the kids in the car and turn it on? We had nowhere to go, the roads are still ice—and the power came back on."
They had power for about 10 minutes every two hours. Every time it came on, it was enough to warm the house to around 50 degrees, and the kitchen was a flurry of activity. A giant pot of scrambled eggs was cooked and a slew of hot drinks were brewed. The boil-water notice came next, but the family's filtration system eased the hassle.
They knew the weather was going to warm up within days, so it became a matter of minimizing losses by running faucets so the pipes didn't freeze, then filling the bathtubs with water in case that was turned off.
The weight of the snow caused a small roof leak, and the dishwasher and washing machine both became casualties of frozen drains.
Throughout the region, the subsequent thaw produced burst pipes that added to the list of woes from severe conditions that were blamed for more than 70 deaths.
Once the worst had passed, the Williams family jumped into action to help their community.
"I just felt like we needed to help," she said. She put ads on Nextdoor and Facebook Marketplace and asked for people to post what they needed help with.
"People were like, 'I lost my entire refrigerator of groceries,' 'I need a duvet,' or 'My house is flooded with mud,'"Christine said.
"We got to the point where we were like, we can't keep up. And then people started commenting on our posts, and they were like, 'I can help with that.' So it was really cool, just sort of this snowball effect of people helping each other."
The Williams spent the next three days delivering food, water, and blankets in the neighborhood. They cooked soup for one family and bread for another, and bought groceries for more.
"One lady told us, 'I have driven all over. I don't have gas anymore. And I cannot find a grocery store that has milk and I have three kids under three,'" Christine said.
She posted it on Instagram and three families outside of Texas offered to send Christine enough money to fill up the woman's fridge.
"We found her milk at this little local meat market just right down the road, because no major grocery store had milk or eggs or bread. And then we just went through the store and bought her what we thought would do," Christine said.
"And when we got there, it was really bad. She had muddy water everywhere [from] multiple burst pipes and her ceiling had flooded. It was so bad."
Although the Williams family felt fortunate that they fared much better than so many others, they've decided to install a standby generator this year.
"If the power cuts off, the goal would be to have about two weeks' worth of propane so we could run the house," Joel said. "For a couple of weeks, you can operate semi-autonomously."