A 17-year-old Alaska girl on Tuesday became the first American woman to take a gold medal at the Tokyo Olympics.
Lydia Jacoby won the women's 100-meter breaststroke, topping 2016 champion Lilly King.
South Africa's Tatjana Schoenmaker won silver while King took bronze.
"I was definitely racing for a medal. I knew I had it in me," Jacoby told reporters. "I wasn't really expecting a gold medal, so when I looked up and saw the scoreboard it was insane."
The race came down to the end. Jacoby's time of one minute, 4.95 seconds was barely ahead of Schoenmaker's one minute, 5.22 seconds. King finished in one minute, 5.54 seconds.
"I'm so excited for Lydia," King said. "I love to see the future of American breaststroke coming up like this and to have somebody to go at it head-to-head in the country. I definitely knew she was a threat and saw a lot of myself in her effort."
Russia's Evgeniia Chikunova and Yuliya Efimova finished in fourth and fifth.
Jacoby was the first Alaskan swimmer to make an Olympic team.
"A lot of big-name swimmers come from big, powerhouse clubs," Jacoby said. "Me coming from a small club, in a state with such a small population, really shows everyone that you can do it no matter where you're from."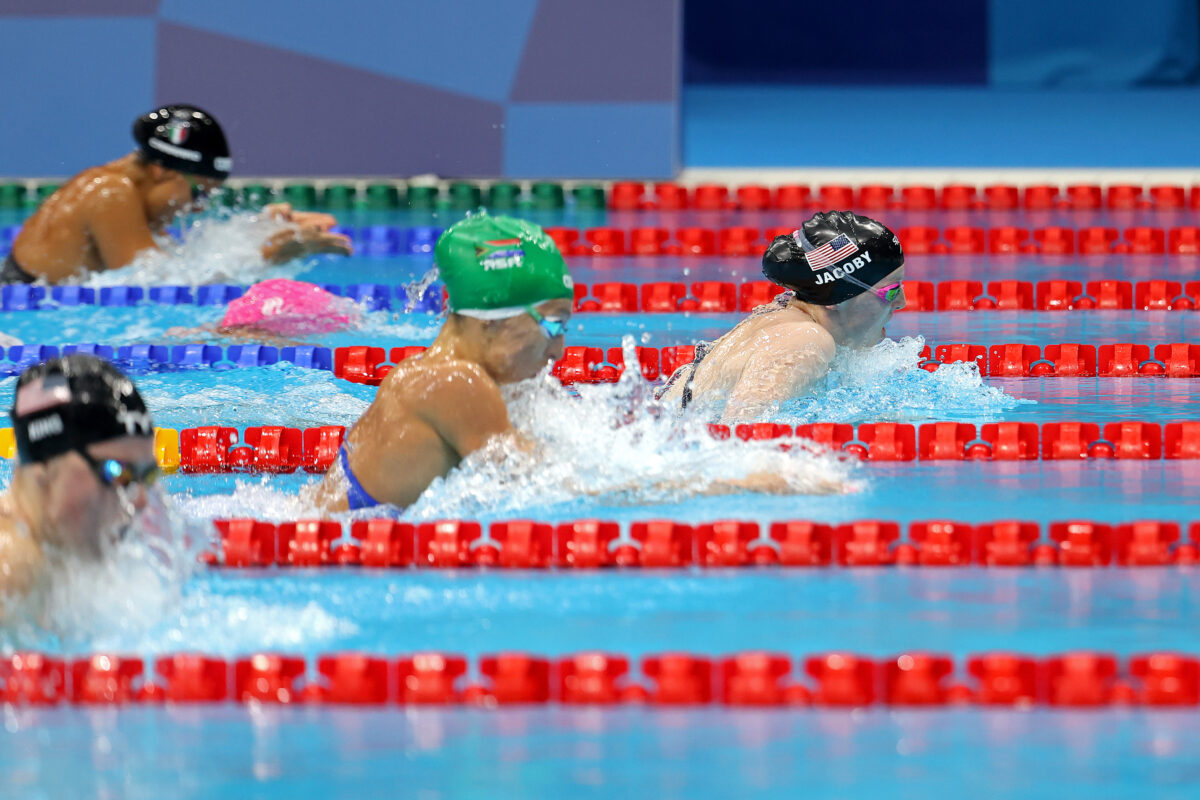 Americans were frozen out of the top podium spots in other swimming races.
Regan Smith, 19, of Minnesota, took bronze in the women's 100-meter backstroke, behind Canada's Kylie Masse and Australia's Kaylee McKeown.
Ryan Murphy, 26, of Illinois, won bronze in the men's 100-meter backstroke, behind Russia's Kliment Kolesnikov and Evgeny Rylov.
Americans missed out on the podium entirely in the men's 200-meter freestyle.
Also on Tuesday, Carissa Moore of Hawaii won the first-ever women's Olympic gold in surfing.
Moore, 28, beat South Africa's Bianca Buitendag in a head-to-head.
The men's gold medal match was won by Brazil's Italo Ferreira.
The United States was tied for first with nine gold medals as of 10 p.m. Tuesday Tokyo time. China and Japan also had nine, followed by Russia's seven and Great Britain's four.
Americans are in the lead with 23 total medals, followed by China with 21 and Russia with 18.
The Associated Press contributed to this report.